College Admissions 2020: The Challenges of COVID-19 Pandemic
Like many of her friends and classmates in their senior year of high school, Lily Ogletree was excited for 2020. Set to graduate from Central Bucks East High School in June, she spent the winter looking at college options. She applied to various schools, and visited campuses in different parts of the country.
She didn't yet make her final decision, but was planning to visit more schools in the spring. 
Then the global pandemic of Covid-19 came and paralyzed the world. Quarantined for an indefinite length of time, students like Lily are now unsure of their future all around the Uniter States. 
"A lot of people, my friends [included] are definitely worried about what happens next and how college is going to work," Lily said. "There has been talk about moving decision deadlines for some colleges to give kids more time to explore their options without worrying about the pandemic. So far no college has officially announced anything about different dates. […] This whole thing is a little nerve wracking for me personally in the sense that I haven't physically been to some of the schools I got into, so that makes it hard when deciding."
Besides the decision process, students also face challenges such as graduation requirements, untaken exams, financial aid deadlines and applications, and incomplete grades for the current school year due to public schools closures. 
The worst part of the current situation is the uncertainty of the future. With so many unknown variables in every aspect of life during the pandemic, college admissions officers are similarly ambivalent of what's to come. 
Here is a look at current challenges and possible solutions for college admissions 2020. 
College admissions' challenges during pandemic. 
Regardless of how long the quarantine lasts, things are going to be very different once the threat of the coronavirus subsides. Experts agree that the current situation will force higher education officers to review and revise many of the traditional processes and policies. Doing it gradually is not a luxury the current crisis allows. Things will need to change quickly and efficiently. 
 "COVID-19 is going to force us to think differently about our work. Every aspect of higher education will be disrupted. I believe we should never let a crisis go to waste. While we are taking care of immediate needs, we should also be asking ourselves—what are the opportunities for the long term?" says Angel Pérez, vice president for enrollment and student success at Trinity College. (Forbes)
Student and parents' concerns: communicating college admissions process changes
As the quarantine continues to extend with no definite end date, students and parents grow more uncertain and worried. It is important for higher education institutions to communicate any and all changes clearly and as soon as possible to prospective students. 
Some colleges and universities have been posting updates on their websites with the most current information. While it's important to communicate information to current students, it's also a great practice to post updates specific to college admissions.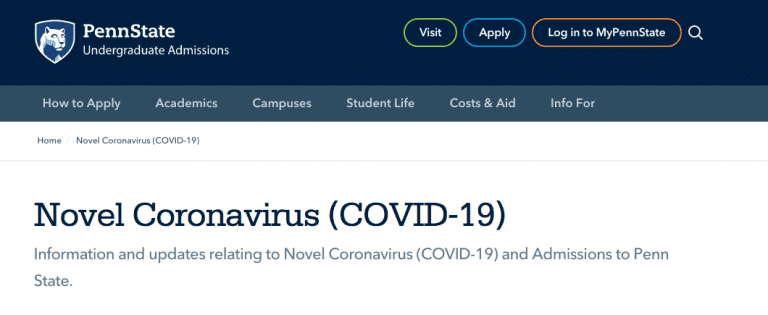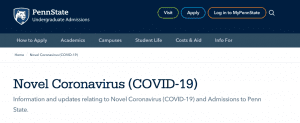 An institution might be forced to reduce its staff available to answer inquiries via phone or email on campus. So perhaps adding live chat support agents to the college or university website might be a viable solution during this time.
Some companies, like HelpSquad, offer extended free trials and free accounts to those affected by the pandemic.
The trained agents work remotely. They can answer any college admissions questions prospective students and their parents might have. Additionally, the agents can simplify the admissions process and help students through the necessary steps. 
Keeping an open line of communications is always a good policy. It's even more important during the time of uncertainty. 
Campus visits: using digital tools in lieu of physical visits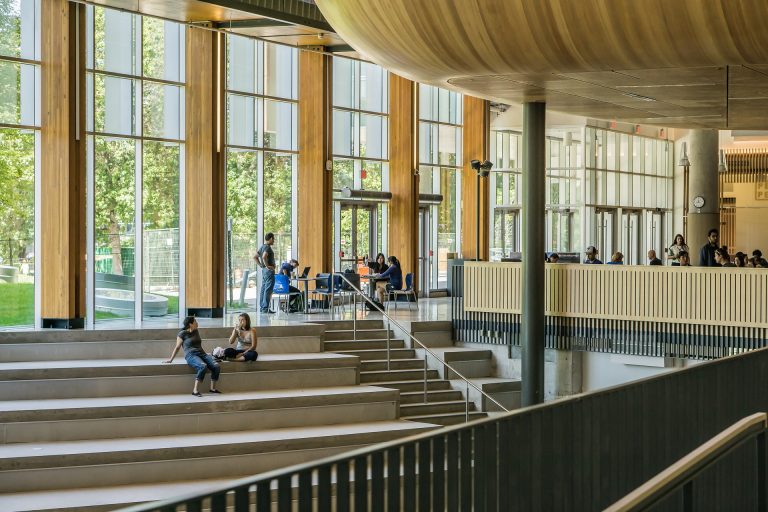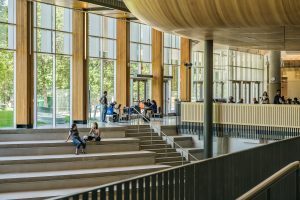 Like Lily said above, the inability to visit school makes it more difficult for students to make decisions. Without visiting the campus they can't get an accurate idea about the campus environment. That, in turn, makes the decision to attend a school or not more difficult. 
"COVID-19 forces us to creatively consider how to turn the in-person events into virtual programs, applying a multi-channel approach. Since not everyone has resources to visit campus, these virtual options can have an equalizing effect," says Heath Einstein, dean of admission at Texas Christian University. (Forbes, link to source above)
Luckily, college admissions 2020 have the support of modern technology. Even in the healthy times, colleges and universities have begun using virtual tour platforms. That technology allows their prospective students to see the campus without traveling. Now the use of such technology might come extremely handy.
Exams: delays and their effect on college admissions 
Drew, a high school junior in Phoenixville, PA, was set to take the SATs for the second time on March 14. With the tests cancelled and postponed indefinitely, his future scores and, subsequently, college admissions might be greatly affected.
College-bound students spend a significant amount of time preparing for the exams like SATs and Advanced Placement exams. Delaying or changing exams so that can, perhaps, be taken at home, will alter the results. There is, of course, the issue of the learned material being fresh in the student's mind. There is also an instance, as in Lily's case, when a student cannot complete an AP exam because the teachers did not get a chance to teach all the material to the students prior to school closures.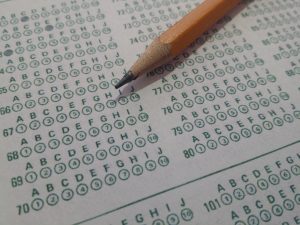 It's unclear how delay testing will affect college admissions in the long term. The movement to end standardized testing altogether existed long before the current pandemic. Perhaps now higher education stewards might consider that option more seriously. Perhaps not. 
What colleges and universities can do now is communicate with the students. Encourage them to stay fresh with their studies and look for online resources to continue with their academic enrichment. 
Possibility of prolonged online learning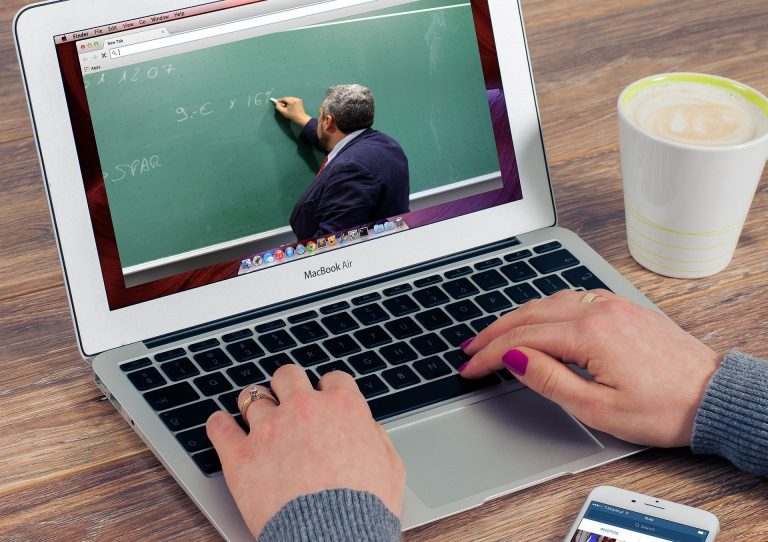 Upon the announcement of the pandemic, many workplaces switched to remote work and education institutions turned to distance learning. 
For some colleges and universities the prospect of distance learning in the near future might not seem too out of reach. After all, online classes are not a new concept. 
The success of full-time distance learning, if such measure becomes a necessity, will have to be determined in the future. Some experts argue that the solutions lie in the right technology, the right training and mindset of students and teachers, and the right attitudes toward a switch in the system. With those things in place, higher education might change forever following the pandemic. 
With the current higher education models in place, it's hard to imagine what a world without physical college locations would look like. How would that affect the social, professional, and business aspects of education? Those questions are impossible to answer at this time. But higher education institutions must consider all options as the world moves through this pandemic and beyond. 
Pamela Donnely, an educational consultant, argues that as colleges move to online learning models they should not expect prospective students to pay the same price tag as that of on campus classes. 
"Few families will want to pay $30k or more for a semester of their students sitting in front of a computer screen, if live classes continue to decline post-COVID-19. Mid-degree transfers may also be likely, so policies and strategies for retention should be at the top of priority lists. Colleges lacking in alternate business models and deeply integrated learning technology fluency for all faculty place themselves at risk." (Pamela Donnelly)
The future of college admissions
If anyone ever wished for a crystal ball to tell the future, right now would be the perfect time. With every aspect of life affected by the pandemic, it's hard to tell what will happen to higher education. 
College admissions are facing unprecedented challenges in 2020. The pandemic put staff and current and prospective students in quarantine for during the busy admissions season. Everyone must hope to return to some sort of version of normality after the pandemic. 
For the time being, however, higher education institutions must adapt. They must become as flexible as possible in the current situation. And they must embrace new technologies, and new education, and business models to benefit students. 
Blog
HelpSquad
Higher Education
Related Blogs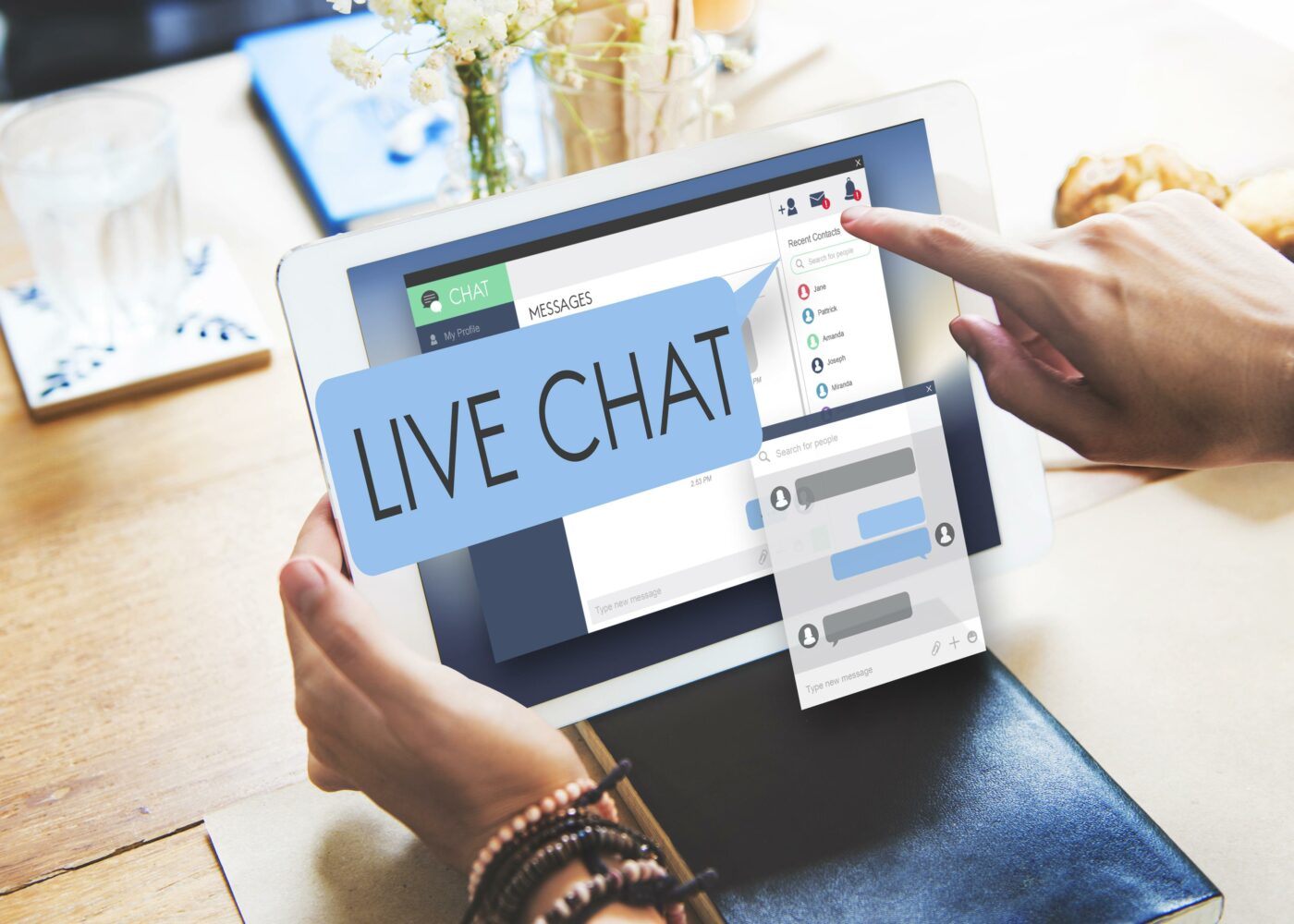 06 Jan
Blog
Best Live Chat Service You Should Use In 2023 [Comparison]
If you're shopping around for a live chat service, we've saved you some time by doing all of the research for you (you're welcome).  We also thought you should know that even as you read this, you are missing out on easily attainable website leads. These leads aren't soft leads either. We're talking about hot … Continued
03 Jan
Blog
The True Cost of "Free" Live Chat Software
A search query for "free live chat software" yields over seven hundred million results on Google. Everyone is looking for free live chat software. If you want a better website than your competitors, that should worry you. One recalls an old quote from George Patton: "If everyone is thinking alike, then somebody isn't thinking." What's … Continued
06 Jul
Blog
11 Ways a Live Chat Feature can Boost Your SEO
Give an example of how a 24/7 live chat feature can boost SEO for your website? To help you determine the SEO benefits of implementing 24/7 live chat feature, we asked marketing experts and business leaders this question for their best insights. From increasing engagement rates to dwell time on your website, there are several … Continued