Choosing Live Chat Agents for Your Business: Ruby live chat vs HelpSquad
Who are we? Customers! What do we want? Answers! When do we want them? Now!
Well, while there might not be an actual customer rally, that's the gist. 
Customers in 2020 are not a patient folk.That's especially true when it comes to connections online. In fact, studies show that a website only has eight seconds to impress visitors before they leave. 
That's why live chat customer service is one thing that helps businesses everywhere connect with their clients. Whether it's a current customer with a quick question or a potential one looking for a quote, live chat is a quick and easy way to deliver answers. 
79% of consumers prefer live chats because they offer instant responses. (99 firms)
Live chat customer support shows high customer satisfaction rates. It's a popular and preferred way of communication with younger customers. Additionally, it is proven to have increased conversion rates when it comes to new leads for a business. 
Small business owners face a dilemma, however. Besides answering customer inquiries, even in a convenient way like live chat, there are a million other things to do. Payroll, employee management, and the actual product and service delivery to the customers are just a few things to mention.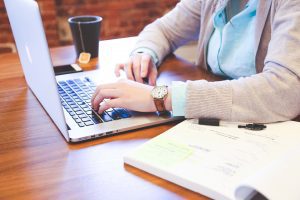 In other words, small businesses are busy.
That is where live chat agents can come to the rescue. As representatives of the brand, they can answer common questions, collect information, facilitate sales, and otherwise provide support. 
But all live chat customer service companies are not created equal. The features they offer and services vary. 
How can a business owner choose the right company for a specific business? Which provider will do the best job and provide the best live chat services? 
Here is a comparison of two live chat agents customer service companies that could ease that decision-making process..
HelpSquad vs. Ruby – Live Chat Agents Feature Comparison 
The variety of features each company offers could seem overwhelming to a business owner who hasn't used live chat agents before. Knowing what each function does and how it can help specific business operations could help narrow down the choices.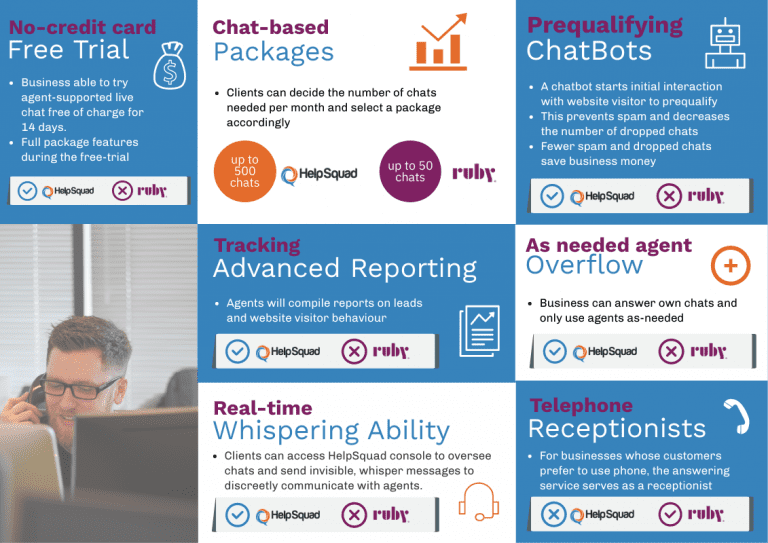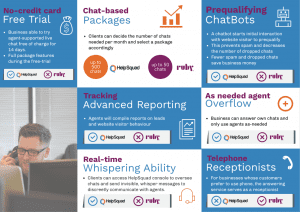 Each business has its unique needs. Some receive a large volume of Facebook messages and have customers who prefer to text. Others might need more phone coverage and do not need live chat agents as much. Others might benefit from the whispering option, call connect, or would like to receive a report detailing their website visitors behavior. Whatever the needs, it's always best to review all the options. 
In any case, a free trial is a good place to start.  It can show just how useful live chat agents could be to a business. 
HelpSquad vs. Ruby – Price Comparison
When it comes to business services, price is never an unimportant factor. Getting the best deal and the best service is always on any business owner's mind. 
Here is a brief comparison in prices for services at HelpSquad as a Ruby live chat specialists alternative.
HelpSquad offers a variety of packages. Majority of the packages offer most of the features available and vary in price based on the number of chats allowed per month and the number of FAQs included in the database. 
The Starter package includes 50 chats, 35 FAQs, and additional features included. It prices at only $95/month; businesses can try out the package with a 14-day free trial. 
The All-Star package includes more features, up to 500 monthly chats, and an extensive 150-FAQs knowledge base. The cost of the All-Star package is $700/month. 
For more information on these and additional packages, visit HelpSquad's live chat service page. 
Ruby offers its basic package $249/month; the package includes 20 monthly chats. Ruby's medium includes 30 chats and costs $349/month. For businesses with higher need for live chat agents, the company offers a 50-chat package at $549/month.
Ruby also offers virtual phone receptionist service that is priced on a per-minute basis. 
HelpSquad vs. Ruby – Customer Reviews Comparison 
Besides features and prices, another important factor business owners should consider when selecting live chat agents is customer reviews.
Customer reviews provide a snapshot of real-life experience other customers had with a particular company. Here are some reviews for both HelpSquad and Ruby.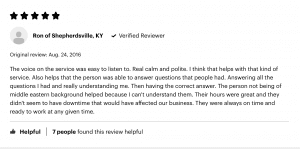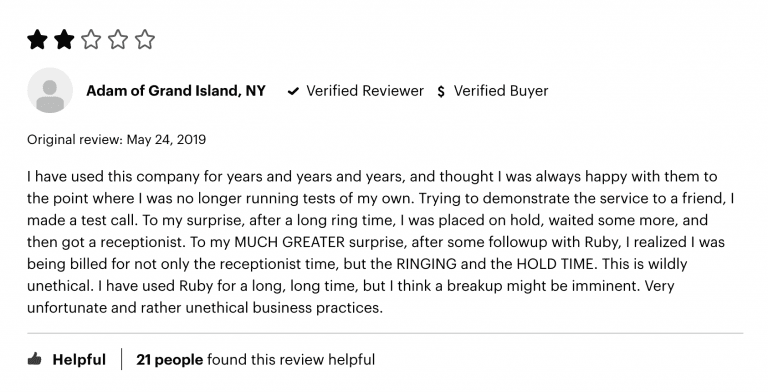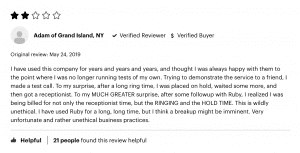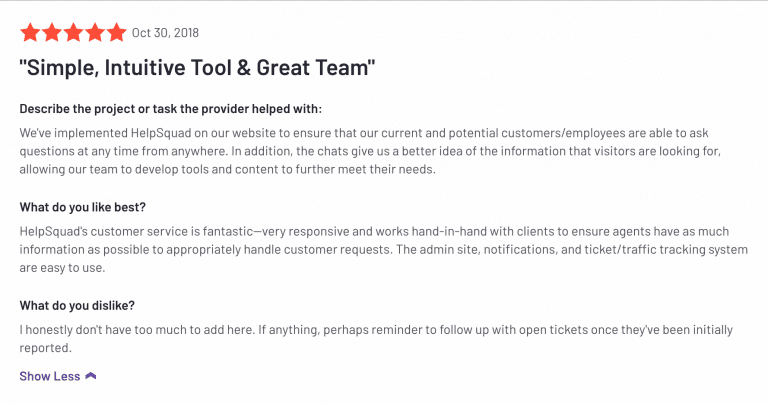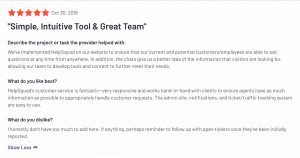 HelpSquad has recently been named #1 Tech Startup in its region by the Tech Tribune magazine. 
Bottom Line: HelpSquad vs. Ruby Live Chat Agents
The decision of which company is a better fit for a business depends on a business owner's needs.
Ruby offers telephone virtual receptionist service that could help a business with heavy phone call volume and, perhaps older, less tech savvy, clientele.
HelpSquad shines when it comes to live chat with a wide variety of features. HelpSquad's packages also start at a much lower monthly cost and present a lot more options. Bonus: a business can try HelpSquad services during a free 14-day trial, a perfect trust builder.
Blog
HelpSquad
Small Business
Related Blogs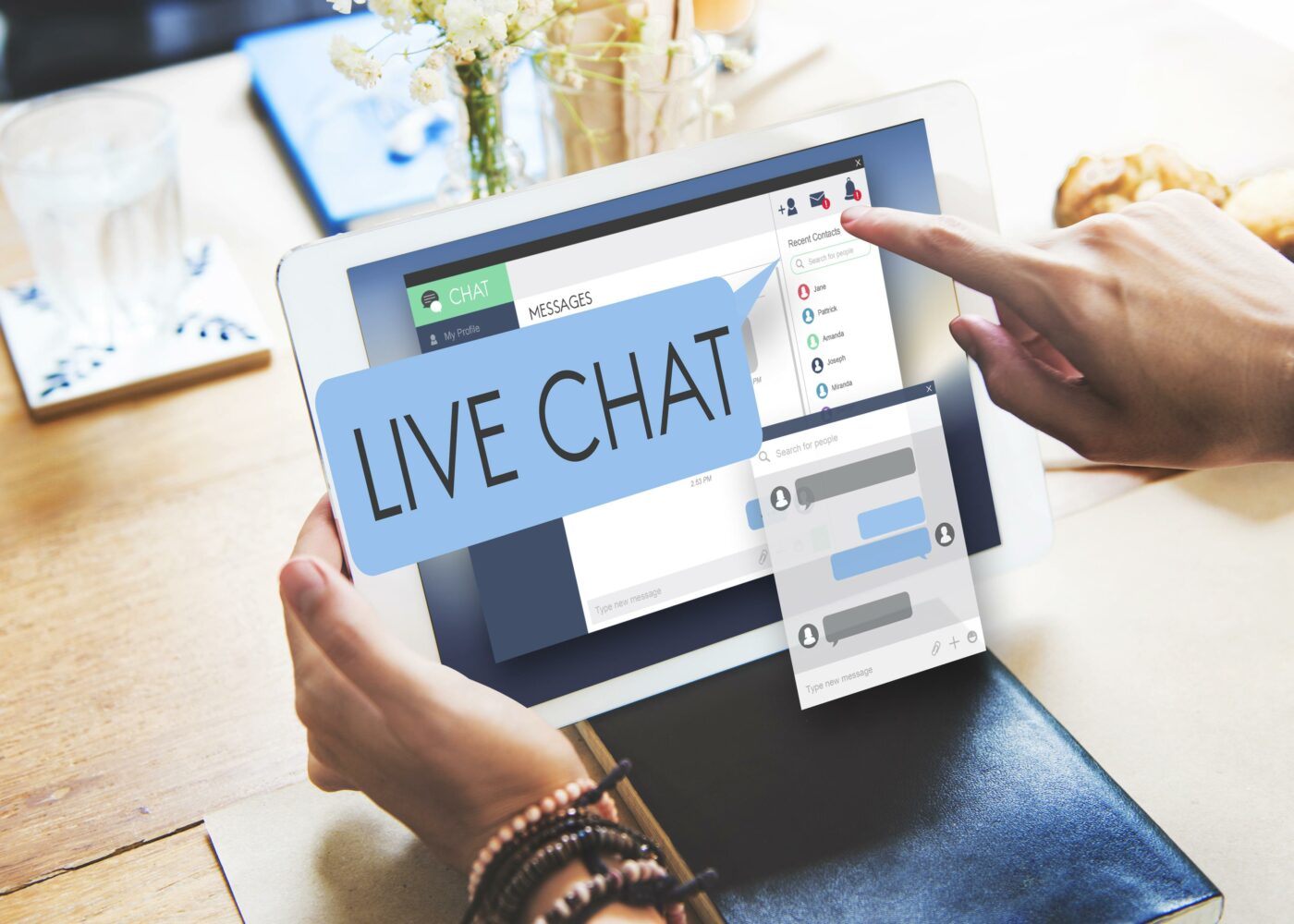 06 Jan
Blog
Best Live Chat Service You Should Use In 2023 [Comparison]
If you're shopping around for a live chat service, we've saved you some time by doing all of the research for you (you're welcome).  We also thought you should know that even as you read this, you are missing out on easily attainable website leads. These leads aren't soft leads either. We're talking about hot … Continued
03 Jan
Blog
The True Cost of "Free" Live Chat Software
A search query for "free live chat software" yields over seven hundred million results on Google. Everyone is looking for free live chat software. If you want a better website than your competitors, that should worry you. One recalls an old quote from George Patton: "If everyone is thinking alike, then somebody isn't thinking." What's … Continued
06 Jul
Blog
11 Ways a Live Chat Feature can Boost Your SEO
Give an example of how a 24/7 live chat feature can boost SEO for your website? To help you determine the SEO benefits of implementing 24/7 live chat feature, we asked marketing experts and business leaders this question for their best insights. From increasing engagement rates to dwell time on your website, there are several … Continued