3 Employee Engagement Strategies That Can Save Remote EX in 2020
Let's play a little game of word association.
Summer: vacations.
Workplace: cool coworkers.
The year 2020: complete and utter craziness that disrupted everything under the sun, including the two things mentioned above.
Even if your first two word associations were different, it's safe to guess that we had similar ideas on the last one. And if you're a business owner, you can relate on more than one level.
Let's state the obvious: 2020 tested businesses like no year did before.
The global pandemic brought many changes. New guidelines, shifts in consumer behavior, and altered supply procedures are just some of the implications of the COVID-19 outbreak. And these changes caused companies to pivot almost every aspect of their operations.
As companies attempt to adjust, they enter some unfamiliar territories. From altered nature of social interactions to major changes in the way people network, the issues business owners face today are nothing like they encountered before.
One major area of business that requires special attention in the time of disruption is employee engagement. Experts say it's in trouble in 2020.
Remote Work and Employee Engagement
According to Gallup, a business analyst company, employee engagement rose in the early months of the pandemic. However, as the lockdowns continued and further events of civil unrest took place in the United States, employee engagement plummeted to historic lows.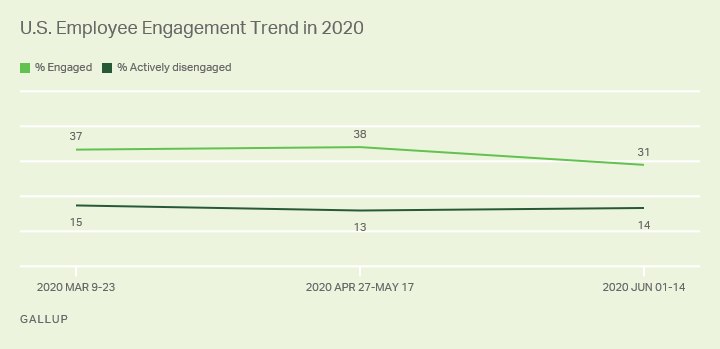 As the model shows, increase in remote work did not cause disengagement. In fact, employee engagement rose in the first months of the remote work implementation. Gallup also cites that employees are more engaged when they spend 60% to 80% of their time working off-site — or three to four days in a five-day workweek. And that is under normal circumstances.
What possibly did cause the disengagement is the continued sense of uncertainty and increases in societal unrest, Gallup concludes. These factors are beyond managers' control. So the solution to employee engagement lies in continuous improvement of employee engagement strategies.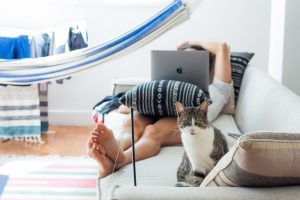 Remote work seemingly is here to stay. A recent report from Global Workplace Analytics suggests employees would prefer some type of remote work continuing even after the pandemic.
"76% of global office workers and 82% of U.S. office workers say they want to continue to work from home, at least weekly, when the pandemic is over (approximately 75 million U.S. employees). But only 16% (19% in the U.S.) want to say goodbye to the office forever, with most preferring a bit of both." (Global Workplace Analytics)
All the changes and projections show a high possibility of remote workforce becoming a norm for the long run. In this environment how can managers ensure their remote teams stay connected, engaged, and motivated? By developing effective employee engagement strategies.
Employee Engagement Strategies for Remote Workforce
With employee engagement decreasing and morale lowering as the pandemic measures continue, companies must invest in employee engagement strategies. If they don't, they risk suffering lower productivity and deterioration of effective work environments.
That, in turn, can cause a decline in customer engagement and loss of revenue.
"As reported by Harvard Business Review, 'companies that excel at customer experience have one-and-and-half times as many engaged employees as customer experience laggards do.' More engaged employees can also mean more revenue." (Contact Monkey)
And so, we sought advice from companies that have extensive experience with remote workforce management. We looked for old-fashioned tips that might prove useful today. And we checked out what top Fortune companies do to stay on top of the Best Places to Work lists. So here are some of the most effective employee engagement strategies for remote workforces.
1. Develop Effective Remote Work Culture From the Start.
Employers tasked with managing a fully or mostly remote force might face an additional challenge of remote hiring. However, the situation has its benefits.
If the relationship between the company and an employee starts in a virtual format all parties can build their expectations and procedures remotely from the start. This forgoes the need for any adjustments and disruptions.
From clear job descriptions to detailed training plans, the process of hiring and onboarding new employees remotely can be daunting. We recently posted a comprehensive guide on the topic that outlines 9 steps to successful remote hires.
Here is a summary of one of the effective employee engagement strategies that gets new employees to a good start.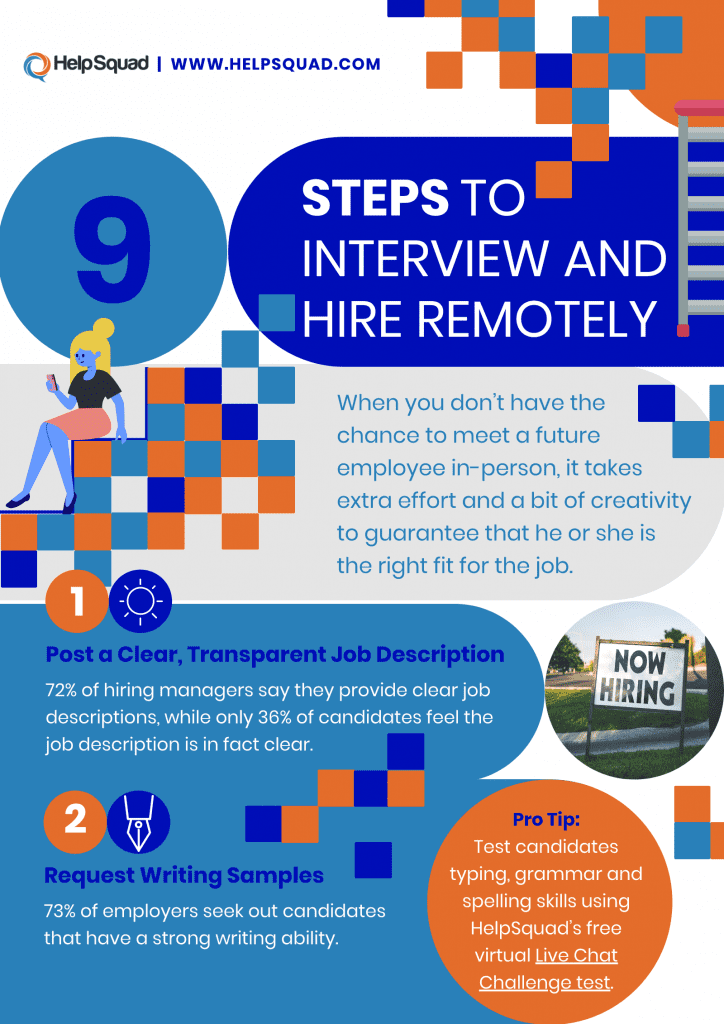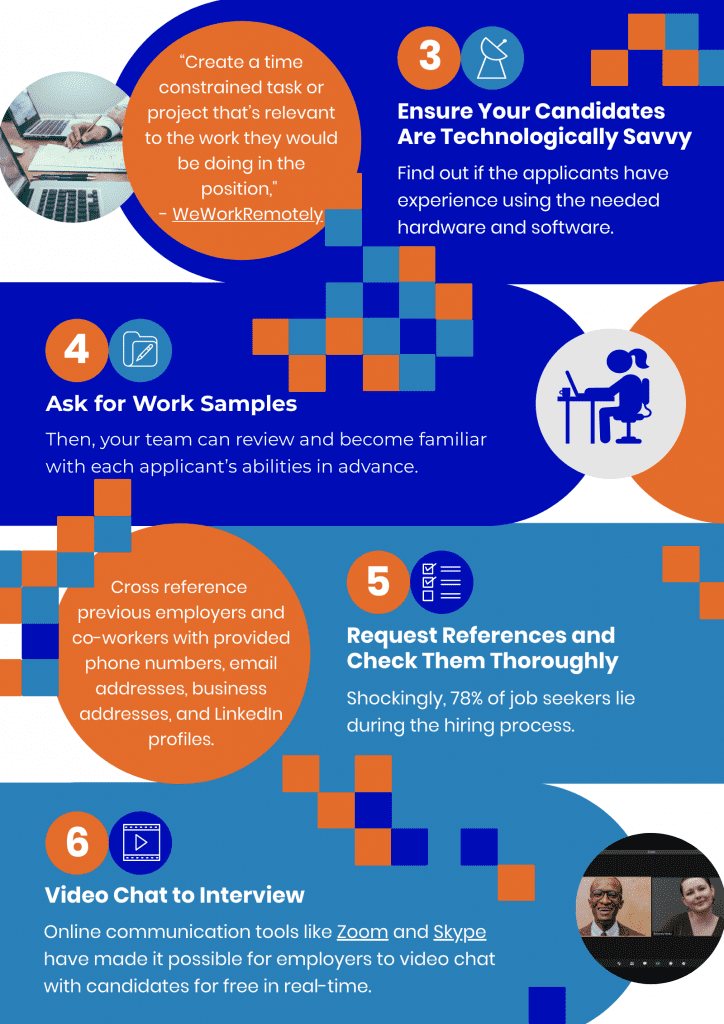 2. Maintain Effective Culture Through Communication and Continuous Engagement.
It's important to continue to engage with remote employees to maintain company culture. Miro, an online platform that supports remote teams, lists some helpful tactics.
Communicate the mission and the goals of the company to team members often. "This reminds people of the importance of what they're accomplishing together."
Specify and explain what's expected. Be clear and precise, so there is no confusion.
Prioritize meaningful work. If a meeting can be an e-mail it should not be a meeting. This was true before the pandemic and this is true now. Discuss what is helpful and what is not with your teams.
Allow flexibility. According to Gallop, 54% of office workers would leave their job, if they could have one with more flexibility. Additionally, 78% of the respondents listed "flexible schedules and telecommuting" as their most effective non-monetary ways to increase employee retention.
Check in with employees often, but communicate trust. This will make them feel cared for and like their work matters. However, do not micromanage as that sends a message of mistrust.
Gartner research shows that organizations with high levels of trust increase their average #EmployeeEngagement by 76% over those with low levels of trust. Managers must establish mutual trust to build successful remote teams. #RemoteWork https://t.co/lJmMxmhEYf

— Andre Cuenin (@AndreCuenin) August 11, 2020
Ask for feedback. Ask your teams what they need, how they feel about their current work, and what changes they might want to see in the future. A good way to do that is through surveys that are quick and fun. Asking colleagues from overseas for feedback and tips can also be a good tactic.
International colleagues
"For international employees who work for, say a US company, the idea of remote work may not be new at all. They are usually the ones who get stuck on the after hours global team calls based on the time zone differences. If this is the case in your organization, one idea may be to ask your overseas colleagues how they handle working remotely, or working far away from HQ. They may have a unique perspective on this." (Kyle Hegarty, Managing Director of Leadership Nomad)
3. Improve Morale With Happiness Training
Happy employees are engaged employees.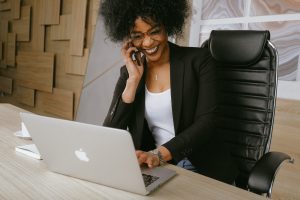 It's not difficult to guess that happiness among Americans has declined as the pandemic progressed through the year.
"Less than 15% of American adults reported being very happy [in May], according to a new poll released—less than half the number two years ago—underscoring the anxiety many Americans have felt as the Covid-19 pandemic has upended daily life and tanked the economy." (Forbes)
And one of the smart employee engagement strategies, then, is to put some efforts into making employees happier. Happiness training is not a term we hear often. But it simply refers to setting a positive tone and encouraging teams to focus on inner happiness. This can be difficult in the current climate. Nevertheless, it's important.
Here are some ways to increase the happiness of remote teams.
Praise and acknowledge achievements.
"A culture of praise is absolutely essential for engagement and innovation to occur. People are excited about what's next, they're coming in with ideas, they're willing to share their success stories and failure with each other to learn and grow." (Susan Kuczmarski, author of Lifting People Up: The Power of Recognition.)
Kuczmarski, a strong advocate of employee praise to raise morale, says praise fires up the team and creates positive energy. Specific, personal, and enthusiastic praise nurtures collaborative energy and improves morale for both, the employee praised and the entire team.
Introduce non-work related activities.
Remember the after-work happy hours pre-quarantine? Just because the teams work remotely doesn't mean they can't have fun. Online gatherings, virtual game sessions, and just friendly connections and conversations on topics unrelated to work can do wonders for employee morale.
Encourage personal and professional growth
Recently, we published a list of 9 (Non) Business Books to Read For Better Relationships in the Workplace. Many of the recommendations on that list referred to works that encouraged personal growth. From guides on mindfulness and meditation to an exploration of why hobbies are important, these books can help team members cultivate happiness within themselves.
Encourage personal development through literature, podcasts, mindfulness training, and meditation. It will make your team happier and more productive in the long run.
Check on team members' mental health.
These are some uneasy times for everyone. Managers should check in with the employees often and see if there is anything their teams need. They can express gratitude for what team members do. They can provide access to therapy options to deal with anxiety. Or they can offer guidance for common issues, such as procrastination. There are many ways employers can make remote employees feel valued in simple ways.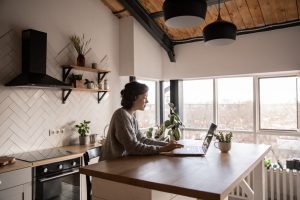 Bottom Line
"Even an organization that had a healthy, effective culture before the pandemic can't assume that returning to old employee practices is going to work. Like it or not, EX has become the linchpin in the success of an organization going forward." (Denise Lee Yohn, Forbes)
COVID-19 changed our lives and our workplaces. But just because teams are no longer sharing physical space doesn't mean they can't still engage effectively. By focusing on employee engagement strategies listed here employers can boost morale, encourage positivity, and save employee experience.
And in the crazy year of 2020 we all need that.