5 Effective Ways to Get More Subscribers with Content Upgrade
How to get your website visitors to give you those precious email addresses.
Guest posts by Erica Sunarjo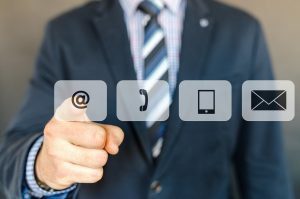 "Give it, give it, give it, please…"
You can beg and plead for your website visitors' contacts, but not everyone is willing to give out his or her personal info. 
There's one thing that can get your website patrons to dish out those email addresses. And that's value. If you offer a valuable incentive, people might be more likely to share their information. 
Depending on your business industry there might be various things of value you can offer, but one easy and almost immediate offering you have on your website is content. 
Your website visitors are on your site already looking at it, so offering content upgrade is one valuable incentive they just might not want to miss. 
What is content upgrade?
Content upgrades are a super-effective way to get awesome results when you're looking to expand your email subscribers list.
Top consumer brands such as Close use them on a daily basis in their posts and campaigns to increase engagement, conversions and profits. Close is a company that sells sales automation tools and they often include a content upgrade option at the end of their post. 
So, what is a content upgrade anyway? In simple terms, a content upgrade is like a bonus offer for your subscribers. It functions as a 'lead magnet' which motivates your visitors to give you their email addresses and obtain the upgraded content.
Think back to one time where you received a promotional email from a company. You're scrolling through their newsletter email and bam! They say you're eligible for a free eBook. You download it and you're as happy as a clam that you're subscribed to those guys.
Well, that's a good, ol' content upgrade.
Why do brands and businesses use content upgrades instead of classic lead magnets?
Unlike classic CTA buttons, content upgrades are closely related to what your visitor is reading at the moment. This way, you get attention from visitors who are already interested in a particular piece of information, so offering them more is very likely to result in a conversion. Given that you're approaching a targeted and focused audience group, the number of your email newsletter subscribers will skyrocket.  According to email marketers from SmartPassiveIncome and OptInMonster, utilizing content upgrades can boost your email conversion rate anywhere from 500% to almost 800%!
In this guide, we're bringing you the 5 best content upgrade types that can help you achieve the best possible results. 
1. A Summary PDF file with the Essentials and Resources
If you have managed to craft a valuable set of information on your landing page, your readers will definitely want to hang on to that information. This goes especially for those pieces of content that contain recommendations for resources and tools. 
For instance, if you have talked about tools that marketers can use to grow their email lists, you can present it in a straightforward way. A separate document with this information in a PDF downloadable file can be a great way for your readers to access it whenever they want. 
If you publish a podcast, a PDF content upgrade is one of the best ways to get your listeners to subscribe, because the information will be presented in a visual form. 
Just keep in mind that if you are a non-native English speaker, you may need to get help from experts in business English translation such as TheWordPoint. You should polish every email to make sure that it will be interpreted in the right way. 
Salesforce, a leading CRM software company, offers a downloadable PDF that goes alongside each section of their user guide: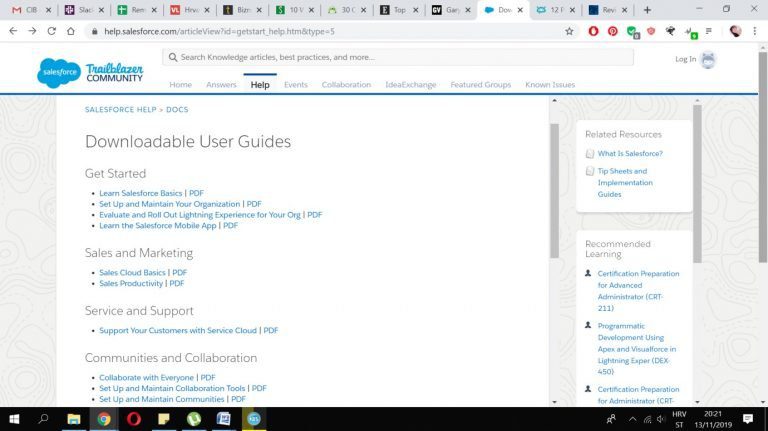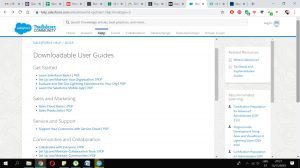 A PDF summary is great for those blog posts and pieces of content that are formed as a list. Usually, every list point has a title and an extensive text explaining the point. When you offer a PDF summary, readers will be able to download only the most crucial information and get back to the insights at any point.
2. A Checklist
A checklist is an excellent way of upgrading your content and motivating your readers to sign up for your email newsletter. 
If your format an article, a podcast or a video as a step-by-step guide to achieve a particular goal, there's no better way to upgrade your content than by offering a downloadable checklist.
Checklists are very simple and visual modes of keeping up with progress, and people usually love them. Is there a better feeling than checking off a task from a list?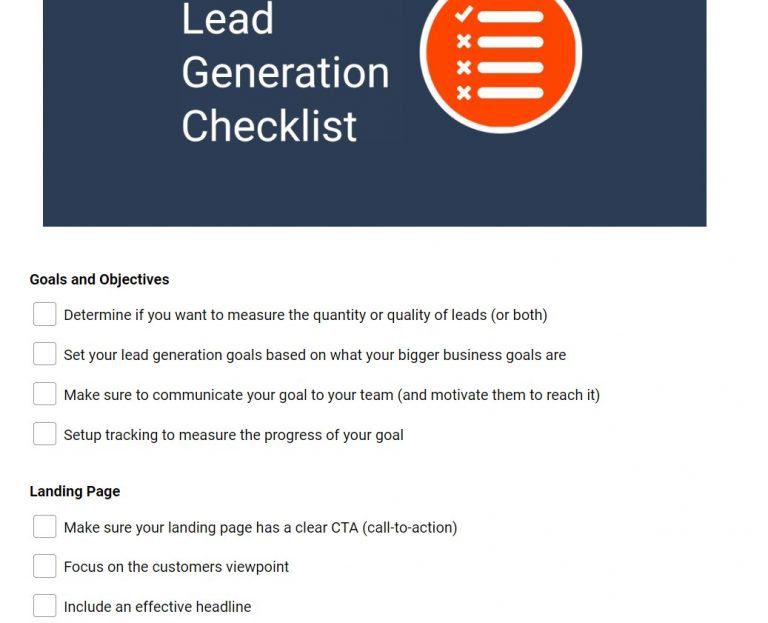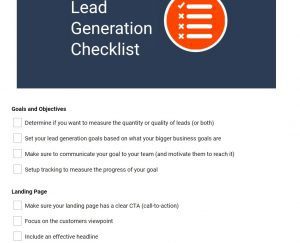 There are many marketers who use this method to boost their email conversions. For example, Brian Dean at Backlinko.com offers a checklist in PDF form that presents the top-ranking factors provided by Google.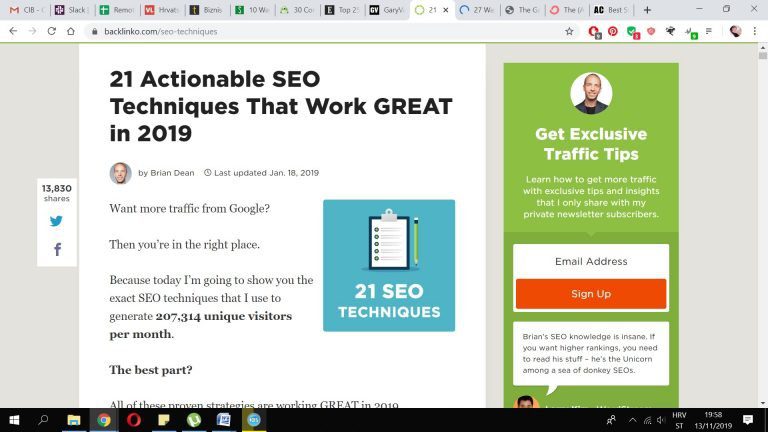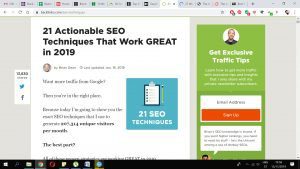 You can see the same example from ConvertKit below. The checklist content upgrade is incorporated into an article about content upgrades that features checklists, too! How fitting!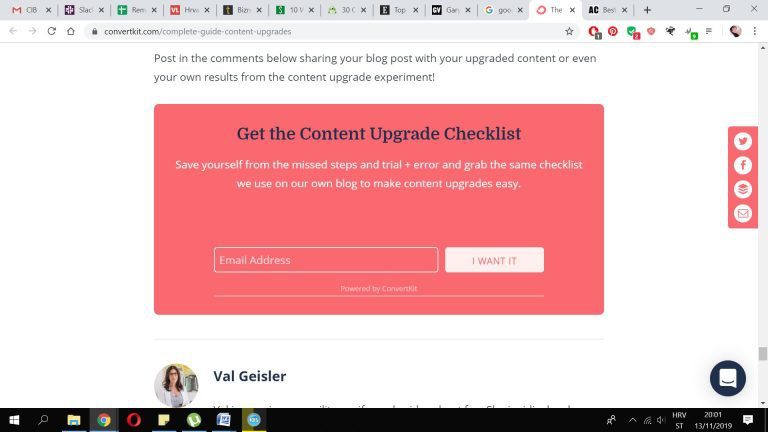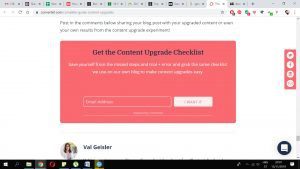 Image source: ConvertKit
As another example, you can use a checklist content upgrade when you post a step-by-step tutorial. Let's say you post an article titled "How to Post an Article on WordPress". Your blog post will probably contain even the tiniest steps to explain the process to those users who are using it for the first time.
When you make a checklist content upgrade, try to re-cap the post, but using visuals. This way, when the users revert back to the document, they'll have the info handy and images to remind them of what they are supposed to do.
Instruction screenshots can work very well in this case.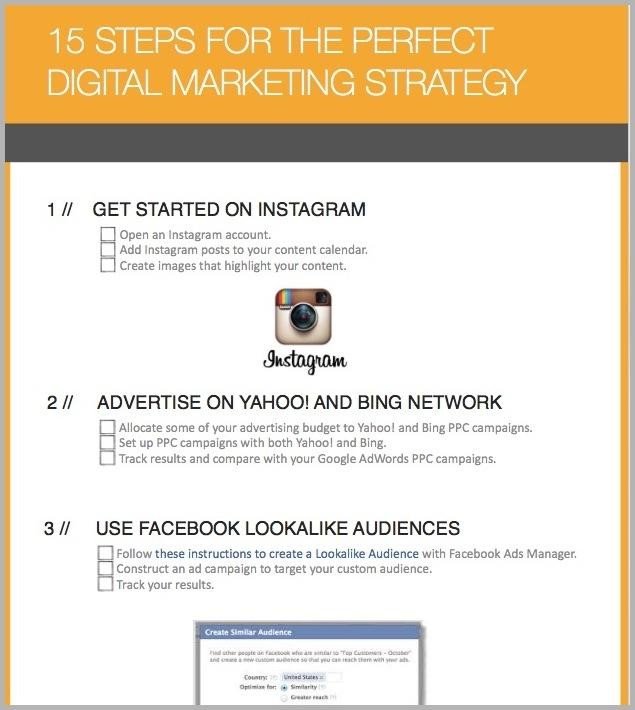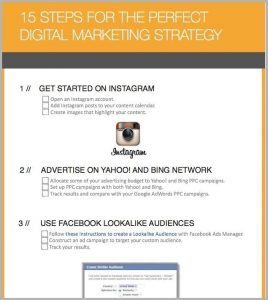 3. Transcripts
Transcripts are a great content upgrade for video shows and podcasts because not many video publishers provide textual transcripts of the show. This means that the competition for the audience that prefers textual information is lower.
At the same time, professional and successful podcasts make sure they first have a transcript of their episode before they publish it online. The moderators announce it at the end of the show and work with various collaborators for accurate transcription. 
Podcast or video show hosts usually work with freelance transcribers who offer their services at a reasonable price on Fiverr or Upwork.
A great example of this content upgrade tool is Brain Science, a neuroscience podcast featuring interviews with some of the world's top scientists. 
All episodes of Brain Science are transcribed, but there's a small fee of $1-2 to access the transcriptions. However, premium subscribers have unlimited access to all transcripts for a monthly subscription fee of $4.99.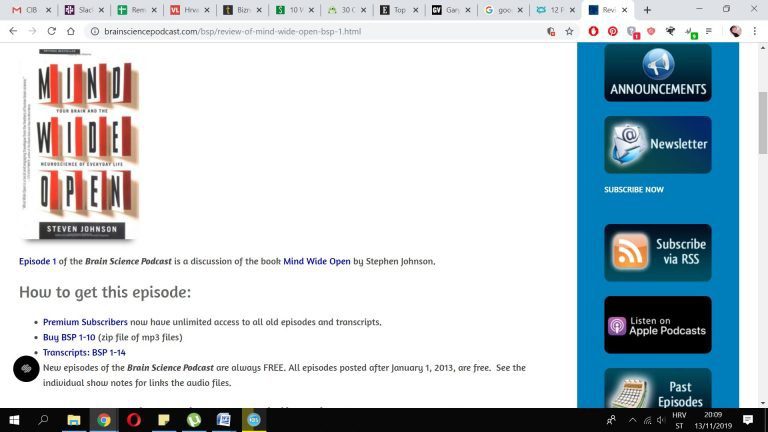 4. Downloadable asset
Adding downloadable assets to your posts is a strategy that can be extremely helpful for startups that are just beginning to build their audience. 
If you offer free, valuable resources that help your visitors, you will get extraordinarily high conversion rates. Although it may seem counterintuitive to give an asset away for free, it can actually pay out more in the long term than if you were selling it.
An example of this strategy is LeadPages, a company that greatly benefited from introducing content upgrades in the form of downloadable landing pages. Their website contains a generous and versatile library of different landing pages that are tailored to specific industries and audiences: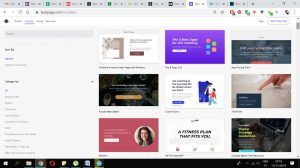 LeadPages offers a free 14-day trial period that allows visitors to download landing page templates for free, but given the value of the service, the business is counting on those trial users to turn into paying customers. 
Another great example is 24Slides, a design company that produces PowerPoint templates. In their library, users can find PPT templates for any scenario or need. It's free to download if they sign up. This is a typical example of a content upgrade through downloadable assets.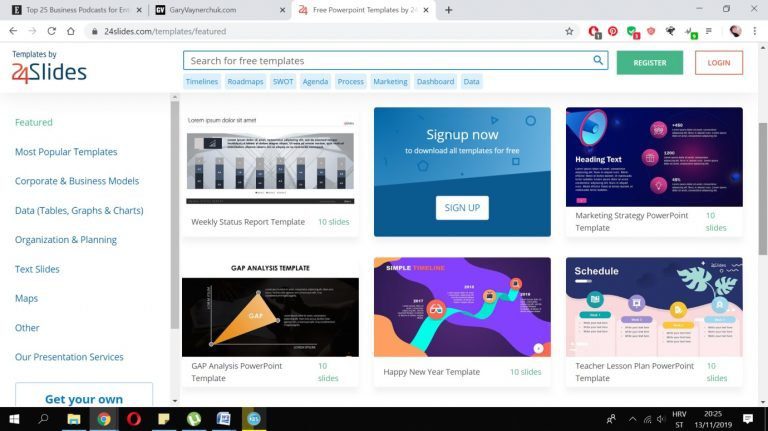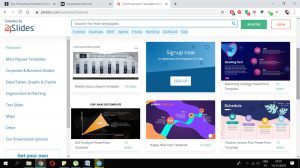 Image source: 24Slides
5. A Recorded Audio of a Written Article
If podcasts and videos can benefit from transcription, the same works the other way around. By recording an audio version of a written article, you can reach audiences that prefer to listen rather than read.
Not only that, but some of your readers might want to hang on to your article in audio form. Then they can re-listen to it when needed or when they have time.
You can record the audio version of your article yourself or hire outside experts to do it for you. You can also post these records on a password-protected Vimeo video, which you will unlock for subscribed users.
Famous American magazine The Atlantic regularly publishes audio versions of their written articles: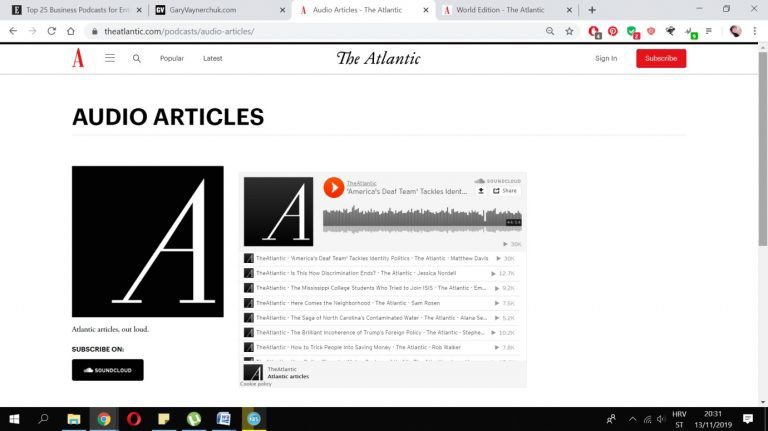 Bottom Line
There are many creative and effective ways to upgrade your content and reach a wider audience. 
Keep some of the basic rules of content upgrade in mind:
keep it short and to the point
make sure it looks good and is visually appealing 
incorporate a strong call-to-action
Witness the potential of this original and new marketing tool. You will surely start introducing it to all your marketing channels!
___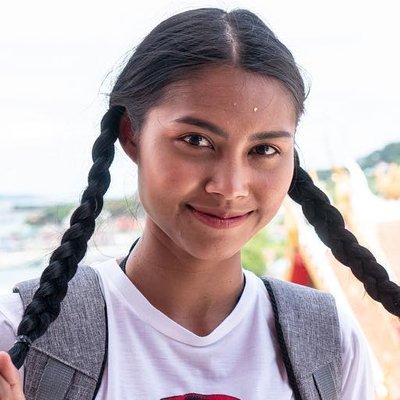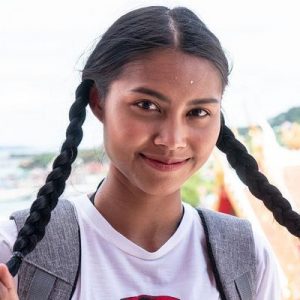 About the author: Erica Sunarjo is constantly keeping up with the latest trends in the industry through courses, articles, and industry reports. Erica is also keen on knowledge-sharing with her fellow marketers, so she frequently posts email marketing articles on 3to5Marketing and various blogs.
Related Blogs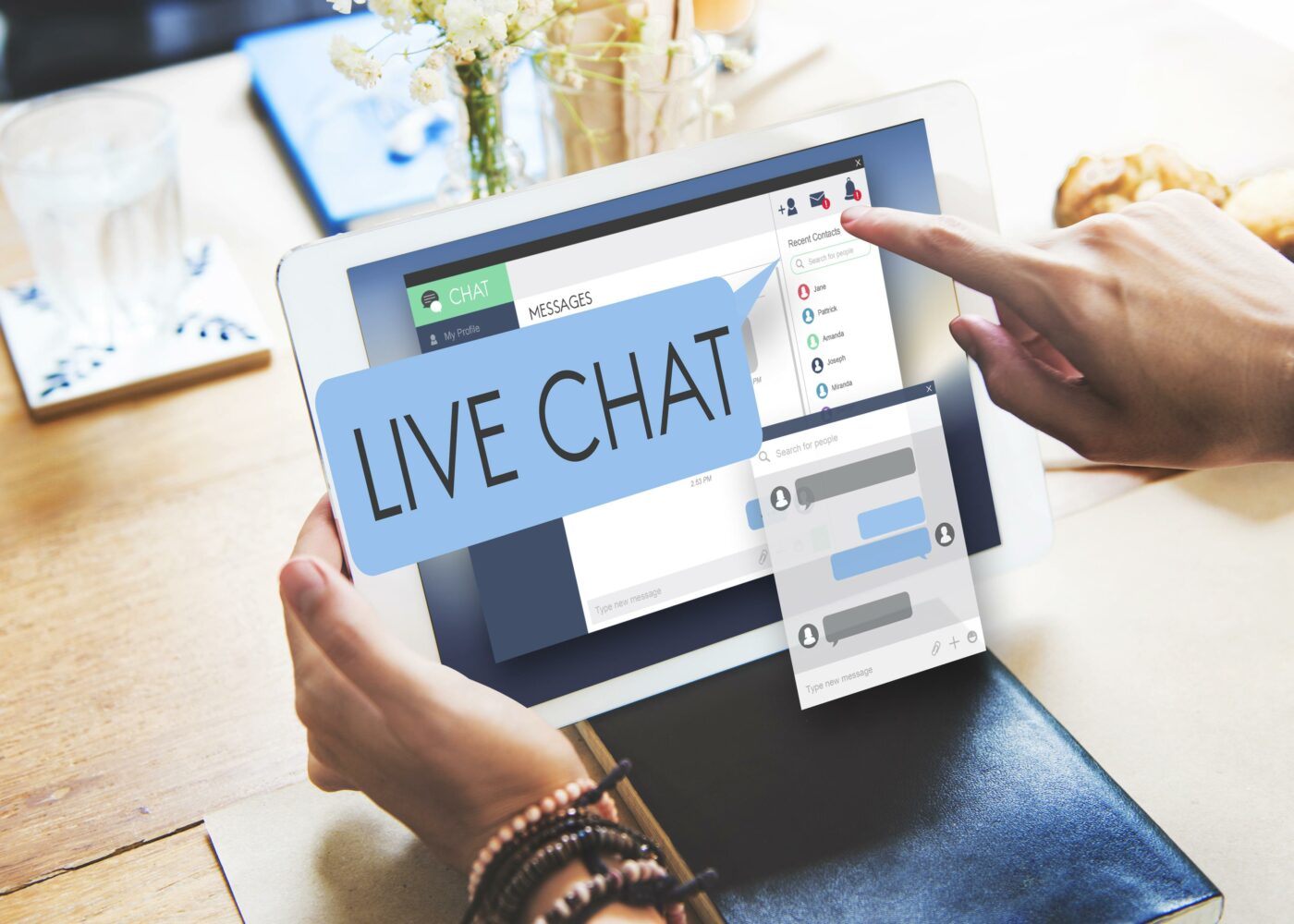 06 Jan
Blog
Best Live Chat Service You Should Use In 2023 [Comparison]
If you're shopping around for a live chat service, we've saved you some time by doing all of the research for you (you're welcome).  We also thought you should know that even as you read this, you are missing out on easily attainable website leads. These leads aren't soft leads either. We're talking about hot … Continued
03 Jan
Marketing and media
Best B2B Marketing Channels Strategy in 2023
What are B2B marketing channels you are using in 2023? Do the current strategies and channels you use deliver the desired results in terms of ROI? Chances are you are looking for a better option, better marketing strategy to generate results for your business. The beginning of every new year is a great time to … Continued
03 Jan
Blog
The True Cost of "Free" Live Chat Software
A search query for "free live chat software" yields over seven hundred million results on Google. Everyone is looking for free live chat software. If you want a better website than your competitors, that should worry you. One recalls an old quote from George Patton: "If everyone is thinking alike, then somebody isn't thinking." What's … Continued