How Dental Practices Are Adjusting to COVID-19 Crisis
A toothache is no joke. 
The dullness of the pain and the fact that it's constant, can make it comparable to childbirth and kidney stones. It is, then, understandable that state governments deemed dentists as essential during the COVID-19 lock down.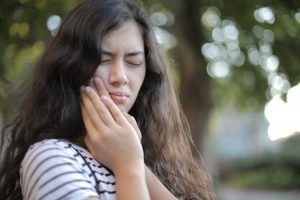 Even though they are allowed to stay open under certain circumstances, dental practices must adjust to the new guidelines. And the adjustments must continue beyond the quarantine to promote safety of all patients.
Here is a look at guidelines, challenges, possible solutions, and the future of dental practices adjustments. 
Current ADA and CDC Guidelines for Dental Practices
The American Dental Association and the Center for Disease Control provide a set of guidelines during the COVID-19 pandemic. 
Here is a key point summary of the guidelines.
As of March 16, ADA recommended that dental practices postpone elective procedures, surgeries, and non-urgent dental visits until further notice. The guidelines advise facilities to prioritise urgent and emergency visits and procedures. (ADA)
CDC urges office staff to stay home when feeling sick. The federal government protects employees' rights to coronavirus-related paid leaves as part of the Families First Response Act.  
Dental practices must screen everyone who enters the facilities for symptoms of COVID-19. This includes measuring body temperature and checking for cough and shortness of breath. 
To determine the need for emergency procedures, dental practices should interview patients via telephone and use teleconferencing technology. 
If emergency dental care is necessary for a COVID-19 patient it must take place in an isolation room. The room should have negative pressure relative to the surrounding area.  Anyone entering the room must wear N95 filtering disposable respirator. Dental treatment should be provided in a hospital or other facility that can treat the patient using the appropriate precautions. 
If emergency dental care is necessary for patients without COVID-19 suspicion or symptoms, the dental practice must still follow precautions. Personnel involved in the direct medical treatment must wear N95 or surgical masks when in contact with the patient. Other office personnel must wear cloth or surgical masks while remaining in the facility. 
Dental facilities should provide staff with job-specific training on personal protection equipment (PPE). The PPE includes masks, gloves, face shield or goggles, and gowns. 
To read full CDC guidelines click here. 
Challenges Dental Practices Face During COVID-19
In compliance with the CDC and ADA guidelines, dental professionals everywhere must adjust their practices. In doing so, they face certain challenges.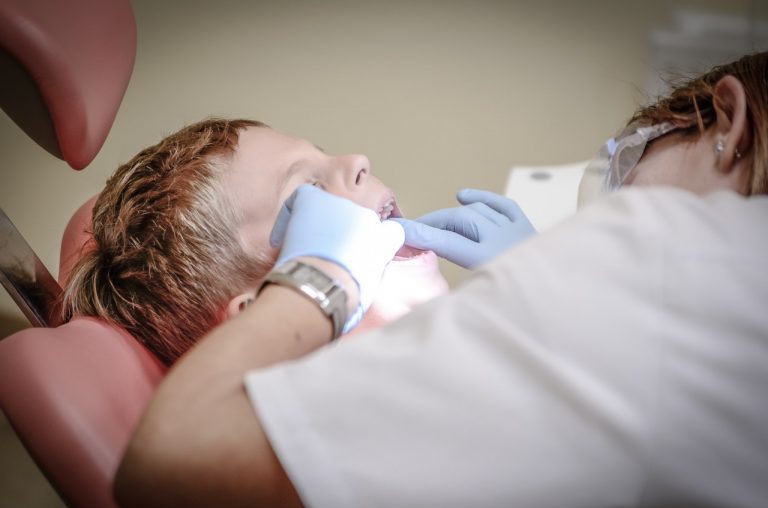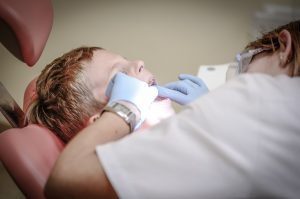 Office Challenges: Social Distancing
"The biggest challenge is social distancing. Dentistry is unique in that it is impossible to keep six feet away from patients because we're working with dental tools in their mouths. We maintain our strict cleaning procedures,  spray aerosol throughout the working environment and make sure our staff is wearing protective gear at all times. (Dr. Kourosh Maddahi, DDS, Beverly Hills, CA)
As Dr. Maddahi states, it is impossible to maintain social distancing in a dental facility. The only solution for containing the coronavirus and keeping employees and patients safe is to follow the CDC guidelines, use PPE, and maintain good hygiene and disinfection practices. 
However, in the areas of dental business outside the dental exam and treatment rooms, certain new practices and tools can help maintain social distancing. 
First and foremost, in non-urgent situations, the practice of teledentistry can assist dentists and patients.  American Teledentistry Association cites a report that states that currently 48% of physicians are using telehealth and telemedicine to diagnose and treat patients.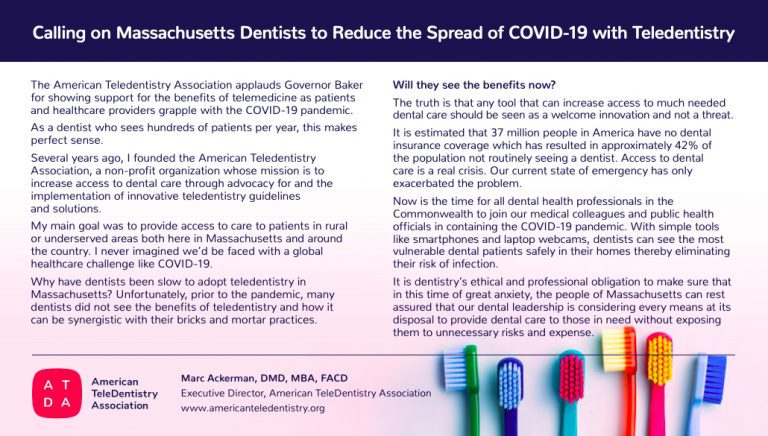 American TeleDentistry Association Highlights the Benefits of Teledentistry
The growth of telehealth popularity gives the green light to teledentistry companies that have been in business even before the pandemic. 
"Many dental practices have closed during this pandemic. As a pioneer in the telehealth space, our teledentistry platform empowers dentists and orthodontists to manage contact with and treatment of their patients remotely, which is key to everyone's safety right now," said SmileDirectClub Chief Clinical Officer Dr. Jeffrey Sulitzer. "As a company built on doctor-directed remote dental care, we feel a responsibility to support dental professionals so that they can continue to manage patient care during this time. We are well positioned to offer our resources and telehealth expertise to support these doctors and give them the tools necessary to continue business operations while keeping everyone safe in the comfort of their own homes." (GlobeNewswire)
In addition to teledentistry, dental practices can implement remote solutions, such as telecommuting for its clerical staff. In 2020 a variety of technology tools can aid offices in communication, support, and organisational tasks. 
Treatment Challenges: Emergencies 
Dentists around the nation have seen a flood in unnecessary teeth grinding or gripping, called bruxism, since the pandemic started. Ongoing teeth crushing wears out the defensive layer of lacquer on the tooth, which prompts breaks, jaw torment, facial inconvenience, and even loss of teeth in serious cases and in turn causes the need for dental implants according to Dental Implants center in Lawrenceville, NJ
Office logistics aside, which patients can actually make it into dental practices for treatment? According to dental professionals, there is a grey area when it comes to defining emergencies that require immediate treatment.
"The definition of emergency continues to be a challenge. An increasing body of research shows that a healthy mouth has wide reaching implications, even so far as on psychosocial and economic arenas. So is a patient who has lost a crown on their front tooth an emergency? Would you go to a zoom meeting missing a front tooth? Is that as much an emergency as a toothache, or is emergency defined strictly as an abscess which is now swollen to the extent that it is limiting a patient's airway?" (Dr. Leena Palomo, DDS, MSD, Case Western Reserve University, School of Dentistry) 
ADA provides guidelines for triaging a dental emergency. Following the algorithm can assist dental practices in finding true dental emergencies and keeping their staff and patients safe.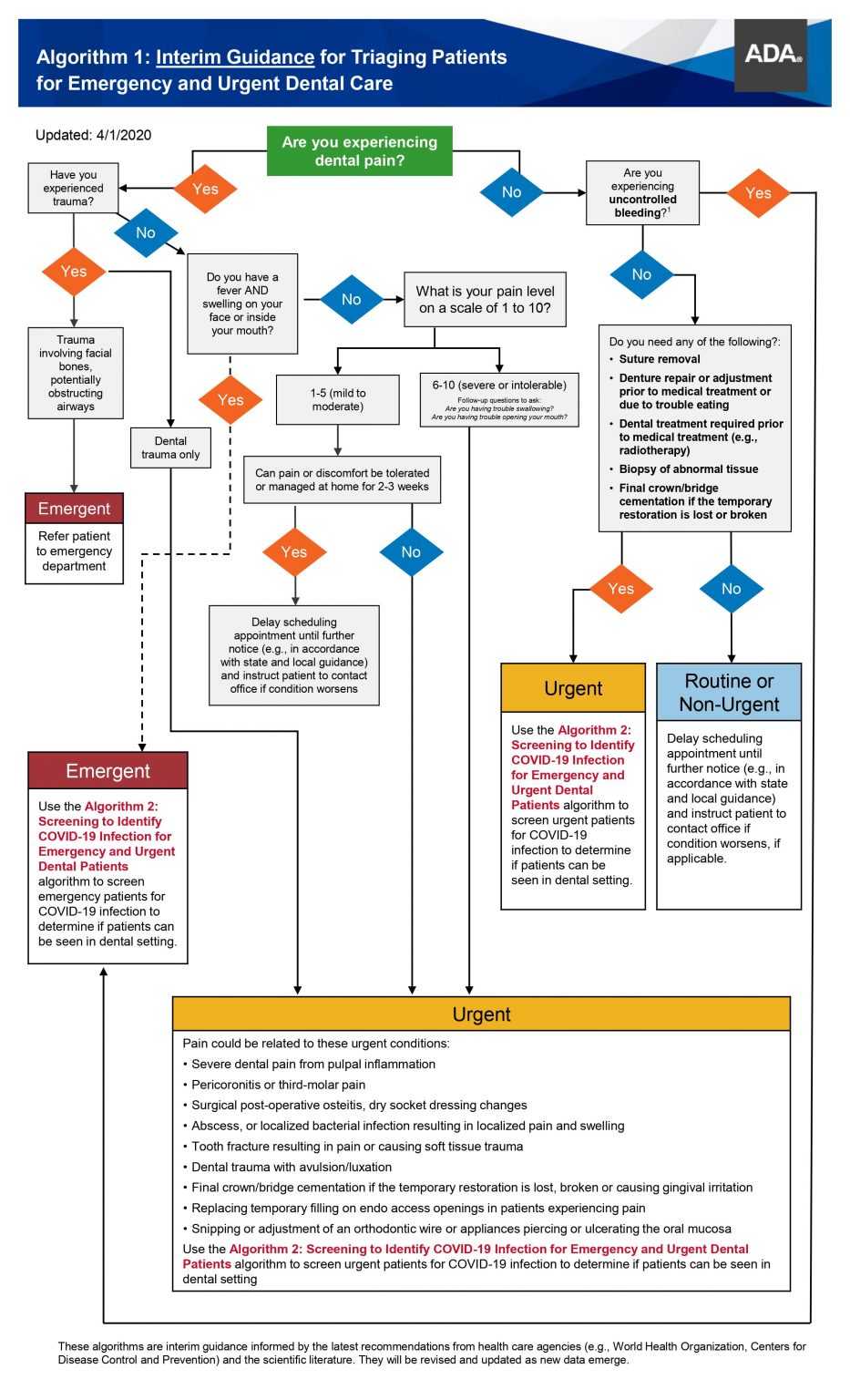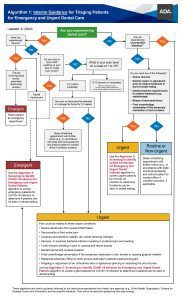 Safety Challenge:  Availability of PPE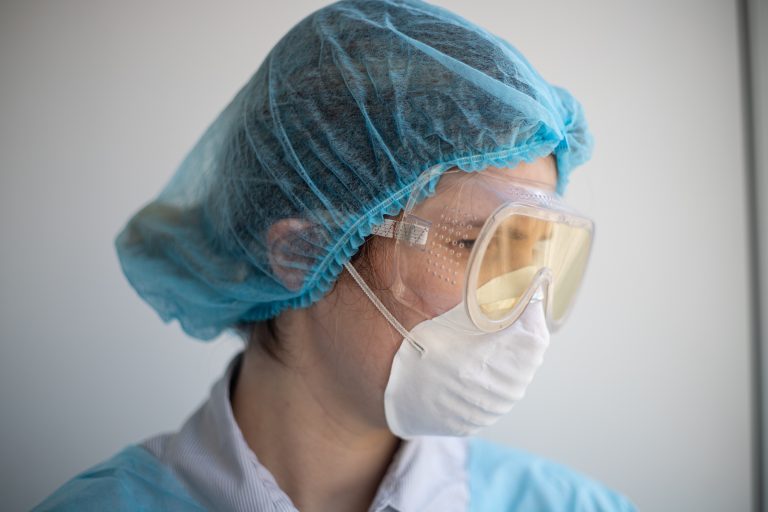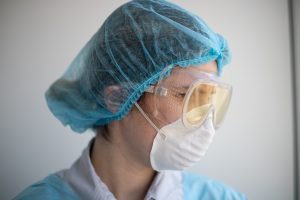 Another common challenge dentists face is the lack of PPE. Members of the ADA advisory task force on dental practice recovery addressed this challenge in a press release on April 22.
"The task force is well aware of the PPE shortages nationwide at this point," said Dr. Kirk M. Norbo, 16th District trustee and task force co-chair. 

"At the height of the COVID-19 crisis, the U.S. Department of Health and Human Services designated hospitals, medical centers and first responders as essential categories for receiving PPE," said Dr. Rudy Liddell, task force co-chair and chair of the ADA Council on Dental Practice.

"Current demand for certain PPE is reported by main dental distributors to be at least 10 times that of supply, without the addition of several professionals who use similar protective equipment, including dentists, hygienists, dental assistants, painters, construction workers, etc." said Jim Goodman, senior vice president of the ADA Business Group. However, he added "that some suppliers and distributors are indicating that with the addition of several increases in manufacturing, both domestic and internationally, they are hopeful that supply of masks will catch up to demand in mid to late summer." (ADA)
The task force  recommends the use of  ASTM Level 3 surgical mask with a face shield as the next best selection if N95 masks are not available. Additionally, ADA recommends that dentists stop donating their PPE at this time to help prepare themselves for re-opening with needed materials. The agency also urges dentists to be cautious about purchasing dental materials from the grey market. PPE products purchased this way may not meet certain standards approved by the FDA. The grey market is a generic term that primarily refers to products that are traded or sold outside of the manufacturer's authorised distribution channels.
Future Challenge: Cost of Running Dental Practices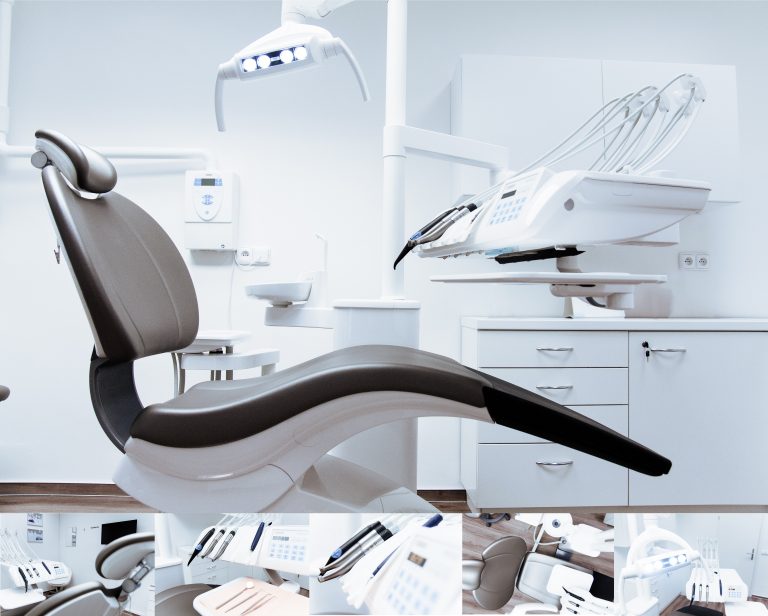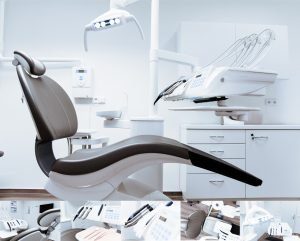 It's hard to say how COVID-19 will change dental practices in the long run. However, it's clear that changes in procedures and logistics of dentistry will change the nature of the practice. 
"Ensuring that our office has all the proper protective gear can get costly. Because of this, we may see dental procedures becoming more expensive. While most is still unknown about what the future holds post-COVID-19, we may also have to cut back the number of patients we have in the office at the same time, meaning there will be a decrease in appointment times and availability."  (Dr. Maddahi, DDS)
When it comes to cutting costs doing so in any medical field can get tricky. To avoid sacrificing important aspects of the practice, dentists must make smart moves and think outside the box.
"Evaluating true costs of supplies, consolidating purchases, selecting brands carefully, looking for loyalty rewards, negotiating prices, joining a provider group, and reviewing lab expenses are some of the ways dental practices can cut costs." (Gary Radz, DDS, Dental Economics)
Office and staff expenses could be another area to reevaluate when looking for cost cuts. Outsourcing customer support, billing, and scheduling tasks could be a viable solution in some cases. In addition to saving money, services such as live chat and patient support via text can improve patient experiences. 
Bottom Line: Future of Dental Practices
"Eventually, when we heal from our tragic losses and reflect, pandemic is an opportunity for dentistry to evolve: I look for an age of innovation.  I think we will see it in not only infection control, but also patient scheduling and even down to the specifics of our treatments." (Dr. Palomo, DDS).
Whatever the future holds, dental practices remain essential, during the pandemic and beyond. Following guidelines, overcoming challenges with smart tactics, and preparing for the future by adapting to the new post-pandemic world, will help dentists make a successful come back.
Blog
Healthcare
HelpSquad
Orthodontists
Related Blogs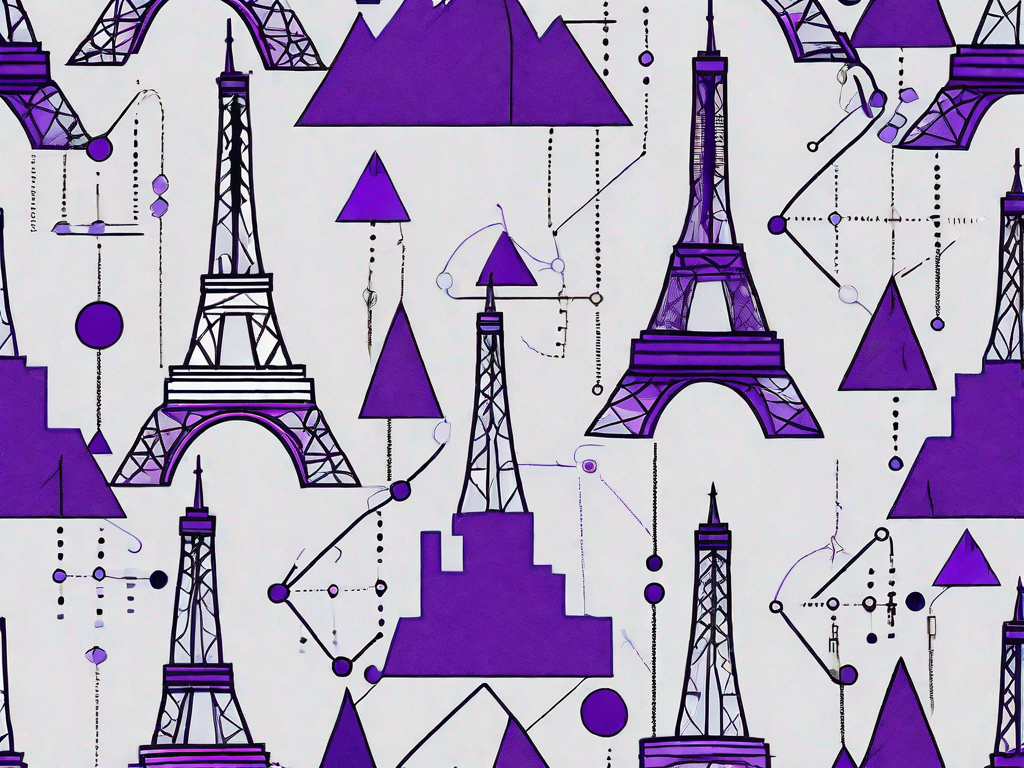 08 Nov
Call center
Healthcare Outsourcing: Key Statistics You Need to Know
Healthcare outsourcing has become increasingly prevalent in today's healthcare industry. With the rising costs and the need to improve efficiency, many healthcare organizations are turning to outsourcing as a viable solution. In this article, we will explore the key statistics surrounding healthcare outsourcing and examine the various factors driving its growth. By understanding this phenomenon, … Continued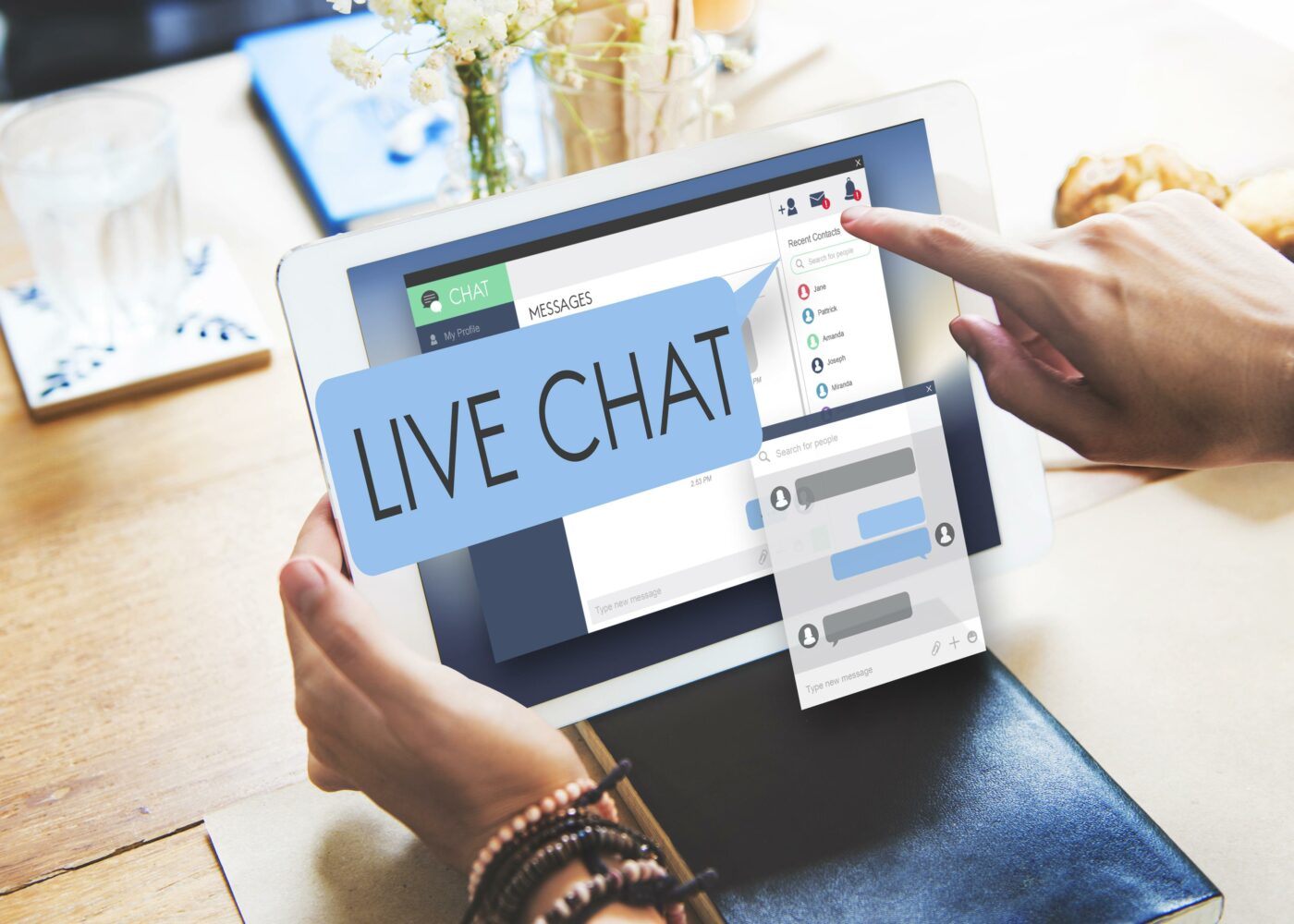 06 Jan
Blog
Best Live Chat Service You Should Use In 2023 [Comparison]
If you're shopping around for a live chat service, we've saved you some time by doing all of the research for you (you're welcome).  We also thought you should know that even as you read this, you are missing out on easily attainable website leads. These leads aren't soft leads either. We're talking about hot … Continued
03 Jan
Blog
The True Cost of "Free" Live Chat Software
A search query for "free live chat software" yields over seven hundred million results on Google. Everyone is looking for free live chat software. If you want a better website than your competitors, that should worry you. One recalls an old quote from George Patton: "If everyone is thinking alike, then somebody isn't thinking." What's … Continued