A Guide to Digital PR Strategy
Storytelling has always been synonymous with media and PR. Today, the formats of these stories have changed. What hasn't however, is the inclination of a brand towards being featured in these stories and gaining a significant share of voice in the industry. Companies want to be perceived as an industry thought leaders or brands that are a critical part of the industry, every time someone reads an article in the newspaper.
The only difference, and a major one, is that what used to be newspapers, tabloids, magazines, and other media formats, have gradually shifted to online websites. Where PR was an essential part of any company's marketing strategy a decade ago, digital has entered the game and changed the way PR is done.
The Evolution of PR
PR has evolved from traditional to digital in a matter of just a few years. Since the pandemic led to several publications switching to digital formats. Moreover, with social media sites like Facebook, Twitter, V Kontakte (VK), and numerous online channels, online news consumption has seen enormous growth. It is no surprise that the majority of the news channels are on YouTube as well.
This gave brands reasons to pursue public relations in a novel format, now known as Digital PR. After all, the news is now online, and so are their consumers, clients, and potential customers.
Why Digital PR
If you are not able to keep your brand in the limelight or generate leads and conversions, or simply get all the major news outlets to write about your brand, digital PR might be the missing piece. There are many tactical approaches you can take to create business outcomes. What makes digital PR powerful is the ability to reach your goals and KPIs. You can do that through data-driven, search engine-oriented campaigns. These can be twice as effective when compared with traditional methods.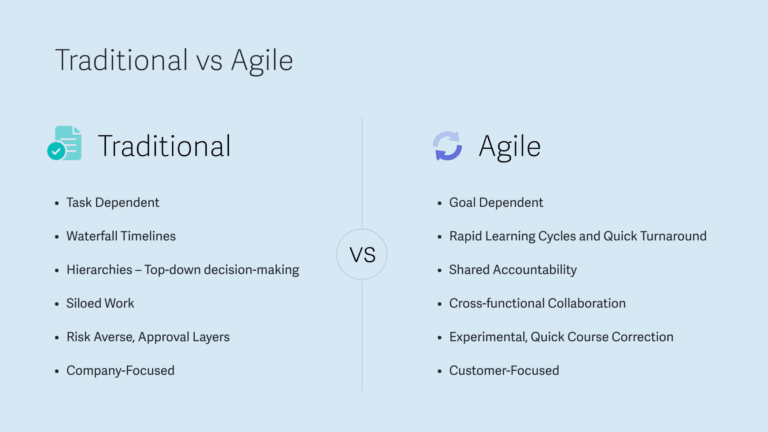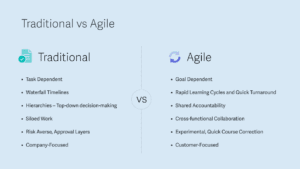 It allows you to reach a far larger audience, which you couldn't reach using simply offline techniques. It utilizes internet-based tactics which include search engine optimization (SEO), content marketing, influencer outreach, and social media marketing to make maximum impact. Unlike newspapers, magazines, and primetime news, it doesn't have to wait to reach out to the audience.
Top brands are already leveraging digital PR to reach out to audiences through various means. They love it because it's fast and measurable. Some of the successful digital PR campaigns have already helped companies become the talk of the town by growing their online presence, building trust, brand authority, and increasing awareness. Be it Apple, KFC, or Nike, digital PR has turned in favor of every business regardless of which industry they belong to.
How to Create a Digital PR Strategy
A Digital PR strategy should be devised to collaborate with any form of media, not just print or electronic. But it is equally critical to create content that is both interesting and notable enough to be digested by a bigger audience.
If you are trying to build a digital PR strategy for any campaign or for greater brand-building, here's how you create one: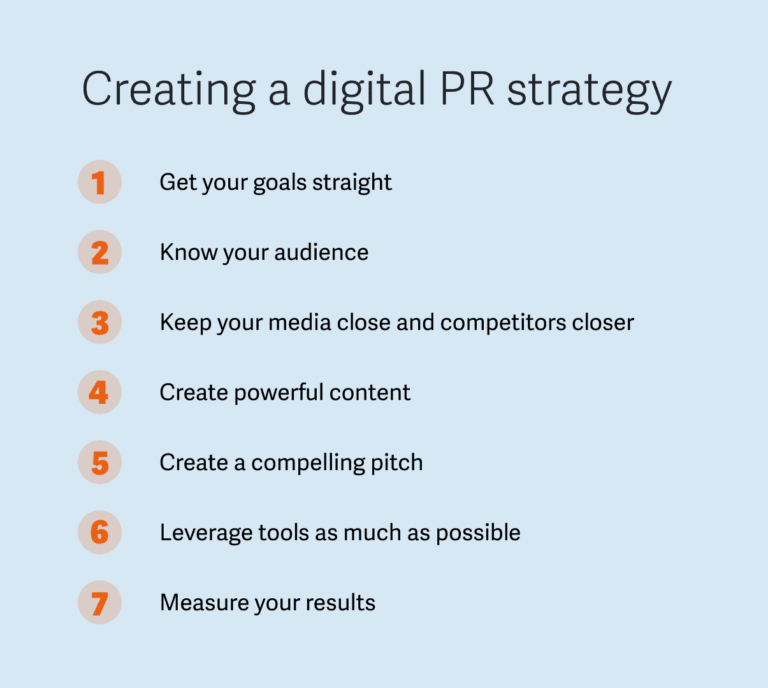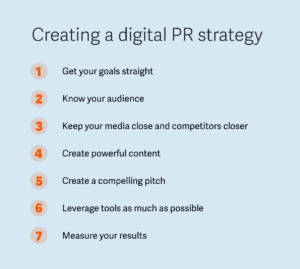 1. Get your goals straight
It essentially means the outcome you want to see after the end of a digital PR campaign. Is it about getting more traffic online, or bottom of the funnel conversions, or simply getting higher backlinks for SEO? Goal setting helps a lot in determining the steps that you are going to take to roll out any digital PR campaign. Know your 'why' before 'how' and that's the most important part of any strategy.
2. Know your audience
Assess who you are doing it for and ascertain what kind of audience is right for your business. A Volkswagen will have a different strategy than a Rolls Royce or Lamborghini for that matter. Mere demographics and geo-locations aren't going to help much. Work out a way where you can get under the skin of your target audience, what they like, what they read, where they consume news from, which websites they visit, and which podcasts they listen to. Analyze every detail and try to form broad personas of your target audience to understand what they want, what they dislike, and what will keep them hooked to your brand.
3. Keep your media close and competitors closer
Map the media outlets for relevant news pertaining to your industry. Similarly, gauge what your competitors have been up to, where they have been featured, which journalist is their favorite, and what causes they champion. It is very critical to understand the pulse of the media and reach out to them at the right time to garner maximum mileage. Create a media and outreach list specific to the campaign you are looking at launching.
4. Create powerful content
Your content is the king and it's critical to ace it. Based on the personas that you created for your audience and the data that you accumulated, run insights and create content that will interest them. Be it through media pitches, thought leadership articles, infographics, videos, listicles, or podcasts, it is also important to time them. Even memes and GIFs are great ice-breakers. In this social media world, making a mark is difficult, with a plethora of content available that nobody cares about. Ensure yours stands out above the rest. What next? Use social media to amplify your engagement.
5. Create a compelling pitch
Journalists are inundated with PR calls and receive over 100 calls and even more emails every day. That is maddening for them. Therefore it is important for a brand to be a cut above the rest and engage them in a way that they won't say no. Create compelling content starting from the subject line to the emailer, images, and infographics. Share something that will strike a rapport with the media so that they reach out to you even when you aren't looking for a story or backlink.
6. Leverage tools as much as possible
This can't be stressed much. While platforms like Cision aid in the identification of relevant media across markets, HARO enables the business to reach out to the ideal journalist for the job. Tools like Ahrefs and SEMrush assist you to analyze keywords, backlinks, and related content, while Meltwater can help you analyze the campaign's results.
7. Measure your results
Just how important goal setting is for digital PR, so is measuring the KPIs and outcomes. Ad-value equivalents (AVEs) are a thing of the past. Since data rules the roost, there are a number of ways to find out how a campaign performed. Get to the T of every result and analyze closely what went right and what didn't. Impressions, number of backlinks, and conversions made are a few of the parameters which you can measure to derive the ROI.
We see agencies trying to roll up their sleeves and upskilling themselves to become digitally savvy to take on digital PR for their clients. Companies have also started to set up a digital PR strategy team comprising media managers, content marketers, SEO experts, social media experts, graphic designers, and video producers to ensure digital PR success.  Regardless of whether it is an in-house agile marketing team or a remote expert talent team set-up, the more digital PR strategies that you leverage, the better are your chances of succeeding in building your brand authority and having a profound impact on your business.
Related Blogs
03 Jan
Marketing and media
Best B2B Marketing Channels Strategy in 2023
What are B2B marketing channels you are using in 2023? Do the current strategies and channels you use deliver the desired results in terms of ROI? Chances are you are looking for a better option, better marketing strategy to generate results for your business. The beginning of every new year is a great time to … Continued
06 Jul
Blog
11 Ways a Live Chat Feature can Boost Your SEO
Give an example of how a 24/7 live chat feature can boost SEO for your website? To help you determine the SEO benefits of implementing 24/7 live chat feature, we asked marketing experts and business leaders this question for their best insights. From increasing engagement rates to dwell time on your website, there are several … Continued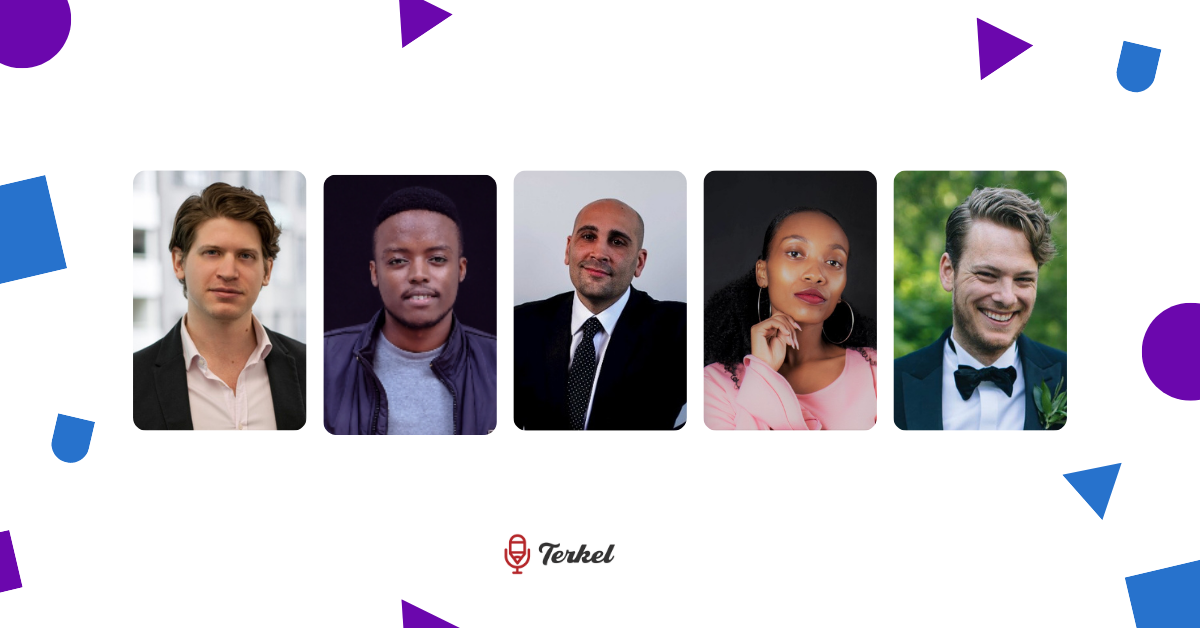 08 Jun
Blog
9 Attorney Marketing Strategies That Lawyers Use
What is one marketing strategy that lawyers use to promote themselves?  To help legal professionals promote themselves online, we asked marketing professionals and business leaders this question for their best insights. From employing video marketing to blogging opinions on legal questions, there are several strategies that lawyers use to help them market their services to … Continued