Small Business Survival: Dos and Don't During Coronavirus Pandemic
Spring brings new beginnings.
Spring 2020, however, brought some other things with it. 
The coronavirus pandemic came unexpectedly and stopped the world in its tracks.  
With it came uncertainty, fear, and anxiety to many American business owners. With social distancing measures and closures ordered nationwide, small business survival became a major issue.
On a typical spring day Maryana Ferguson, an owner of a Pennsylvanian farm-to-table microbrewery in Bucks County, would normally  be preparing brewing supplies. She would be tending to her farm, making delicious beers, and serving customers at the Great Barn Brewery Taproom in New Hope.
Unfortunately, this month she had to close her doors, reevaluate her options, and hope for the best.
"Covid-19 is not only killing humans. It will kill a lot of small businesses worldwide," Maryana said. "With mandated closures of our taproom we are facing difficulties paying rent, loans, vendors, and our employees. For a small business owner it's unprecedented times we are living in. And we have to adjust to dealing with this current fluid situation."
Small business survival will become a major issue for U.S Economy.
Maryana is not alone. As of 2019, there were 30.7 million small businesses in the United States. 
"Businesses with fewer than 100 employees account for 98.2 percent, and those with fewer than 20 employees account for 89 percent of all businesses in the country." (Oberlo)
Most of these small businesses will be impacted by the pandemic in one way or another.
For some, moving all staff to full-time work-from-home operations might be the only change. This will be true for most e-commerce, software and online services companies without inventory or face-to-face client meetings. 
To others, like Maryana, the changes will be more drastic, including complete closure and long weeks or even months of unknown future.
Small businesses play an essential role in American economy. 
"Small businesses are the lifeblood of the U.S. economy: they create two-thirds of net new jobs and drive U.S. innovation and competitiveness. A new report shows that they account for 44 percent of U.S. economic activity. This is a significant contribution, however this overall share has declined gradually." (Small Business Advocacy)
Unfortunately, unlike large companies, small businesses lack back-up funds that would allow them to pay their bills without constant customer cash flow. The steps they take now will determine the future of their small business survival. 
However, it's not the time to panic and fall into despair. As Maryana, the positive beer crafter put it, "right now it's important for people to remain calm. And stay optimistic."
While that's easier said than done, here are some Dos and Don't of small business survival during the coronavirus pandemic.
The Do's of small business survival

1. Follow the rules
As the head of the company the news of possible virus spread, limited operations, or complete closure might come as a shock. Again, it's not the time to panic.
Coming up with a plan to protect the business, its employees, and customers can help ensure the small business survival after the pandemic subsides. 
The plan should include clear communication with employees, limiting all travel, establishment of work-from-home policy if possible, and thorough cleaning of the business premises. Being proactive about all of the actions can not only help stop the spread of the virus, but allow the business more time to adjust to the new reality.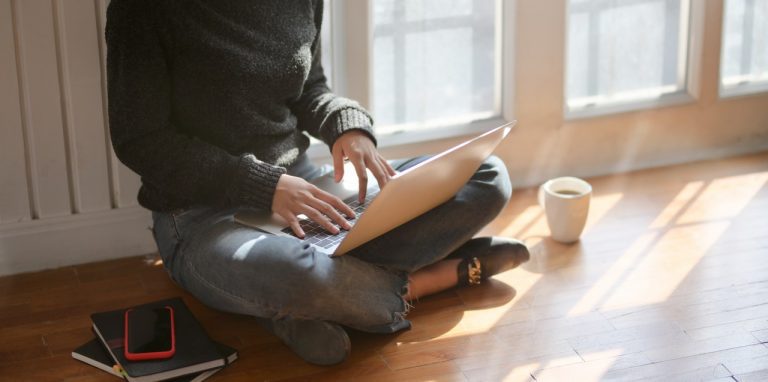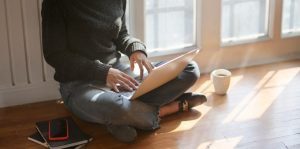 The U.S. Chamber of Commerce put forward a guide for small businesses to follow during the pandemic. 
Depending on the nature of the business, a company might need to follow different protocols when it comes to employee and customer safety. The Center for Disease Control posted a clear action plan from businesses to follow as well. 
Remember, following the guidelines is not optional. It's mandatory. It will ensure safety and health of employees and customers.
2. Discover available resources 
While the federal and state government are working on stimulus plans, some resources are already available for small business owners.
Look for local, state, and national agencies that provide relief for those affected by the pandemic. Check with landlords, banks, and credit companies to see if they offer anything to ease the burden of limited operations and closures. 
Please help spread this so small business owners can see what is available to them in the public sector to help keep their business open and workers employed. https://t.co/VWuruwMTpT

— Carin Camen – Author (@CarinCamen) March 24, 2020
Look for other businesses that offer products and services that might help during this difficult time. HelpSquad and our sister company LiveHelpNow both offer extended free trials on our services.  We also offer free accounts for a limited time in an attempt to help companies that are affected. As a small business ourselves we understand that hard times like this will determine small business survival. We can all pull together to make it work. 
Check out a list of resources available to small businesses at the bottom of this post.
3. Engage in local community
If one good thing appears during the coronavirus pandemic, it is the strength of communities. 
Small businesses are not just the heart of American economy. They are also the hearts of their communities. They know the people who live in the communities and they understand their needs.
Julie Druzak is the owner of Once Upon A Dream Princess Parties, a children's entertainment business. Since the announcement of the quarantine, she found herself without events to plan and host and, therefore, without income. While things have been hard for Julie, she's been hosting face painting tutorials on her Facebook page and even organized a bed time story time kids can tune in to listen.
"Because I love my clients, the kids and my business. I need to make sure everyone is happy first and then if they need a little sunshine from a princess, we could help them through this time with that," Julie said.
For small businesses, lending a hand in the community is not just a nice thing to do. It's the right thing to do. 
Whether a business remains open during the quarantine or closes its doors, what its owners do during the hard time matters. The virus will eventually subside. The people in the community will remain. And they will remember a business that helped, that engaged in the local community, and supported those who needed support. 
Doing the right thing will aid in small business survival. Giving in the time of need is good for humanity and is good for business.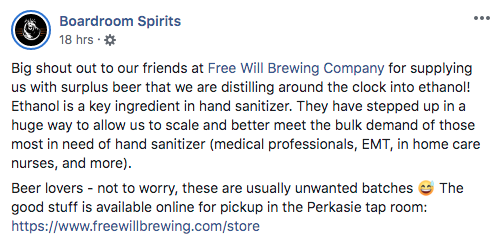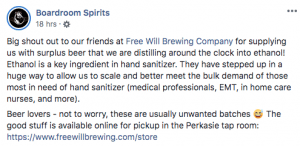 What actions a business can take depends on the nature of it. See what the needs of the community are, get creative, and lend a helping hand. 
4. Shop local
Supporting local communities also includes supporting other small local businesses. An owner of a business that remains in operation during the quarantine can help other businesses by purchasing from other local establishments. 
In the time when business transactions decrease in numbers, every purchase, big or small, matters. 
"[It's important] to keep the industry going regional[ly]," Maryana, who grows some of the grains for her brewing business, but who also gets some of the other supplies locally. "In case (unlikely and rare) the world has to quarantine international shipments of goods, where do you get your supplies to keep going [as a small business]? Having local farms producing your food in your neighborhood is vital to the economy and well beings of the residents."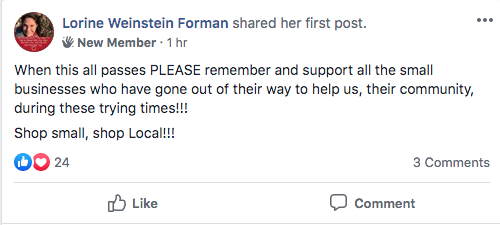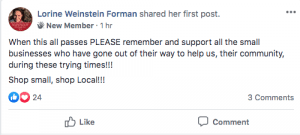 5. Get creative, connect, keep spirits up
Since it is hard to tell how long the quarantine or the aftermath of the pandemic will last, creativity might become essential in small business survival.
Luckily, it's 2020 and technology is available to help businesses big and small. Some adjustments will still have to take place. 
Jason Wood is a software and web developer at Immersion Technology. Even though all of his operations are digital, he still saw some changes in his business recently. 
"I am fortunate that most of my business, as a developer, is online. I am seeing a shift in my business," Jason said. "My retail clients and my clients who are suppliers to closed businesses are putting projects on hold. My online business customers are pushing hard on projects to deal with the shift in consumer and business demand for online purchases and services. Do look for new opportunities. Don't expect things to completely go back to normal. The following weeks and months are going to change your customers behaviors for a while."
If digital companies are experiencing changes, businesses that normally deal with customers face-to-face will definitely need to adjust. Flexibility and creativity will become important skills. 
Companies that previously only operated within their physical location, can now offer services online, local deliveries, and virtual shopping experiences. Exploring options with the use of technology can be a great option for businesses unable to keep their stores open. 
Here are some examples of how entrepreneurs continue to do business, adjusting to the current situation.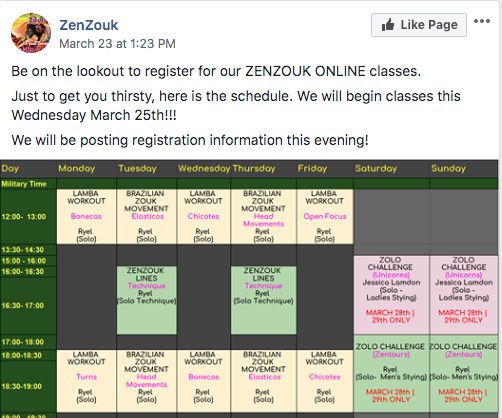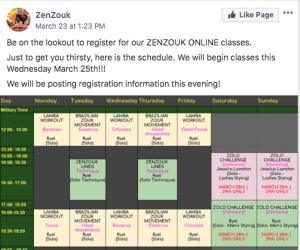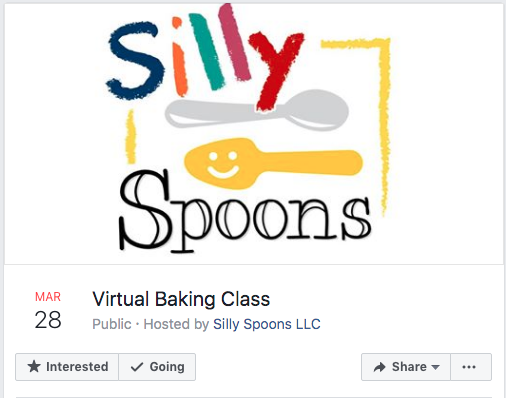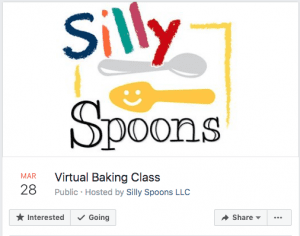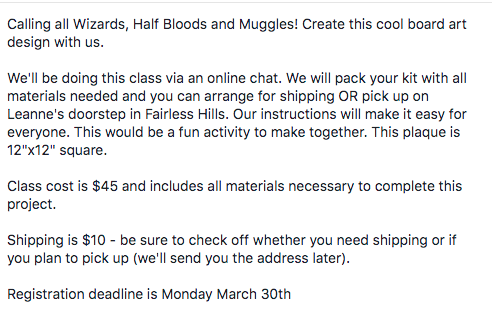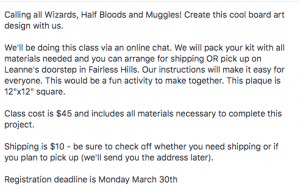 The Don'ts of small business survival.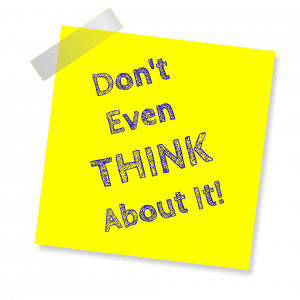 1. Ignore Guidelines
If the first "do" of small business survival is "follow the rules," perhaps it's redundant to say that ignoring the guidelines is a "don't". However, it is just that important enough that it bears repeating.
It might appear tempting to stay open despite the health authorities recommendations just to keep the business going while "being careful." However, failing to comply won't just  result in serious consequences like a possibility of getting a customer or an employee sick. 
It will also result in major fines from the authorities and possible loss of the business license. Even worse, disregarding people's health can turn public opinion against a business so much, that when the quarantine is over customers will simply not return. 
Violators might receive public backslash and experience loss of business.
Eyewitness news recently reported that Hobby Lobby, a popular craft store chain, chose to stay open during the coronavirus outbreak. The business leaders stated that they will increase and define their cleaning procedures, but will remain in operation for the time being. 
"While we do not know for certain what the future holds, or how long this disruption will last, we can all rest in knowing that God is in control," CEO David Green wrote to all employees. (Eyewitness News)
The move received a public backslash, from employees, their families, and customers alike. 
Hobby Lobby remains open. My wife works for Hobby Lobby. Their Christian thumping rhetoric is bullshit. They are no cleaning stores, they have had no store meetings, and CEO Green's claim that his wife had a message from God that employee's will be ok is disturbing. WOW.

— James Ponce de Leon (@Jponcedl) March 22, 2020
Unfortunately #hobbylobby has yet to announce the closing of their non essential store. Making purchases at any non essential retailer that remains open during the covid19 pandemic makes you part of the problem.
Go home and maybe the employees can too!

— SissyJ (@ArbitraryLib) March 21, 2020
Another retailer, GameStop, had its business license suspended by Pennsylvania Governor Tom Wolf. The gaming store self-labeled itself "essential" after the governor ordered all non-essential businesses to close. The store since shut down all of its locations, but still received some negative publicity for non-compliance. (Gambitmag)
2. Take advantage 
When it comes to global happenings like the coronavirus outbreak, it's always better to be on the right side of history. After the pandemic is over, people will still remember which businesses did the right things and which did not. 
Taking advantage or capitalizing on the situation is always the wrong thing. Price gouging, hoarding of essentials, or trying to otherwise profit in a crisis will always backfire. It's illegal and it's wrong.
Online retailer Amazon, which allows sellers to post their items for sale on the site, cracked down on users trying to profit during the outbreak. Government authorities will do the same.
President @realDonaldTrump just signed an EO to prevent hoarding & price gouging of supplies needed in our war against the #Coronavirus. This sends a strong message – we will not let those hoarding vital supplies & price gougers to harm the health of America in this hour of need. pic.twitter.com/eksxQOVKNM

— Stephanie Grisham (@PressSec) March 23, 2020
 3. Forget about your staff
If a business has employees, the owners have a responsibility to take care of them as much as possible. A small business might not have enough funds to keep employees on payroll during limited operations or closures. But business owners must communicate with the employees and help them find avenues of alternative income such as unemployment benefits and health insurance options. 
Some business insurance plans offer business interruption insurance coverage, so checking out these options might be helpful. Other options include furloughing employees instead of laying them off, so they can still receive benefits. (Philadelphia Inquire)
Many large companies have implemented employee-support programs during these difficult times. While small businesses might not be able to do the same for their employees, every small act of kindness counts. 
I work for a small business and despite taking a big hit financially, our boss has had every employee working from home AND gave everyone a significant raise today – just so they know how valuable they are. BIG COOPERATIONS HAVE NO EXCUSE🗣

— jordan (@jordayyylynnn) March 25, 2020
4. Disappear into despair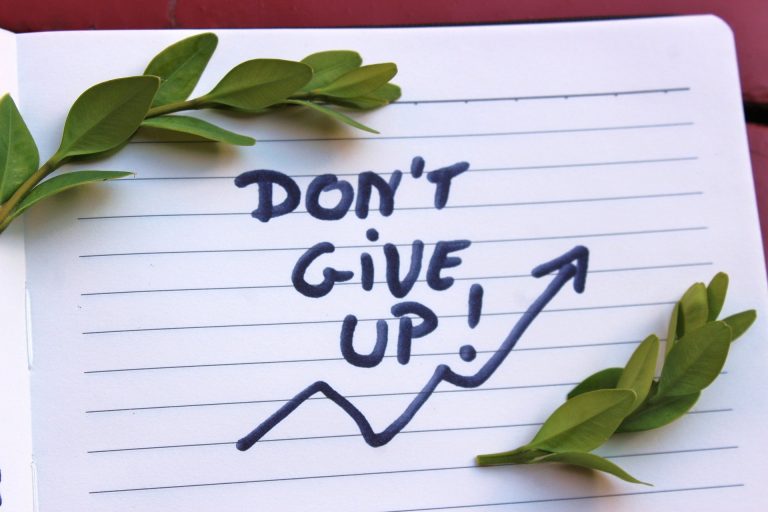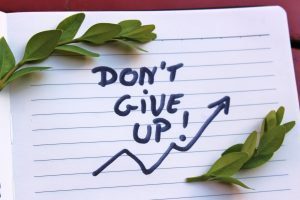 It is a difficult time for everyone. Fear of the unknown impacts everybody.
But giving up and disappearing is not a good option right now. Whether or not a company is staying open or making profit, staying present can help the future small business survival. 
While in isolation and practicing social distancing, many individuals and small businesses took upon themselves to establish a strong online presence. Many fitness instructors now put up free live streaming workouts as well as pre-recorded ones. Make-up artists offer online tutorials. Dance studios and cooking schools host free or donation-based online classes. Yoga studios lead live guided meditations. Musicians host jamming sessions.
Even if these endeavors do not bring a business profit, they serve the communities near and far. For the world in crisis, that's huge. Activities like these remind people that they are not alone. They give them a sense of togetherness and belonging. It gives them hope. 
Giving people hope is always good business.
5. Expect things to go back to normal.
Even after the quarantine lifts and people leave their homes, things will not immediately go back to normal. It's difficult to say when the virus and its effects will subside. It's impossible to say how it will affect businesses in the future. 
"Right now we know nothing," Maryana said. 
While her brewery is still producing beer, the business doesn't sell enough to even cover the bills. She remains positive and optimistic however.
"Stay alive, be safe, watch how humans will react, and adjust accordingly," she said. "But keep on going."
Depending on how long the quarantine will last, some businesses might not be able to sustain their physical locations. Some might cease to exist. Some might adapt to the new ways of life. 
Being flexible, waiting out the peak of the pandemic, finding new resources and ways to do business, and adapting will prove to be essential tactics for small business survival. 
Spring brings new beginnings. It always does and this year it will as well. Spring is just a little late in 2020. 
[gdoc key="1YoedLUohAGPB7t9KmDw-6EFyR2HvYJJtwya5SIUSaEo"]
Related Blogs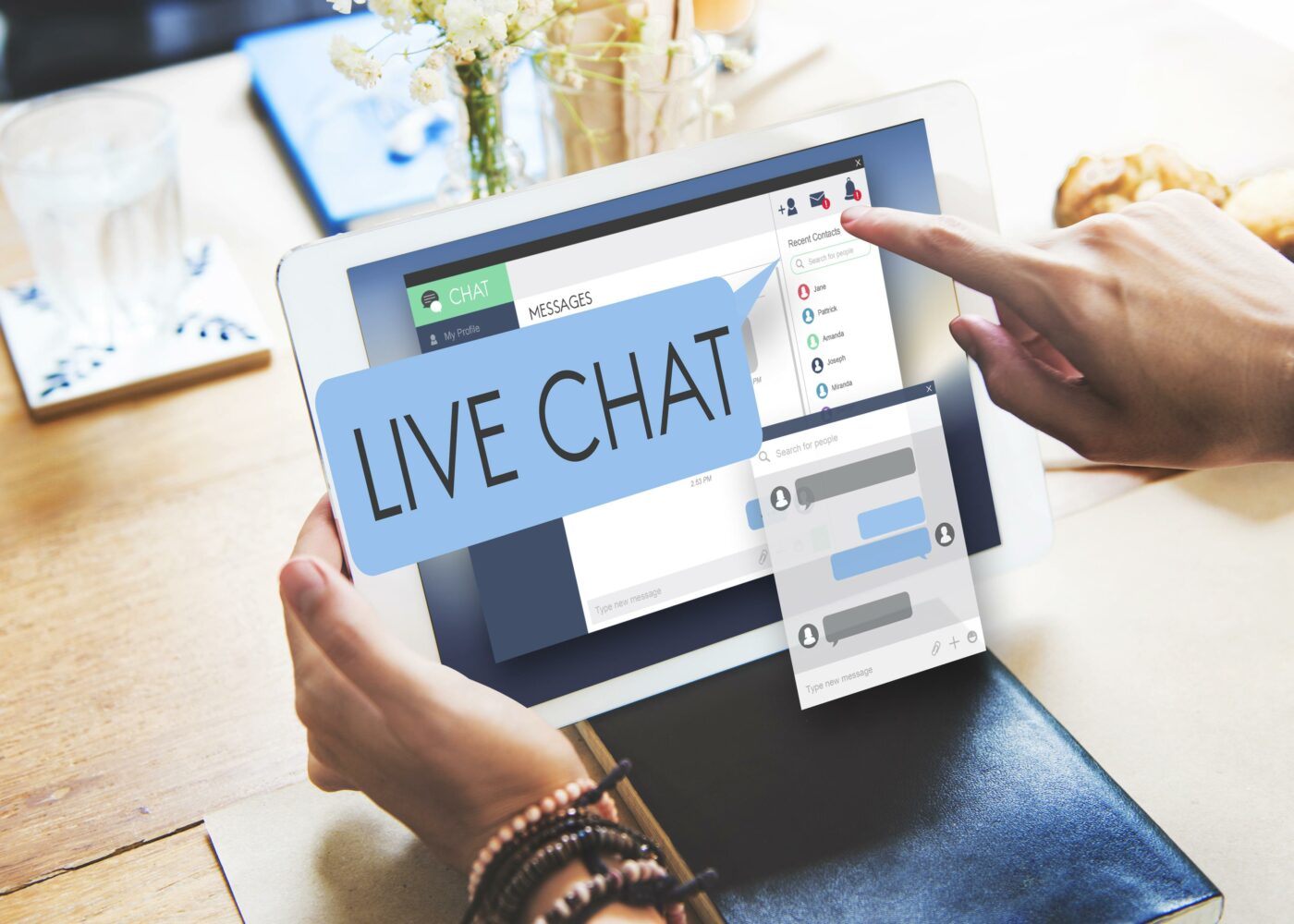 06 Jan
Blog
Best Live Chat Service You Should Use In 2023 [Comparison]
If you're shopping around for a live chat service, we've saved you some time by doing all of the research for you (you're welcome).  We also thought you should know that even as you read this, you are missing out on easily attainable website leads. These leads aren't soft leads either. We're talking about hot … Continued
03 Jan
Blog
The True Cost of "Free" Live Chat Software
A search query for "free live chat software" yields over seven hundred million results on Google. Everyone is looking for free live chat software. If you want a better website than your competitors, that should worry you. One recalls an old quote from George Patton: "If everyone is thinking alike, then somebody isn't thinking." What's … Continued
06 Jul
Blog
11 Ways a Live Chat Feature can Boost Your SEO
Give an example of how a 24/7 live chat feature can boost SEO for your website? To help you determine the SEO benefits of implementing 24/7 live chat feature, we asked marketing experts and business leaders this question for their best insights. From increasing engagement rates to dwell time on your website, there are several … Continued