Going to the Dentist: The "COVID-19" Norm
If you're anything like me, you absolutely LOVE the feeling of clean teeth after you've been to the dentist. Sure, I follow the recommended brushing and flossing rules they say to follow, but nothing compares to the cleanliness of freshly clean and polished teeth.
A handful of dental practices were able to remain open during mandated COVID-19 quarantine, limiting themselves to only emergency services. Now that more and more counties are loosening their quarantine mandates, dental practices have to abide by strict safety regulations. 
Last month, we wrote about how dental practices are being affected by COVID-19. With more practices starting to prepare to open up, we wanted to share what others are doing so patients and dental staff alike can all move forward with safer procedures. 
Peace Valley Dentistry allowed me to come in and document my appointment. I got to see first-hand the new procedures dentists must follow and report it so that future patients know what to expect. 
Follow me through my journey to better understand expectations as a patient, but also as a dental office who is just beginning their reopening process. 
COVID at the Dentist: Arrival and Cleaning Procedures
Before I was allowed to enter their office, my temperature was taken and I was required to wear my safety mask until I sat in the operatory chair. Patients with a temperature above 100.3 would be asked to reschedule.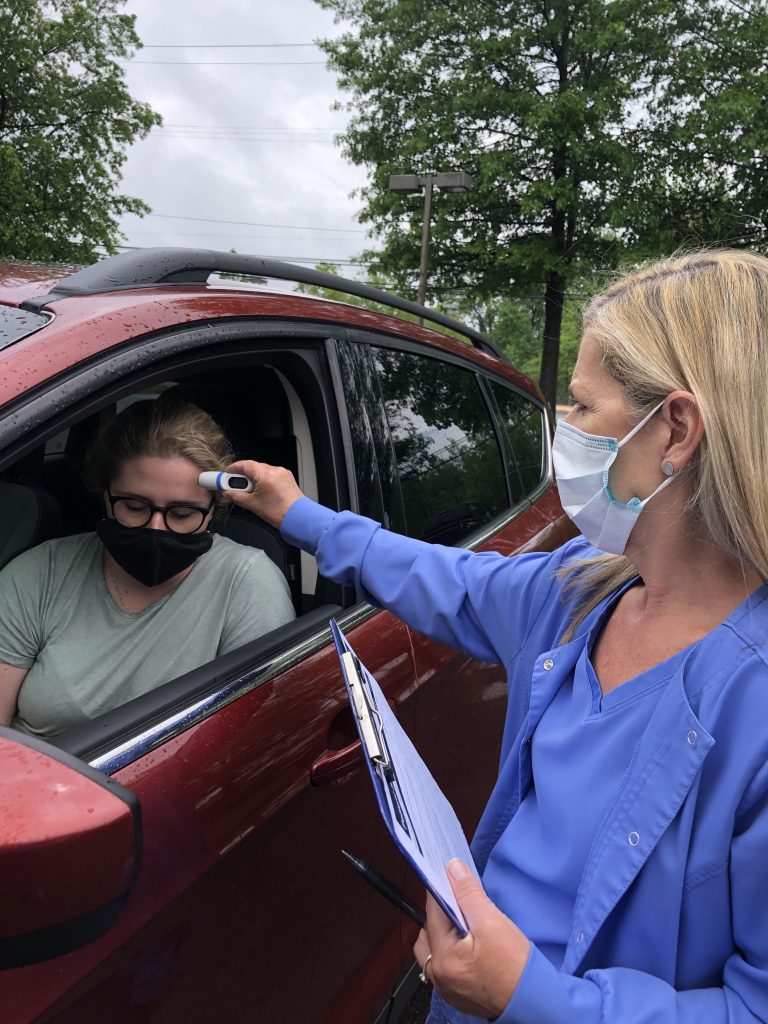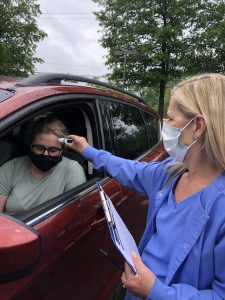 The staff also asked me a series of qualifying questions to determine my "threat level" for COVID-19 exposure. Since I have been abiding by (most) of the quarantine regulations, I was cleared.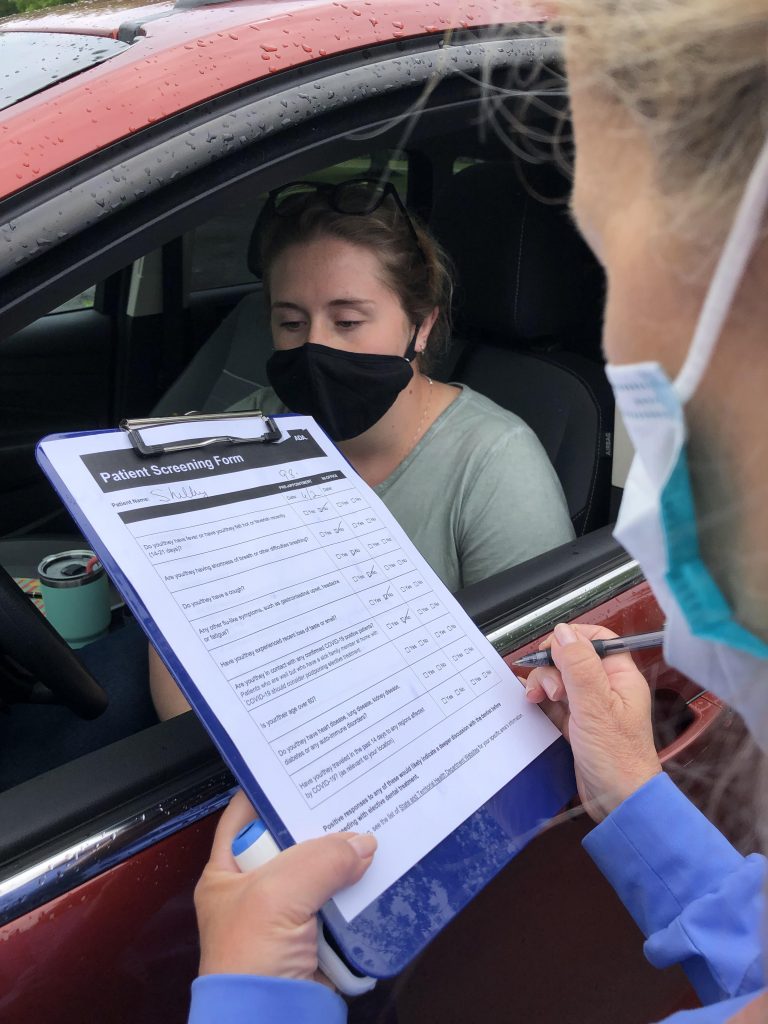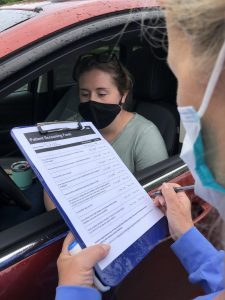 The waiting area was void of the usual amenities, like a water filter or magazines. Patients are discouraged from waiting there and are asked to remain in their cars until a staff member can escort them in.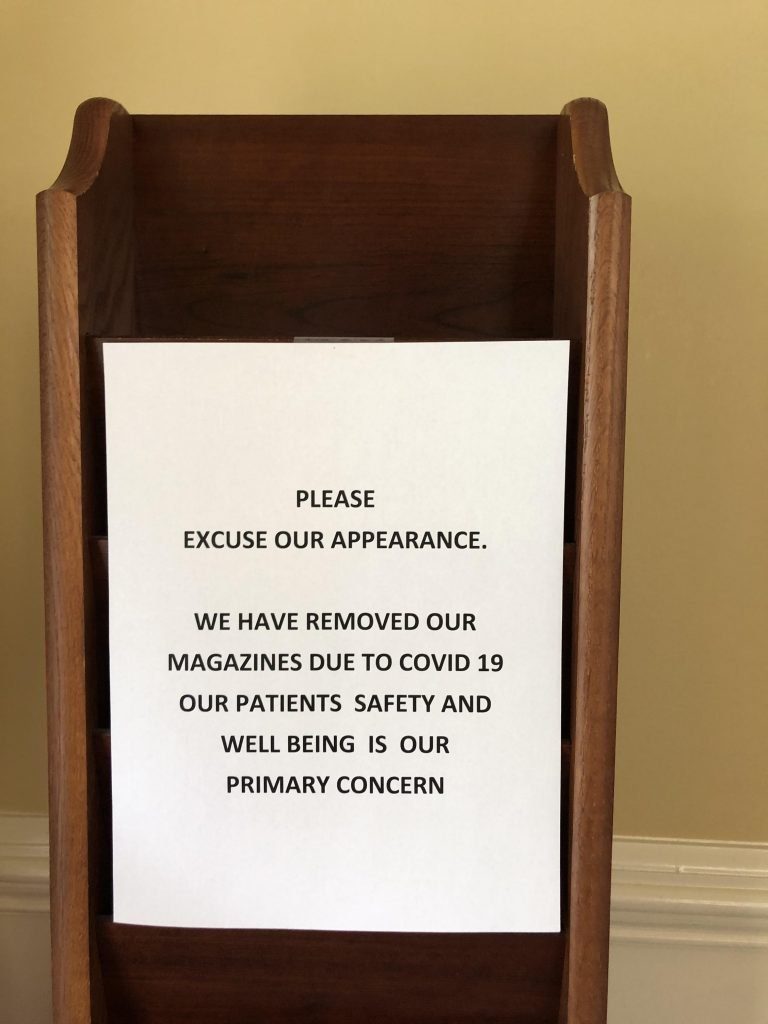 The front desk and reception area are partitioned off with clear plexiglass to protect the staff from patients who enter without knowing their procedures.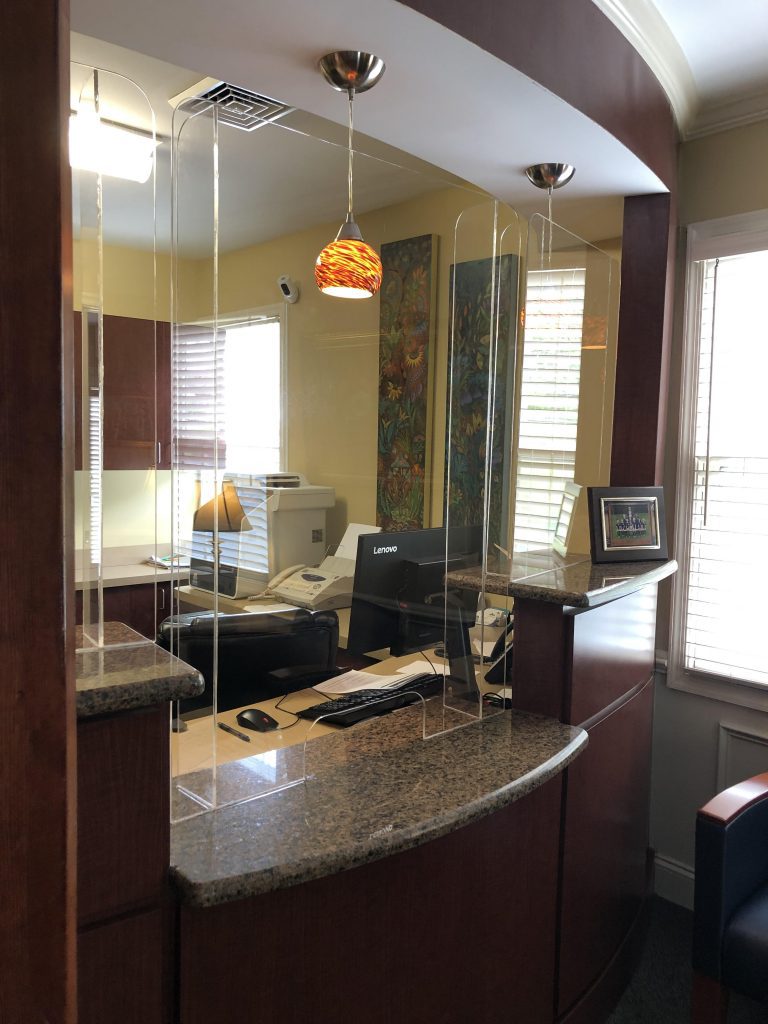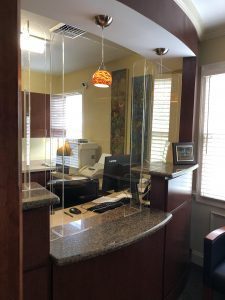 Once inside, the receptionist asked me to thoroughly sanitize my hands to fill out a consent form, agreeing to dental treatment during the COVID-19 pandemic. 
While leading me to my operatory, I took notice of the new sterile door coverings they hung in each doorway. This is to prevent any airborne particles from spreading to other patients or staff members. The staff themselves were also wearing what I can only relate to this scene from Monsters Inc. (We have a 23-19!)
With head to toe coverings, the staff wore three different face coverings, a sterile, washable gown, hair net, and sterile gloves. The staff switched all protective coverings between patients and launders them accordingly.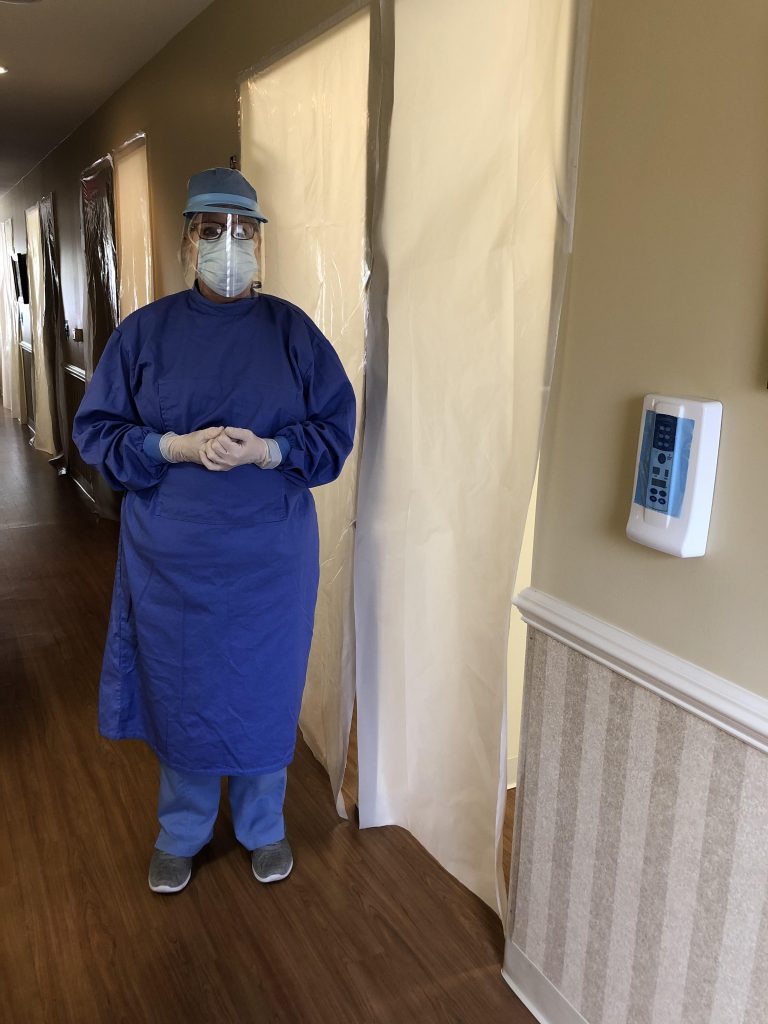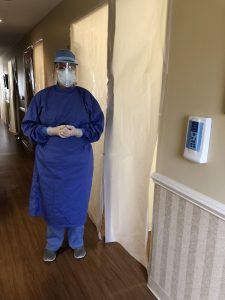 After bringing me back to my room, the dental hygienist had me swish with a diluted solution of hydrogen peroxide. This is the first of many sanitary procedures. The hydrogen peroxide solution was antibacterial and killed any bacteria before the hygienist starts their cleaning. The solution they used is called Peroxyl produced by Colgate and has a tolerable minty flavor.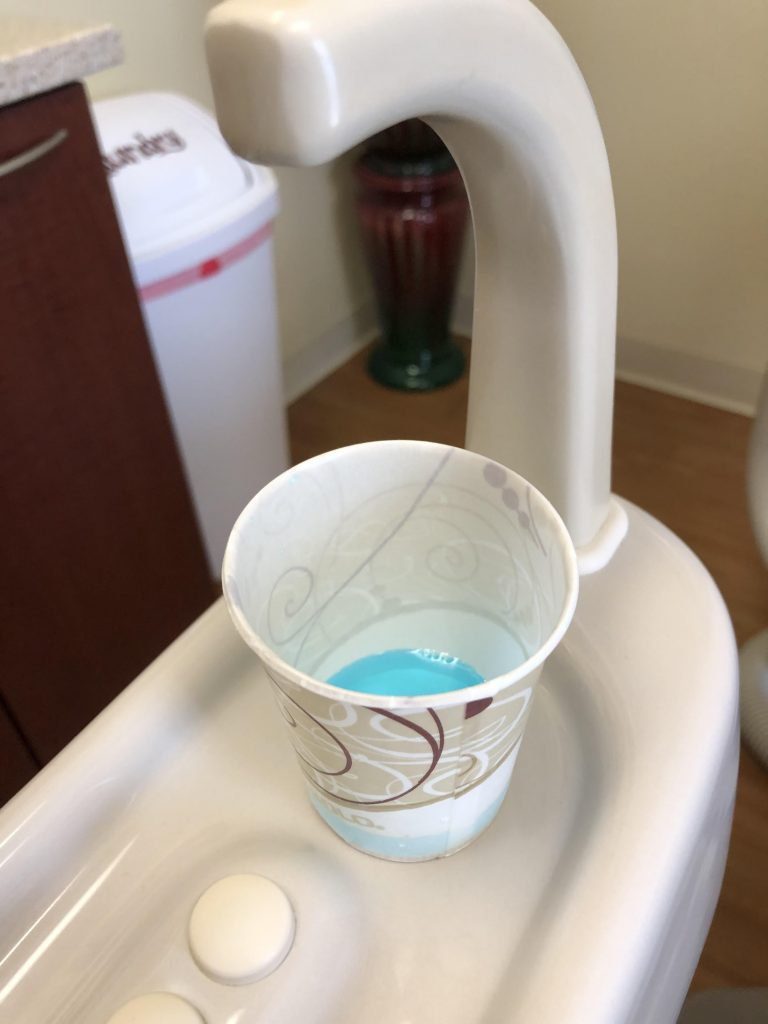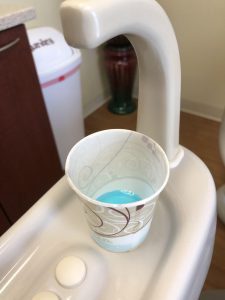 After the swish and spit of hydrogen peroxide solution, the hygienist moved on to the normal routine. There was some new equipment the staff incorporated into each operatory including new air purifiers, suction equipment, and a larger vacuum-like machine to catch anything expressed from the mouth (like water, plaque debris, bacteria particles, etc.)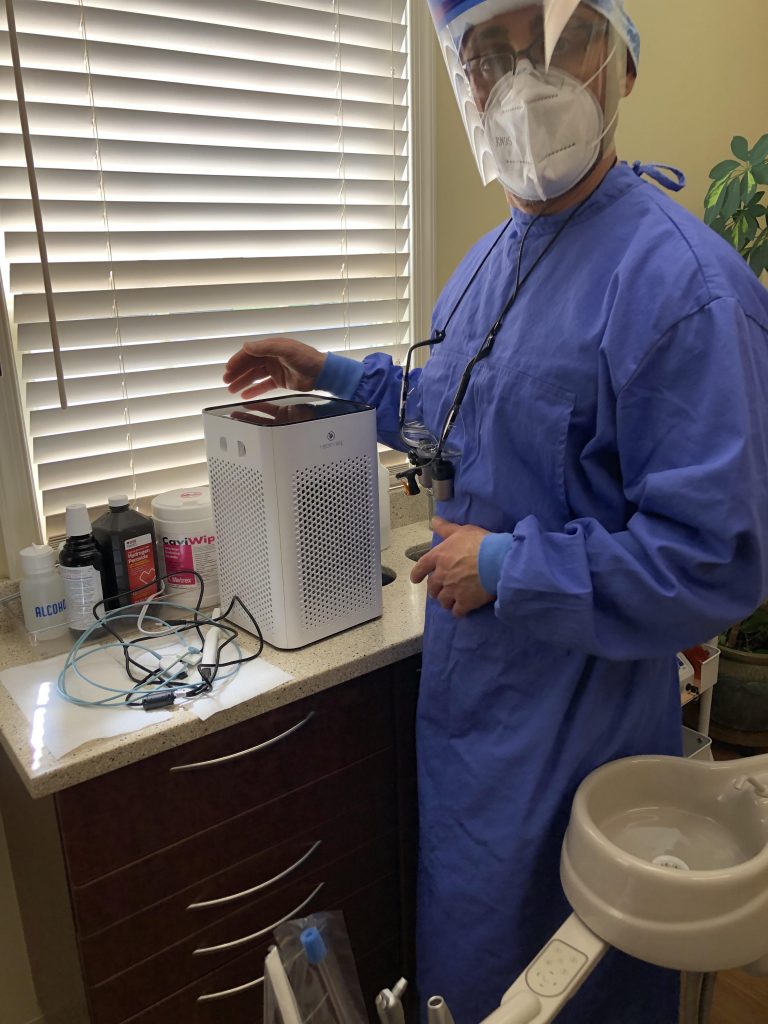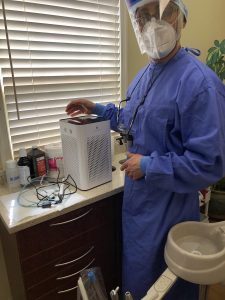 The different forms of constant suction reduced the risk of germs transferring from patient to staff, and between different patients. Hygienists and doctors were reserved when using the air and water features to flush out the mouth during the appointment to further reduce risk. 
From here, the appointment followed the usual routine. (And I am happy to report, no cavities!) 
Final Thoughts?
The whole process was pretty normal. If I am being honest, I actually felt very safe and comfortable during my appointment because of all the new safety features. 
Dental offices naturally have a higher risk of spreading any type of germs because of the affiliated respiratory activity. Think about it, your mouth is open wide for at least 40 minutes, with water and air being blown in. You're spitting, or gargling, periodically, and if you have any plaque, it gets scraped away with no prediction of where it ends up. 
Dentists Opening During COVID-19: A Patient's Suggestions
The dental industry is nothing glamorous. Spit, plaque, blood… the list of gross bodily fluids goes on the deeper into dentistry you get. But with all these new procedures and safety precautions in place, patients might have a newfound comfort during their appointment. 
Personally, I felt like the mandated outfits we're a little much, although I understand their purpose. I like having one on one personal conversations with my hygienist as she cleans my teeth. The three masks made it hard and a little impersonal. I could tell she was uncomfortable in her gear and her discomfort was transferred to me. 
The hardest part of all this is communicating the updates to patients. Before my appointment, I didn't know what to expect. Without an effective communication channel, patients (like myself) are not in the loop on health and safety updates. 
The best option is live chat customer support. Connect with patients immediately. Let them know about all your updates, answer their questions, and assure their safety all over live chat. This will help patients' fears and anxieties subside. 
You can also use live chat to communicate with patients as they start to arrive at the office for their visit. Let them know that they need to wait in their car. Notify them right before someone comes to take their temperature so they can be ready with their mask on. You can even use live chat services to send them a link to the COVID-19 questionnaire and consent form to keep all documents electronically secure. 
Whatever the future holds for dental practices, medical facilities, and beyond, it's important we all follow the health and safety guidelines. Abiding by the new rules set in place, together, we can sooner (hopefully) arrive at a more normal state of existence. 
Related Blogs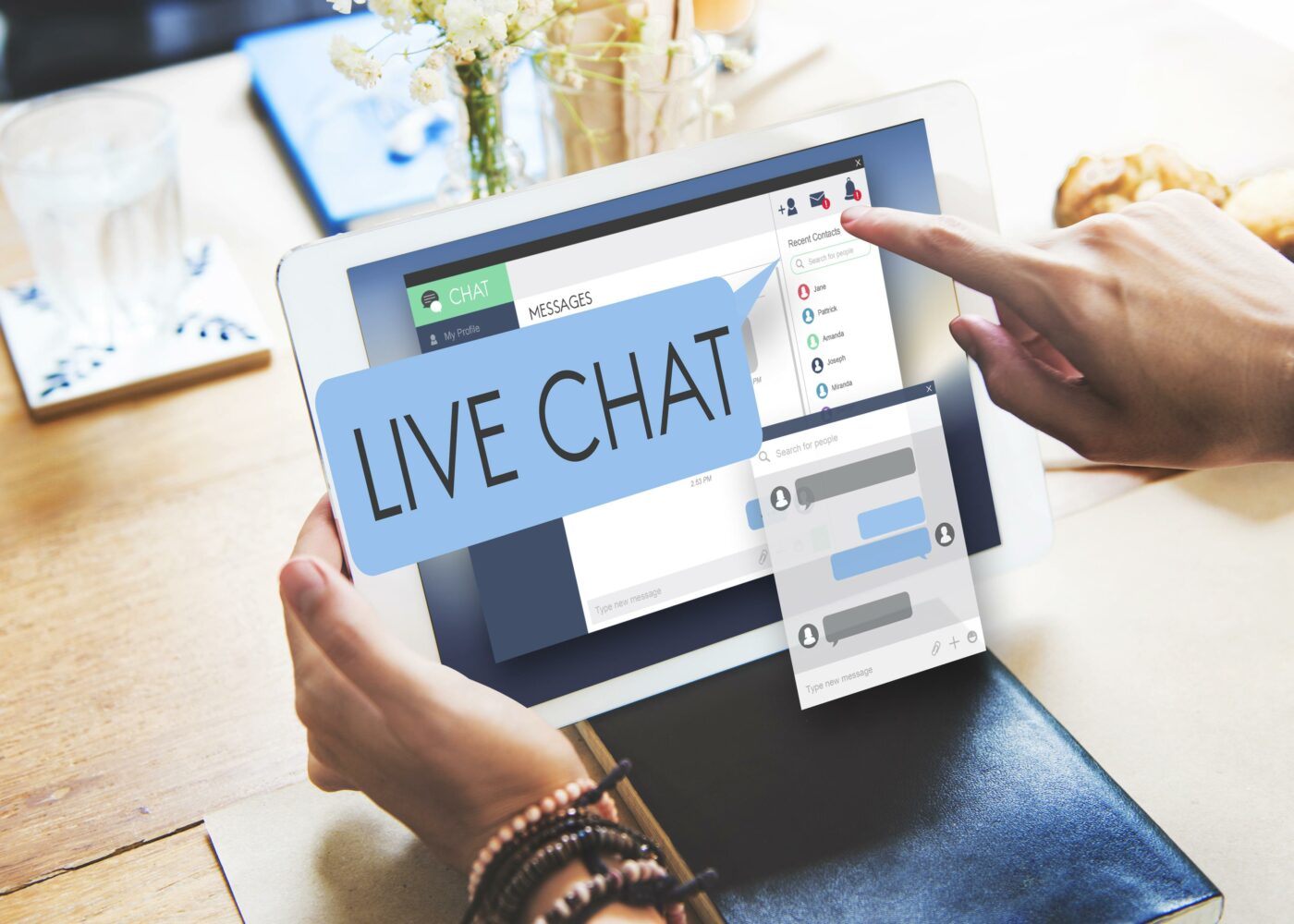 06 Jan
Blog
Best Live Chat Service You Should Use In 2023 [Comparison]
If you're shopping around for a live chat service, we've saved you some time by doing all of the research for you (you're welcome).  We also thought you should know that even as you read this, you are missing out on easily attainable website leads. These leads aren't soft leads either. We're talking about hot … Continued
03 Jan
Blog
The True Cost of "Free" Live Chat Software
A search query for "free live chat software" yields over seven hundred million results on Google. Everyone is looking for free live chat software. If you want a better website than your competitors, that should worry you. One recalls an old quote from George Patton: "If everyone is thinking alike, then somebody isn't thinking." What's … Continued
06 Jul
Blog
11 Ways a Live Chat Feature can Boost Your SEO
Give an example of how a 24/7 live chat feature can boost SEO for your website? To help you determine the SEO benefits of implementing 24/7 live chat feature, we asked marketing experts and business leaders this question for their best insights. From increasing engagement rates to dwell time on your website, there are several … Continued