Best Customer Service Outsourcing Companies for 2024
One of the hardest decisions a company can make is to outsource customer service. There could be many reasons why outsourcing would even be on an agenda. Two that stand out are staffing issues (turnover) and training. The outcome of outsourcing customer service could be either a wild success or irreparable damage to company's reputation. This is why selecting an outsourcing partner that fits your needs while upholding your customer service standards is absolutely crucial.
In this guide we will review top customer service outsourcing companies (BPOs), list strengths and weaknesses for each and hopefully help you make the right choice.
---
Here are our top selections for the best outsourcing companies. They will handle your customers' problems, allowing you to focus on managing your business and restoring your serenity.
---
Key Takeaways
---
Best Customer Service Outsourcing Companies (BPO)
🏆 Best overall pick – HelpSquad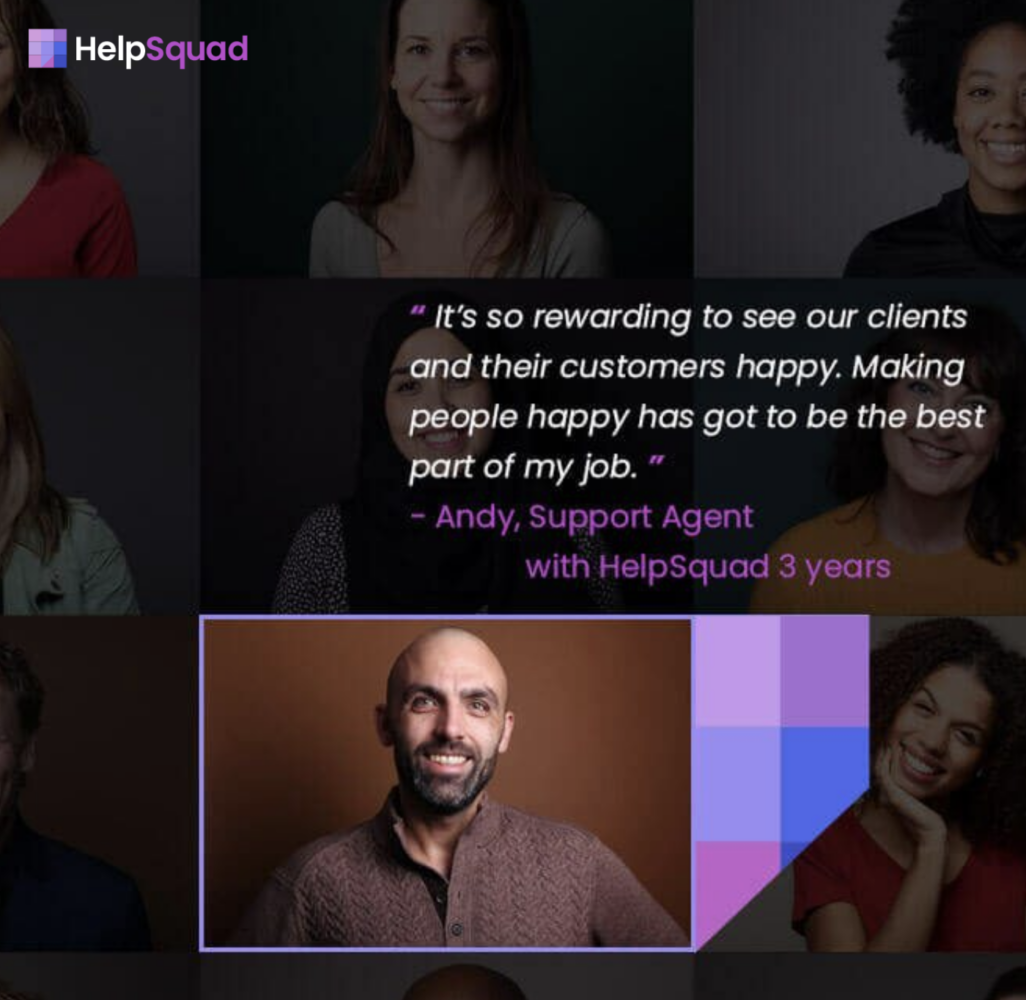 HelpSquad is not your typical Business Process Outsourcing (BPO) service. HelpSquad proudly stands above the competition as a cutting-edge tech company, uniquely combining exceptional customer service provided through its global contact centers based in the USA, South Africa, El Salvador, and Kosovo, with their in-house developed, Omnichannel contact center software – LiveHelpNow (wholly owned subsidiary of HelpSquad).
Strengths
With HelpSquad, your customers are granted seamless support across every available communication channel, from traditional ones like phone calls, SMS two way texting and email to modern platforms like social media and WhatsApp. Our mission is to ensure that no matter where your customers are, they receive immediate and personalized service.
Beyond traditional customer service, HelpSquad software suite is designed with advanced tech integration, allowing it to sync customer service interactions flawlessly with any CRM platform, including but not limited to industry leaders such as Salesforce, Hubspot, Zoho, Clio and Netsuite. This flexibility extends further with full interoperability with Zapier, accommodating any additional data connections your business may require.
What does this mean for your business? It's simple. Every customer interaction, across every platform, is seamlessly integrated and flows into the CRM platform of your choice, all in real-time. This unique feature empowers your marketing and quality assurance teams to set up drip marketing campaigns or other cadences to ensure a smooth, efficient transition to achieve your desired business outcomes.
HelpSquad has established a vigorous vetting process for its agents via its own LMS system ThankYouForCalling. This allows them to only hire the best talent and provide not only customer service but also back-office and sales outsourcing solutions.
HelpSquad does not have a specific vertical it is targeting. It has a large foothold in Higher Education, Finance, E-Commerce, Legal and Home Services industries.
HelpSquad provides full-suite BPO services including virtual receptionists, full-time and part-time virtual assistants, IT troubleshooting specialists, and data entry services.
Potential weaknesses:
Limited Global Reach: HelpSquad may not operate or have clients outside the North American region, which could limit its growth and expansion potential.
HelpSquad is not focusing on a specific vertical and may struggle with dilution of resources, lack of expertise, reduced competitive advantage, and difficulty meeting diverse customer demands efficiently and effectively. This approach can lead to a lack of direction and mitigated growth potential.
HelpSquad's size may limit its ability to compete with larger BPOs. This may restrict its resources, manpower, and capacity to offer diverse products or services, potentially hindering its scalability and overall market reach.
Contact HelpSquad to learn more by emailing hello@helpsquad.com or calling +1 877 775 3667
🥇 Runner Up – HelpWare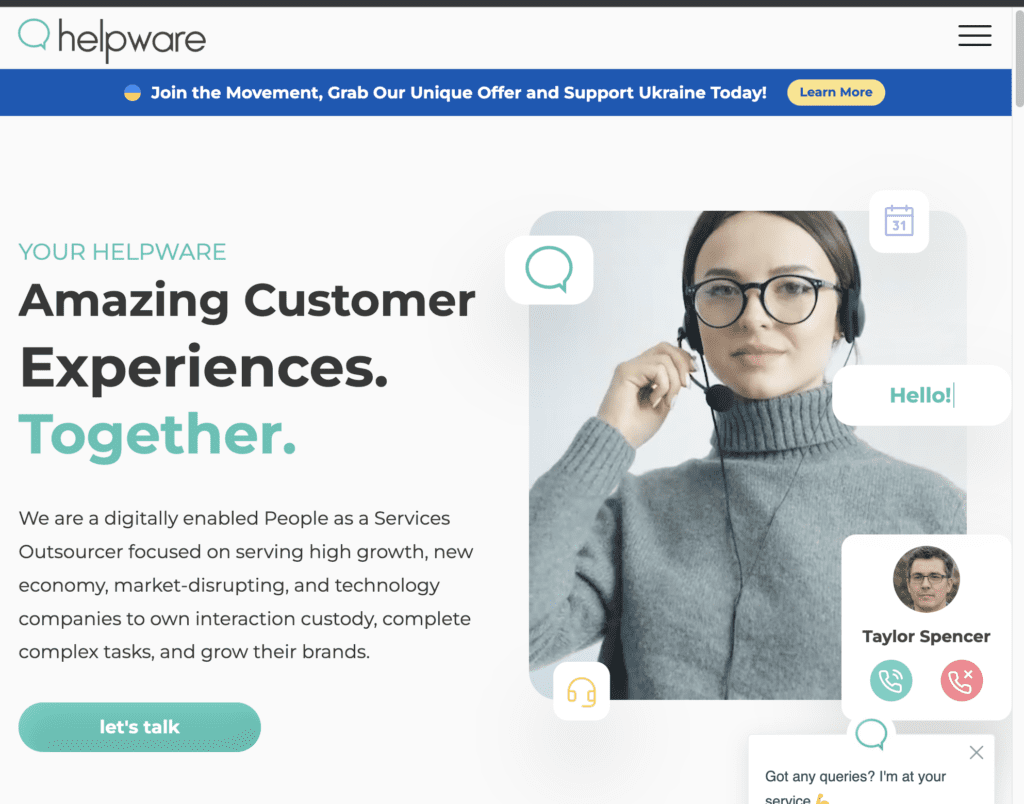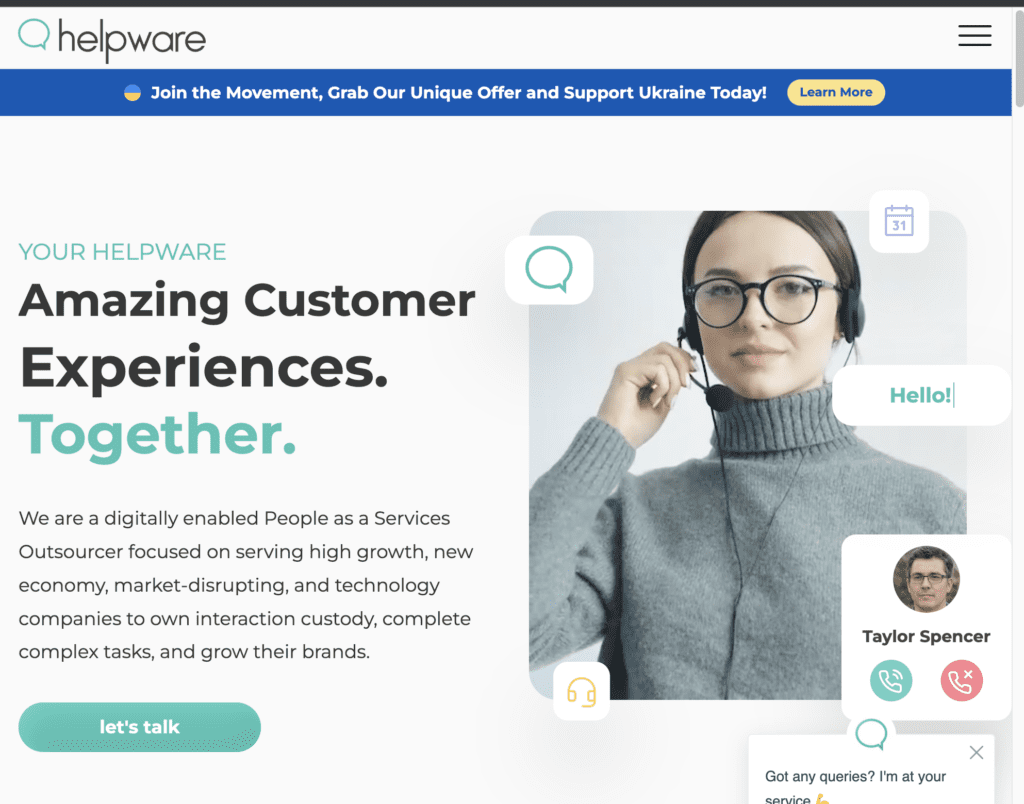 HelpWare is a company known for providing back-office support services to its clients. They specialize in finding solutions for businesses looking to outsource tasks such as customer support, back-office operations, sales, and other non-core functions.
Strengths
HelpWare services include managing end-to-end customer support over various channels like emails, phone calls, and social media. They also offer sales support, which includes services like lead generation and outbound sales calling. For back-office operations, HelpWare handles administrative tasks, such as data entry, scheduling, and bookkeeping.
Moreover, HelpWare provides technical support services, aiding businesses with troubleshooting and resolving IT-related issues. They also offer content moderation services to help companies manage their online communities and protect their brand reputation.
One of their standout services is their Virtual Assistants (VA) service. Companies can hire a VA to handle numerous administrative tasks, thereby freeing up their time to focus on core business functions.
What sets HelpWare apart is their commitment to delivering quality service with a human touch. They go beyond standard customer service scripts to provide personalized, empathetic support to customers. By acting as an extension of their clients' teams, they are best at delivering an exceptional Customer Experience and enhancing a company's overall productivity.
Potential weaknesses:
Limited Market Presence: HelpWare, being a comparatively new company in the business process outsourcing and virtual assistant solutions market, might not have an extensive market presence. This could restrict its business growth and potential to attract substantial prospects, in comparison to already established market giants.
Limited Global Outreach: The company being a US-based organization, it might face difficulty in targeting the global market or establishing its presence prominently across various countries.
Dependence on External providers: Helpware relies heavily on external technology providers. Any disruptions in these services can significantly impact their ability to fulfill customer contracts, which could potentially damage their reputation.
Less Diversified Product Portfolio: Compared to its competitors, Helpware offers fewer products and services. It brings a potential risk since any decline in the demand for these particular services can significantly impact the overall business.
Pricing: The pricing of Helpware services might be comparatively high, making it challenging for some small companies or startups to afford them. This could limit their potential customer base to large-scale organizations.
🏅 WOW24-7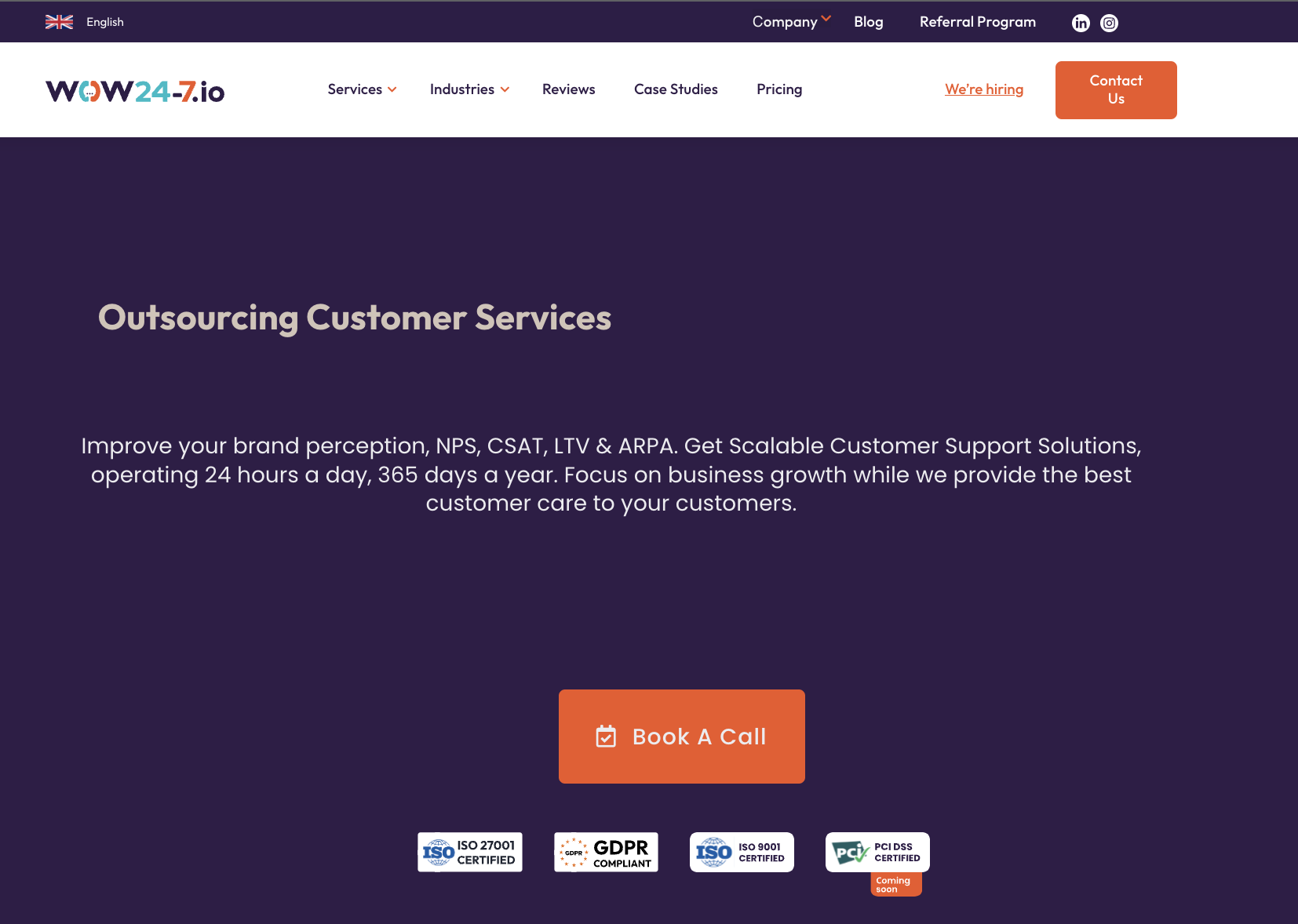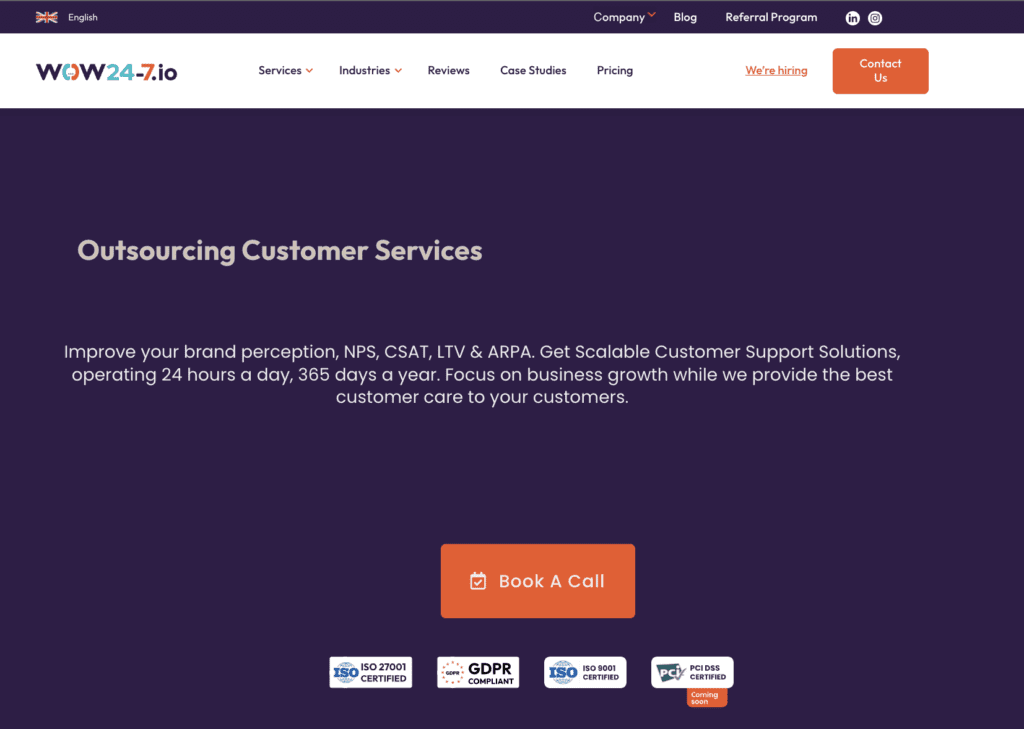 WOW24-7 is a customer service outsourcing company that offers a wide range of services to businesses around the world.
These services include:
Outsourced customer support: The company manages customer inquiries and complaints through multiple channels such as phone, email, social media, live chat, etc.
Multilingual support: They offer customer support in multiple languages, making them suitable for global businesses.
Tech support: WOW 24-7 provides technical support to ease the troubles of customers related to product or service usage.
Virtual assistant services: They provide skilled professionals who can handle administrative tasks, customer service, and other business activities remotely.
Helpdesk services: The company provides efficient solutions to technical problems to reduce downtime and ensure smooth operations.
Sales Support: They help businesses increase their sales by improving the customer buying experience and addressing customer queries promptly and effectively.
Pre-sales and after-sales services: The company assists in attracting potential customers and retaining existing ones with a seamless customer care experience.
Back-office support: They can handle custom task processing, data entry, financial operations, order processing, billing, and reporting, among others.
Potential weaknesses:
Limited Market Presence: Wow24-7 has a limited market presence, particularly in potential high-growth regions such as Asia and Africa. This restricts the company's ability to expand its customer base and improve revenues.
Staffing and Training: A common complaint among customers is inadequate staff training resulting in subpar customer service. There have been cases reported where staff lacked thorough knowledge of a product, thus unable to solve customer queries efficiently.
High Dependence on Particular Clients or Industries: Wow24-7's revenues come from a handful of big clients or few industries. Such high dependence levels put the company at high risk in case of lost contracts or an industry downturn.
Limited Range of Services: Wow24-7 has a relatively limited range of services compared to other global competitors who provide a wide array of services including email support, customer retention, and technical support, thus giving them an edge.
High Employee Turnover: This can lead to inconsistencies in service provision and customer dissatisfaction. Moreover, the loss of experienced employees to competitors can negatively impact the company's competitive advantage.
Technology Implementation: As a service-based company, the ability to provide efficient and effective service through updated technology could be an area of weakness. Technological advancements should be adopted in a timely manner by Wow24-7.
WOW24-7 excels in providing top-notch customer service and technical support around the clock. They are best at handling customer inquiries, addressing concerns, and providing solutions promptly and effectively. Their multilingual support feature sets them apart as they can cater to a diverse customer base. They understand customer behavior and know how to maintain a positive customer relationship, helping businesses to improve their customer satisfaction rates, retention, and overall growth.
🏅 TELUS International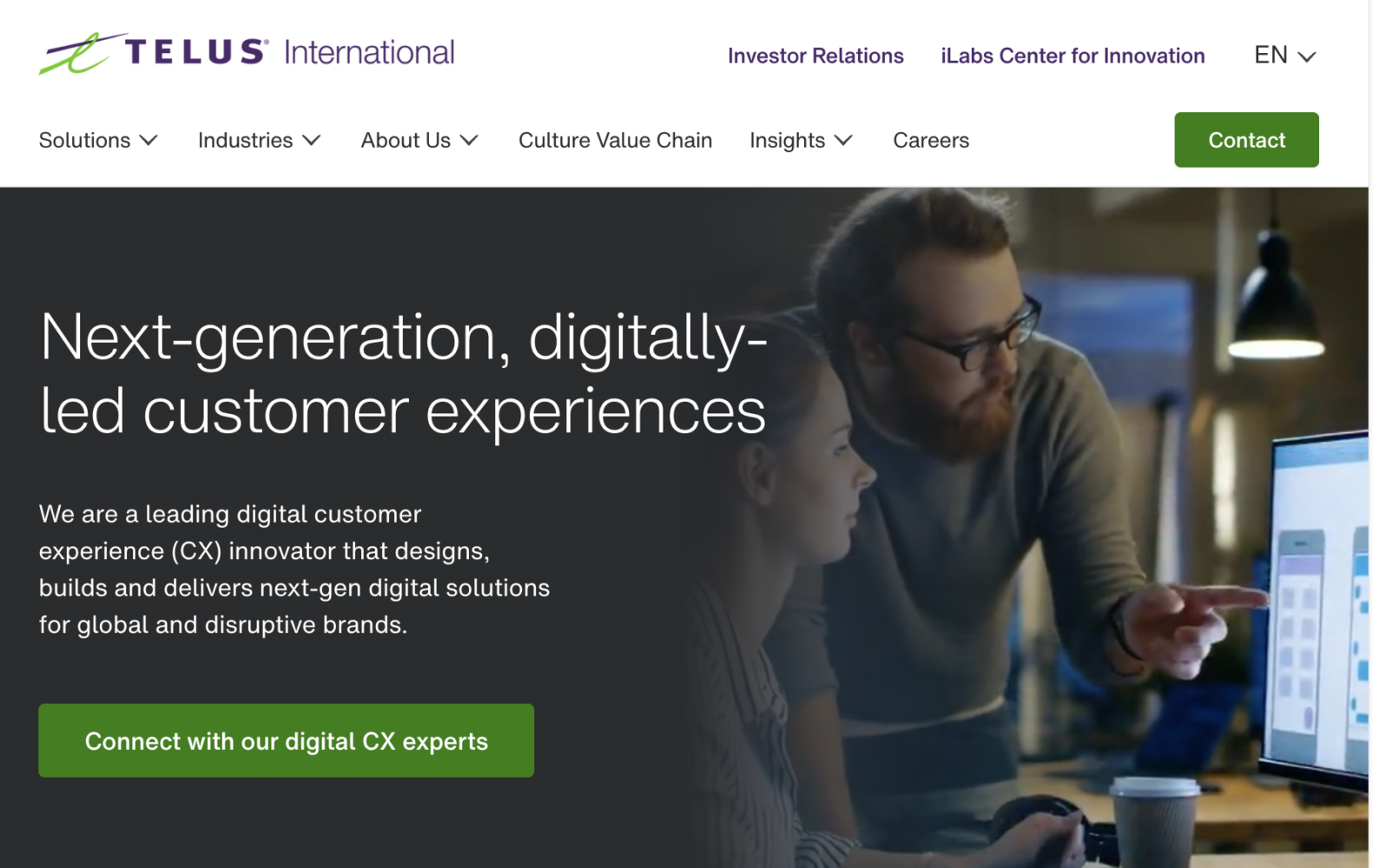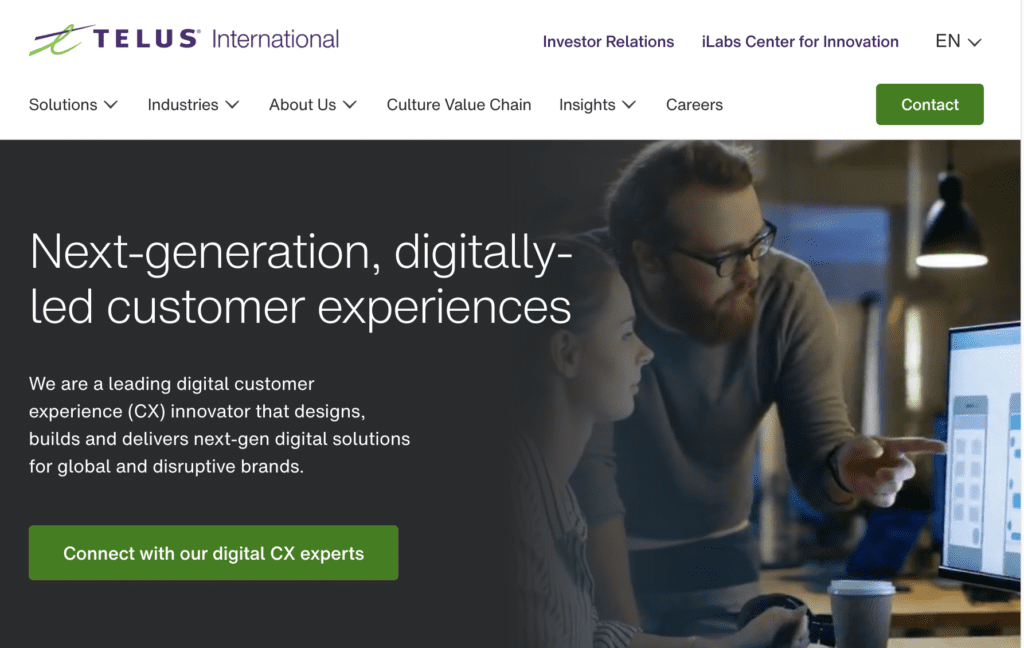 TELUS International is a global company that specializes in digital solutions, customer experience (CX), innovation, and next-gen digital consulting. This includes information technology, business process outsourcing, customer support, software development, and programming services.
Strengths
The company is known for offering a full range of cost-effective, high-quality call center and IT solutions, including customer care, sales, technical support, and back-office support services. They provide these services across various channels such as voice, email, chat, and social media.
Moreover, TELUS International also offers digital IT services and business process services, including IT consulting, cloud and application services, and business process optimization. They provide industry-specific solutions for fast-growing tech, health, fintech, games, travel and hospitality companies, among others.
What distinguishes TELUS International from its competitors is its commitment to putting customers first and its ability to provide transformational outcomes through innovation, agility and its caring culture. They are best known for their CX innovation and digitally-enabled solutions. They focus on designing, building, and delivering next-gen digital solutions to enhance customer experience.
Furthermore, they also have a strong focus on employee engagement and community giving, which aligns with their philosophy of putting people and customers first. They have consistently been recognized for their superior customer service, innovative technology solutions, and strong corporate culture.
Main contact center location is in El Salvador.
Potential weaknesses:
Dependence on Domestic Market: Despite its international naming, Telus heavily relies on the Canadian market for its revenue. As such, the company is susceptible to any economic turmoil that Canada may face, which could adversely affect its profitability.
Slow International Expansion: As compared to its competitors, Telus has been slower in expanding its services outside Canada. This lags behind, limits its ability to increase its revenues, diversify its business operations, and mitigate risks associated with market concentration.
Limited Service Diversification: Telus International primarily focuses on telecommunication services. This singular focus could be a weakness in the rapidly evolving technology and communication industry, where diversification is key to sustainability and growth.
Controversies: Telus has had a few controversial incidents related to customer privacy and data security, which has somewhat damaged its reputation. Such controversies expose the company to financial penalties and can potentially deter future clients or customers.
Poor Customer Service Ratings: Telus has often received mixed and average ratings when it comes to customer service due to issues like poor service reliability, slow response times, and dissatisfaction with resolutions provided. Poor customer service can lead to customer dissatisfaction, loss of customers and negative word-of-mouth for the company.
High Debt Levels: As of its most recent reports, Telus has a relatively high level of debt, which could restrict its financial flexibility in terms of investing in new areas or market expansion.
Reliance on Outside Vendors: Telus often relies on outside vendors for hardware and software, and if these vendors encounter any issues, it could in turn impact Telus's business negatively.
Workforce Management: There have been instances of employee dissatisfaction and strikes within Telus, indicating problems with managing and maintaining a motivated workforce. A dissatisfied workforce could negatively impact productivity and service quality.
🏅 Teleperformance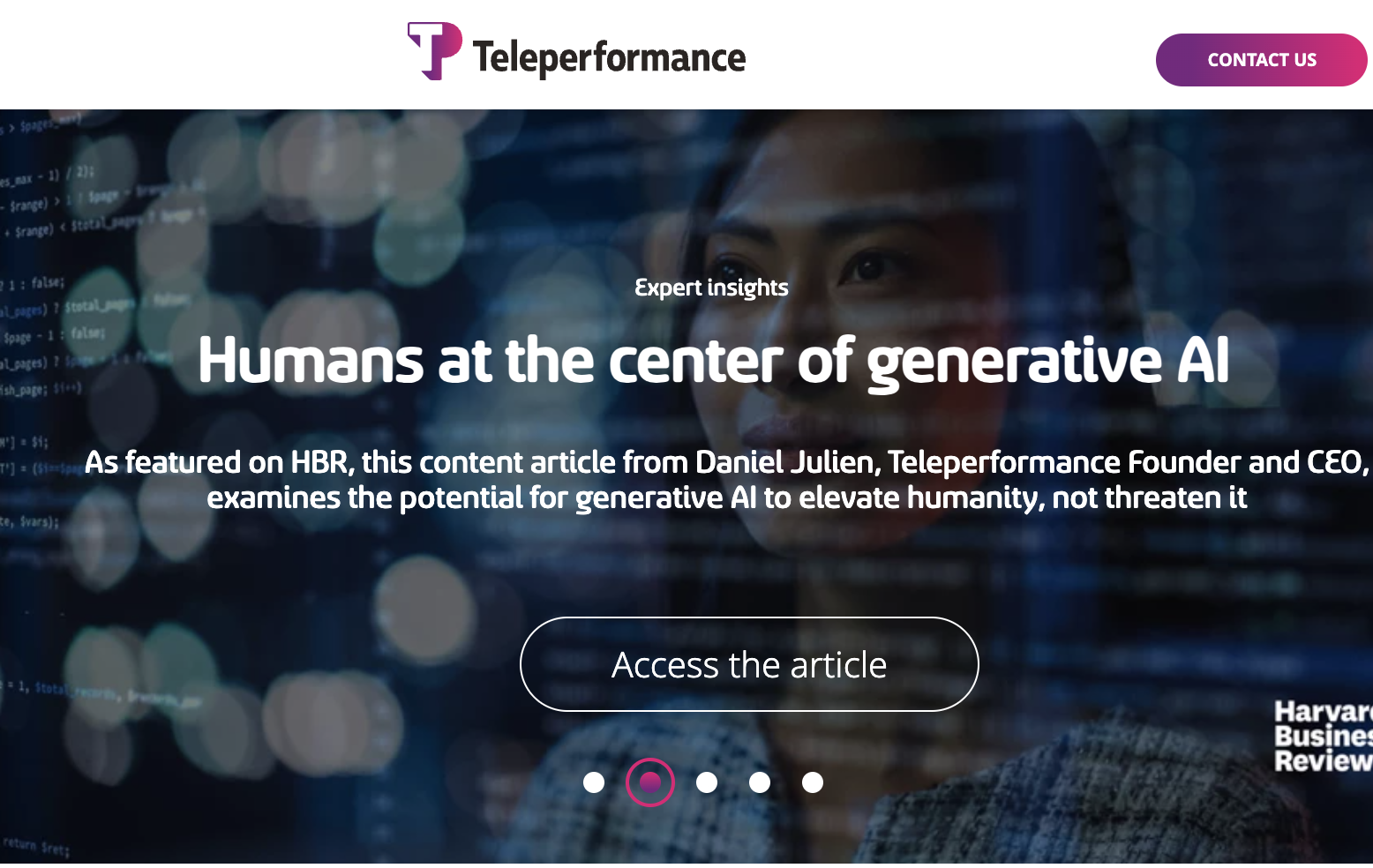 Teleperformance is a leading global group in digitally integrated business services, providing a wide range of solutions for enhancing customer experience, digital integrated business services and other specialized services.
Key services include:
Customer Care: This service involves managing customer queries, complaints, and requests with efficiency, empathy, and effectiveness.
Technical Support: They try to manage and troubleshoot their customers' technical problems, solving challenges and providing accurate and quick solutions and maintenance.
Customer Acquisition: They help clients design, launch, monitor, and optimize acquisition programs through a data-driven methodology that includes consulting, analytics, and tailored solutions.
Video Content Review & Moderation: They review and moderate agreements, ensuring user safety, content quality and maintaining a clean platform ecosystem.
Content Moderation: Content is reviewed and moderated to build a reliable and trustworthy digital customer community.
Social Media Management: They provide management of social media channels, which includes monitoring discussions, posts, and comments.
Community Management: They manage and support customer community platforms, tracking growth and engagement.
Virtual Assistant: Automation and AI solutions, the customer interaction process becomes more efficient.
Potential weaknesses:
Labor Disputes: Teleperformance has faced multiple accusations of poor labor practices, including low pay, long working hours, and poor staff treatment. These issues could affect employee satisfaction and increase turnover.
Dependence on Limited Clients: The company heavily depends on a limited number of clients for a major share of its revenues. The loss of any major client can have a significant impact on the company's financial performance.
Negative Public Image: Accusations of poor employee treatment, along with labor disputes, can tarnish the company's image and deter potential clients and employees.
Lack of Diversification: Teleperformance primarily operates in the customer experience management industry. Its lack of diversification can make it vulnerable to changes in this industry.
Low Staff Morale: Reports of stressful working conditions and high-pressure environments can lead to low staff morale, which can decrease productivity and increase employee turnover.
Data Security Concerns: Teleperformance handles sensitive information for its clients. Any data breach or non-compliance with data security regulations can have serious consequences.
Dependence on Offshoring: Teleperformance's business model relies on offshoring, making it susceptible to political and economic instability in those regions.
Contractual Risks: The inability to renew agreements at favorable terms or terminate unfavorable contracts can negatively affect the company's profitability.
Competition: The business process outsourcing (BPO) industry is highly competitive, and Teleperformance faces stiff competition from other global players that could further threaten its market share.
Compliance with Different Regulations: Operating in multiple countries requires compliance with different rules and regulations, which can be complex and costly. Any failure to comply could lead to sanctions or fines.
Teleperformance is best known for its excellence in providing exceptional customer service, enhancing customer satisfaction, and loyalty. They use a High-Tech, High-Touch approach, combining modern technology, data analytics and human touch to provide effective solutions. Their ability to provide multi-channel solutions with agility, flexibility, and global reach also sets them apart in the industry. On top of that, they have a presence in 80 countries which allows them to offer multilingual and multicultural flexibility to their clients. Their services are leveraged by many of the biggest global companies, in industries ranging from technology and retail to banking and travel.
🏅 Unity Communications
Unity Communications is an American BPO (Business Process Outsourcing) company that offers various services, including customer support, technical support, and sales support to businesses across industries.
Services encompass:
Customer Support: They handle customer inquiries and complaints through various channels, such as call, email/live chat, and social media.
Technical Support: They troubleshoot and solve technical issues experienced by customers.
Sales Support: Unity Communications assists with identifying potential leads, nurturing them, and closing deals.
Back-Office Support: They perform administrative tasks such as data entry, processing orders, managing inventory, and financial processing.
Lead Generation: They help businesses identify potential customers and generate leads to increase sales.
Social Media Management: They help manage a company's social media presence, track customer interactions, and monitor brand reputation.
Unity Communication's strengths include:
Cost-Effective Solution: Outsourcing with Unity Communications is cost-effective as it allows businesses to focus on their core operations while they handle supportive functions.
Quality Assurance: Unity Communications aims to provide excellent quality in its service delivery.
Expertise: Their team comprises professionals with excellent experience and knowledge in their service areas, providing top-quality service to their clients.
24/7 Availability: They offer around-the-clock support which improves customer satisfaction and ensures that queries and complaints are addressed promptly.
Potential weaknesses:
Limited Control: Since the services are outsourced, companies may feel they have limited control over the operations.
Sector Focus: Unity Communications' services could be considered too broad and they may lack some industry-specific knowledge or expertise.
Quality of Service: Although they aim for high-quality service, outsourcing can sometimes result in communication barriers, miscommunication, or differing understanding of the business' values and priorities.
Dependence: Businesses become dependent on Unity Communications for important operational functions, which can pose a risk if there are disruptions in their service or if the relationship needs to be terminated for some reason.
Data Security: Whenever there's an exchange of confidential information with third-party companies, there's always a risk of data breaches or cyber attacks. Although they do have advanced security measures in place, these risks cannot be eliminated entirely.
Cultural Differences: Depending on the location of their outsourced staff, there could be cultural differences and language barriers that might affect the quality of customer service.
In conclusion, Unity Communications offers a wide range of valuable services that can help businesses streamline their operations and focus on growth. However, it is important for businesses to weigh these benefits against their potential weaknesses to ensure it's the right fit for their specific needs.
Customer Service Companies FAQ
Conclusion
In conclusion, choosing a BPO requires a methodological approach. Do your own research, ask questions, take your time, move in slow by outsourcing only a small part of your business first and track KPIs like crazy!
Interview actual agents before selecting the BPO, have your staff test agents before putting them in front of your customers.
The decision to outsource customer service operations is vital and can have significant impacts on a business — both positive and negative. Services such as HelpSquad, HelpWare, WOW24-7, TELUS International, Teleperformance, and Unity Communications offer substantial support in carrying out various customer service tasks, each with its strengths and drawbacks.
HelpSquad develops a unique approach of integrating real-time service with any CRM platform, while HelpWare excels in back-office support services. WOW24-7 offers multilingual support and diverse services, and TELUS International is known for innovative CX solutions. Teleperformance wields a strong international presence, and Unity Communications provides a cost-effective, full-service solution that handles customer support to lead generation.
However, common weaknesses include limited market presence, high dependence on key clients, potential staff and training issues, and data security concerns. Therefore, it is crucial to conduct sufficient research and consider the outsourcing company's strengths and weaknesses relative to the business's specific needs before moving forward. After a careful and thorough evaluation, companies can successfully turn the outsourcing of customer service into a strategic advantage.
Customer Service Outsourcing Guide
Related Blogs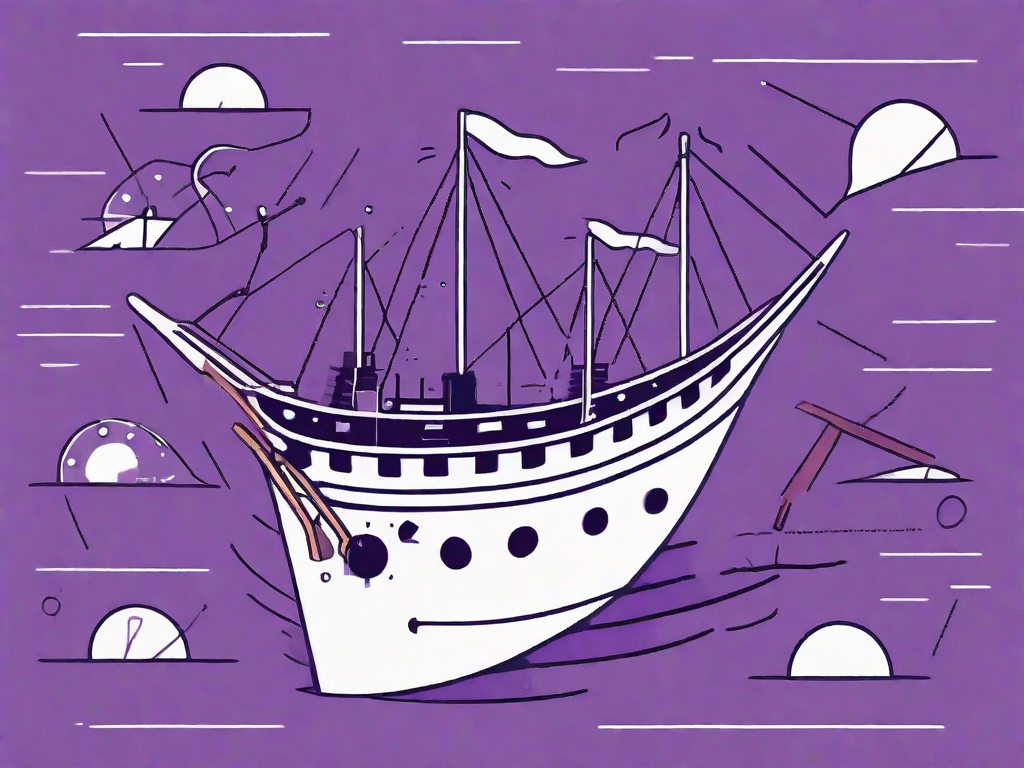 20 Nov
Customer Service
10 Stupid Outsourcing Mistakes and How to Avoid Them
Outsourcing has become a popular strategy for businesses looking to streamline operations, reduce costs, and gain access to specialized expertise. However, it's not without its pitfalls. In this article, we will explore the 10 stupid outsourcing mistakes that companies often make and provide strategies to avoid them. By understanding these mistakes and taking the necessary … Continued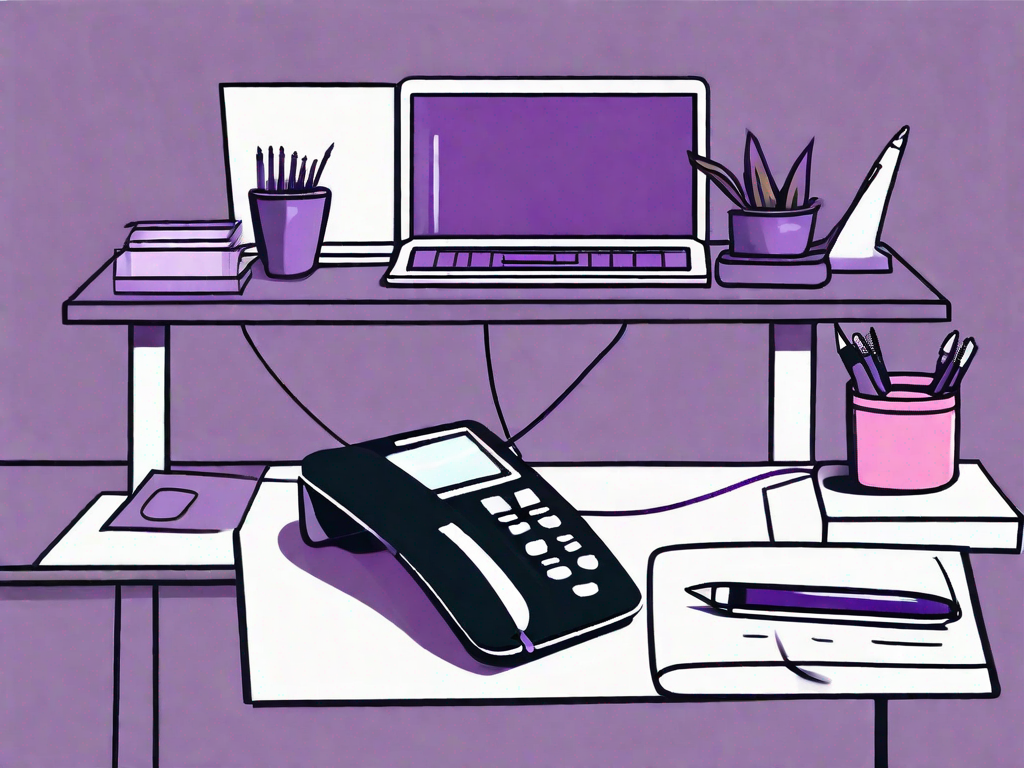 15 Nov
Customer Service
12 Questions You Should Ask When Interviewing Your VA
In today's global workforce, a virtual assistant (VA) can be an invaluable asset for businesses of all sizes. Whether you need administrative support, social media management, or customer service assistance, hiring a VA can free up your time and help you focus on growing your business. However, finding the right VA for your needs can … Continued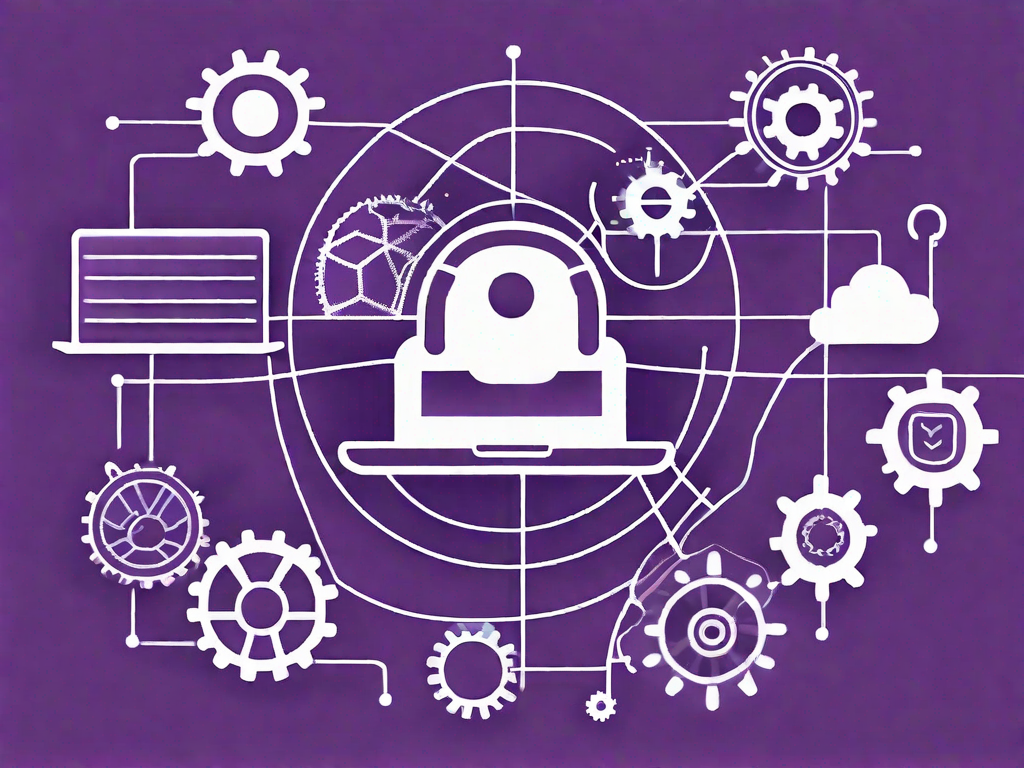 10 Nov
Call center
Helpful tips for startup founders when it comes to outsourcing
Outsourcing has become a popular strategy for startups to streamline their operations, reduce costs, and access specialized expertise. However, it can also present challenges if not approached strategically. In this article, we will explore the benefits of outsourcing for startups and provide helpful tips to ensure outsourcing success. How does outsourcing benefit startups? Outsourcing offers … Continued