3 ways HelpSquad can help build a car dealer's reputation
When you're in the business of selling cars, reputation is king. And in the online world, building that reputation, or recovering from a one that's less than stellar, can be the difference in your success.  
There are several factors that contribute to your online reputation, and live chat technology for car dealers can be a part of it. Here are 3 ways live chat can help:
Be Transparent
When buying a car, there is a lot of room for misunderstandings, and the stereotype of a car dealer ripping off customers can come with the territory. To overcome this, being as open as you can with your customers can go a long way with them.  
"Make it a point in everything you do to be completely transparent and provide full disclosure," advises Manny Khoshbin, president of The Khoshbin Company.
Having live chat technology on your dealer website allows your customers and potential customers to ask questions in a no-pressure environment. Plus, they can get a written transcript of the conversation so they can refer back to it later.
Be responsive to inquiries
Many times, customers point to their questions or problems not being addressed in a timely manner. And that can lead to poor online reviews and losing customers. By being responsive to inquiries in a timely manner, according to Review Trackers, you can build trust with prospective customers, earn their business, and build your online reputation.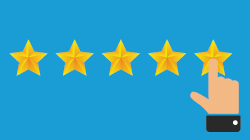 How do you make sure you capture all of your inquiries? HelpSquad's agents are available 24 hours a day, seven days a week. They are able to engage immediately any time someone reaches out through live chat on your website. They are able to help qualify leads, answer questions, and get you their information quickly for you to follow up, all without pulling salespeople away from the lot or missing out if an inquiry comes in after hours.
Make sure your website is awesome
Today, your website is often the first place customers will go, before they ever set foot on your lot. According to Adweek, a new kind of shopper, "the omnishopper" , one who shops both offline and online, across different devices. This means that your website is just as important as greeting them when they walk into the dealership.
Forbes created a 2018 Website Feature Checklist to create a user-friendly, high-functioning website. But even with the best-performing sites, visitors–your prospective customers–will inevitably have questions.
WordPress included Live Chat as one of their list of 25 most useful widgets, because it is a way to engage directly with your site's visitors. Be available to your car dealership website browser 24/7! Partner with HelpSquad chat agents to be able to know that each live chat inquiry will be answered immediately by a real person–no off hours or canned robot answers.
Being responsive, transparent and able to give your customers an enhanced online experience with you can help boost your reputation, both online and off. HelpSquad can help you do that. Contact us today to get started.