5 Ways to Stay Connected With Your Customers From Afar
I watch my Keurig pumps the last few drops of coffee into my cup. It's always those last few drips that seem to take the longest.
Tired and impatient, I just want to move on with my morning.
This stage of the brewing process serves as a great analogy for where we stand with the pandemic. We're all tired, impatient and ready to get on with our lives.
Things are beginning to move towards normalcy, but at a glacial pace. And, at this point, we're all starting to realize that life may never return to exactly the way it was. 
Remote work is one shining example. After being forced to go remote at the height of the COVID outbreak, many companies have realized that their team can be just as successful in a virtual setting.
While brands may opt to continue working remotely, many are finding that the real challenge will be to maintain a meaningful relationship with their customers.
For all the remote warriors out there, here are 5 ways you can stay connected with your customers from afar.
1. Write Customer Success Stories
People love to toot their own horn. But, even more than that, people love it when someone toots their horn for them. So, take the time to pat your customers on the back by regularly writing customer success stories.
Focus on crafting articles that celebrate each individual customer's unique journey with your product or service. Not only will this make your customers feel recognized and appreciated, but it will also make them feel more emotionally connected with your brand. 
Customers with an emotional relationship with a brand have a 306% higher lifetime value and will recommend the company at a rate of 71%, rather than the average rate of 45%. (Motista)
Highlighting the successes of current customers will also make it easier for you to gain the trust of prospective customers. 90% of buyers who read positive customer success content claimed that it influenced their purchasing decisions. (Dimensional Research)
Need some inspiration? These customer success stories by Salesforce serve as great examples.
90% of buyers who read positive customer success content claimed that it influenced their purchasing decisions. Need inspiration? Check out these customer success stories by @salesforce #customersuccess #testimonials #successstoryhttps://t.co/Ykh2CinYmz pic.twitter.com/t74ZOz3meZ

— HelpSquad (@helpsquadusa) May 24, 2021
2. Make Yourself Available
Remember Veruca Salt and her famous line from Willy Wonka and the Chocolate Factory?
"I want it, and I want it NOW!"
When your customers are trying to reach you, that's exactly how they feel. 
No, really. A whopping three-quarters of online customers expect help within five minutes (HelpScout).
So, one of the best things you can do for them is to make yourself available to them 24/7/365. That probably sounds overwhelming, especially if you have customers around the country (or even the world) trying to reach out to you from different time zones across multiple communication channels.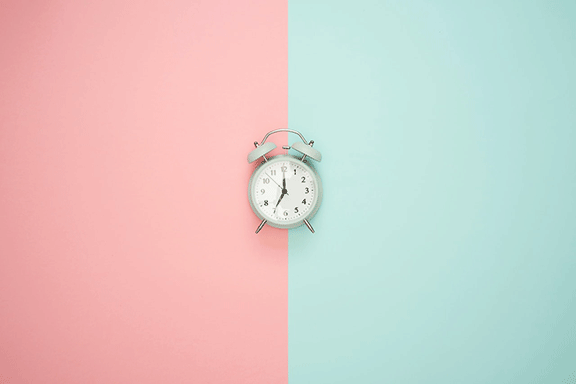 The good news is that it doesn't have to be as complicated as it sounds. There are affordable, live chat services that you can hire to seamlessly field your website chats, Facebook messages, and SMS text messages around the clock.
A quality live chat service, like HelpSquad, provides agents that will collect FAQs, learn your business and serve as an extension of your brand. The best part is that your customers will never know they aren't speaking with an internal member of your team, and their questions will never be left unanswered again.
3. Have a Giveaway
People love a good freebie, especially when it's a freebie from a brand they love. 
75% of consumers say they favor companies that offer rewards (Virtual Incentives). So, what better way to strengthen your customer loyalty than to run a brand giveaway campaign.
United Airlines is using this strategy to get passengers back into the friendly skies post-COVID.
As Americans begin to travel at the highest rate since the pandemic started, United Airlines is encouraging people to get vaccinated by giving away a chance to win free flights for anyone who uploads a photo of their vaccine card. https://t.co/7e8aOTQOzb

— World News Tonight (@ABCWorldNews) May 24, 2021
On July 1, United will pick five people for the grand prize: Travel for a year for themselves and a companion to anywhere United flies.
You can also take this idea a step further by creating a special hashtag and asking your followers to enter by liking and sharing your giveaway announcement on social media. Not only is this a great way to stay engaged with your online audience, but it's also a great way to attract new customers.

4. Be Active on Social Media
By "be active," I mean you should be posting, sharing, commenting and even responding to private messages from your audience.
Social media is one of the best ways to stay connected with your customers from afar. So, it should be a communication medium you use constantly and consistently. 
Pet retailer, Chewy, is a great example of a brand that has built a strong relationship with its customers online. The brand is well-known for how accessible and responsive they are across all social platforms.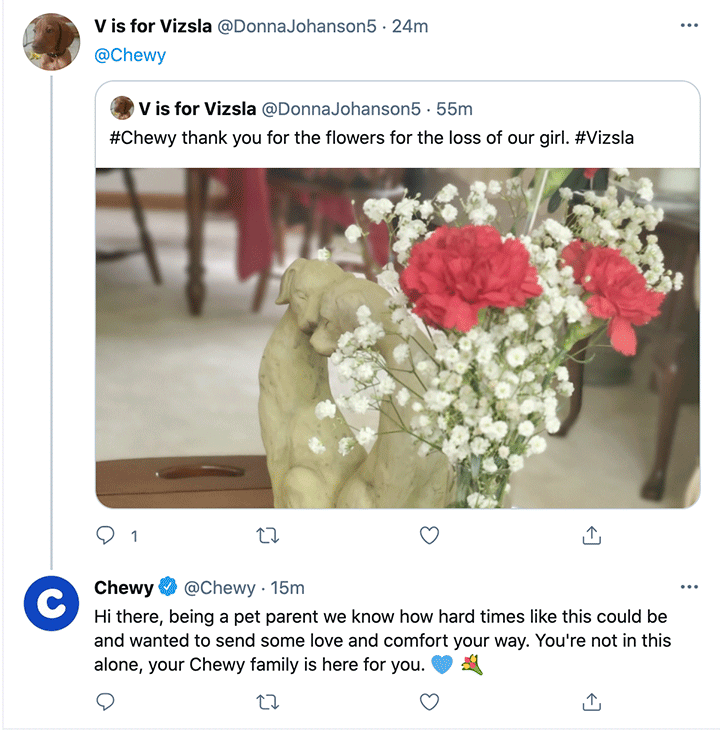 Social media should also be viewed as a secondary resource for your customers.  More than 1 in 3 online users say they go to social media when looking for more information about a brand or a product. (Review42)
So, post helpful tips and tricks related to your industry or make videos that answer your customers' most frequently asked questions.
5. Hold Virtual Events
Festivals and parades have been canceled. Concerts have been postponed. Large indoor gatherings of any kind are still taboo. 
But, that doesn't mean that we all aren't dying to socialize, hear a little music and have a little fun. Seize this opportunity to plan an interactive online event, so you and your customers can be together even though you're apart. 
Host trivia or a virtual open mic night. Have special viewing parties when you launch new products or services. 
Not only will your customers love the interaction, but by lifting their spirits they'll feel more connected to your brand. 
The Bottom Line
The return to normalcy is a slow one. Some aspects of our lives may never return to what they were.
The businesses that think outside-the-box and find creative ways to stay connected with their customers will be the ones that have an easier time weathering the storm.
Blog
Customer Service
E-Commerce
Small Business
Related Blogs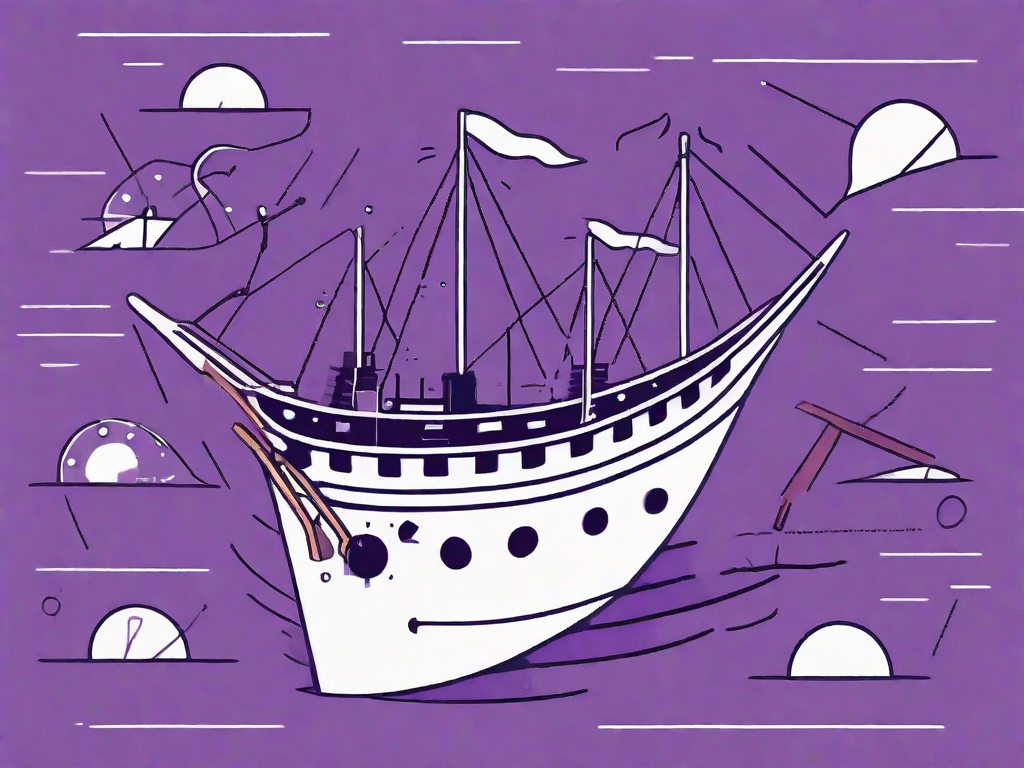 20 Nov
Customer Service
10 Stupid Outsourcing Mistakes and How to Avoid Them
Outsourcing has become a popular strategy for businesses looking to streamline operations, reduce costs, and gain access to specialized expertise. However, it's not without its pitfalls. In this article, we will explore the 10 stupid outsourcing mistakes that companies often make and provide strategies to avoid them. By understanding these mistakes and taking the necessary … Continued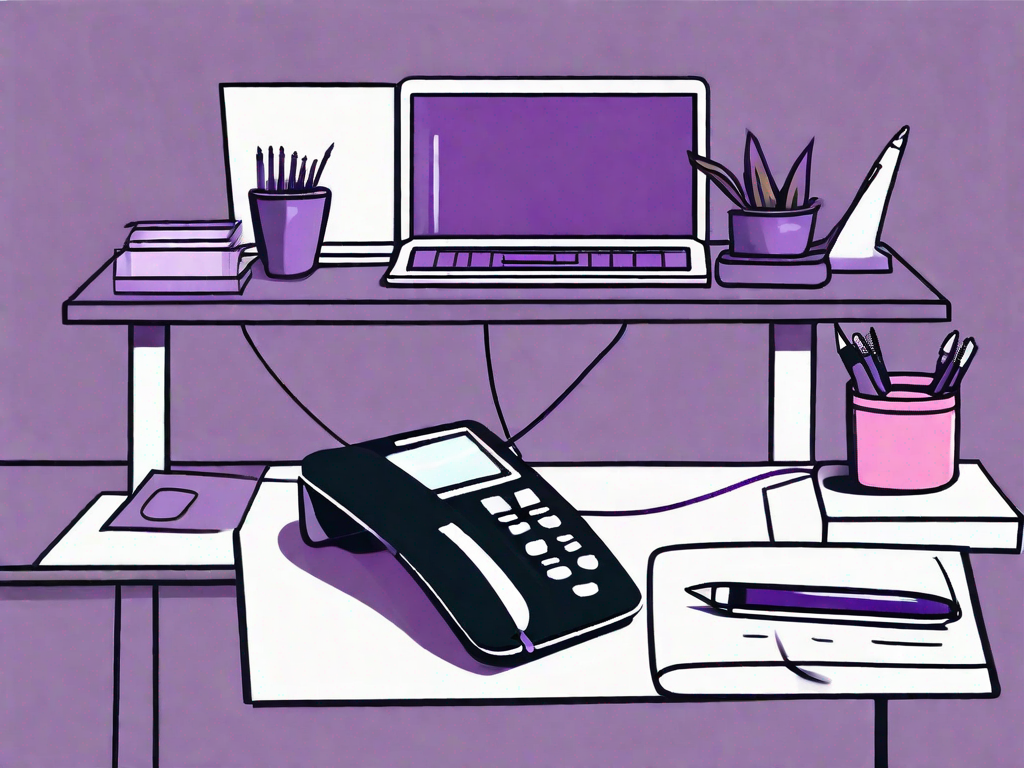 15 Nov
Customer Service
12 Questions You Should Ask When Interviewing Your VA
In today's global workforce, a virtual assistant (VA) can be an invaluable asset for businesses of all sizes. Whether you need administrative support, social media management, or customer service assistance, hiring a VA can free up your time and help you focus on growing your business. However, finding the right VA for your needs can … Continued
14 Nov
Customer Service
Escalation management: Best Practices
Escalation management is an essential practice for any organization aiming to maintain a high level of customer satisfaction. When issues arise, it becomes crucial to address them promptly and efficiently, ensuring that customer concerns are adequately resolved. This article will delve into the different aspects of escalation management, exploring its significance, types, process, benefits, strategies, and the use of automation in streamlining the process.