15 Tools To Run a Business Without Touching People
Who would have thought that physical contact between humans would become a major obstacle to running a business. 
Yet, this is the reality in 2020.
The dangers of COVID-19 changed the way people live, work, and do business. Perhaps not just for the time being, but for the long run.
The home office switch was just the start. Now's the time to reimagine the safe and touchless office, as workers return. Amresh Singh shares ways to optimize #workforce #productivity and #safety. #COVID19 #WFH https://t.co/C1OphncABr

— Glen Nelson (@GlensLens) May 20, 2020
The fact that these changes occurred virtually overnight only makes things harder. Now, business owners everywhere must adapt to new safety guidelines. And do so quickly, as the livelihood of their businesses depends on the speed and efficiency of the adaptation. 
Fortunately, business owners in 2020 can get plenty of help from innovative technology. 
As an IT-focused company, we find the topic of technology close to our hearts. We are always on the lookout for innovations and new tools to run a business more efficiently.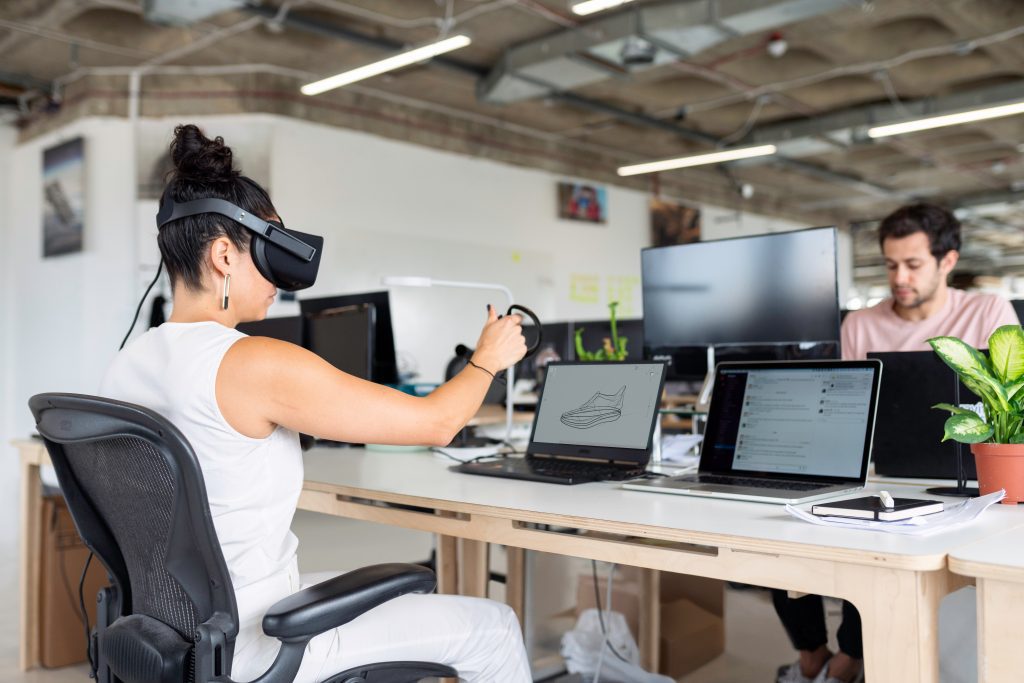 COVID-19 pandemic sparked the need to look into crisis management tools and tech. Especially those that businesses can use virtually during physical locations' closures. 
Hence, we explored in the usefulness of these small business tools when it came to switching to remote operations. We discussed ways to take retail operations from brick-and-mortar to online. And we examined tools to support restaurant strategies, online learning and to help managers interview and hire remotely.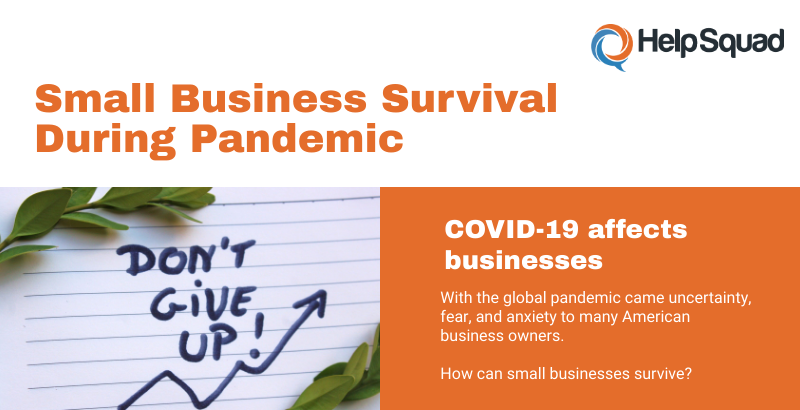 Additionally, we checked out technology that can help dental offices adjust to the crisis situation. We also researched teletherapy as a way for mental health professionals to continue to help patients. 
The technology we featured in our articles could serve as great tools to run a business during the crisis. Subsequently, some of them could also assist during reopening of small businesses.
But the truth is, health precautions are here to stay. In other words, social distancing, remote operations, and minimization of physical contact are the new reality. And with that reality every entrepreneurs will need options for tools to run a business to adjust successfully. 
Hence, we continue our exploration of innovative tech to entrepreneurs. 
And we give you…
15 Touchless Tools To Run a Business 
As it turns out, the tech world is ready for the challenge of the touchless business. If anything, the pandemic sparked innovation in many areas, so there is no shortage of helpful tech. 
Necessity is the mother of invention and #smartcity #innovation will help us transition to a new normal.

via @smartcitiesdive @CuriosityLabPTC #COVID19 #pandemic #smartcities #digitaltransition #autonomous #IoT #connectivity #privacy #emergingtechhttps://t.co/k5iKjY1dJ2

— Smart City Expo (@SmartCityexpo) May 25, 2020
Some of the tools we discovered have supported global entrepreneurs for some time. Others are newer and are just entering the market. Some of the tools support virtual communications and connections, while others can help running a business' physical location safely. 
All of them are useful tools to run a business and help keep offices, employees, and customers safe post-pandemic. 
1. Maptician – Office Mapping for Safer Environments
How it works: This workplace management platform helps businesses enforce social distancing, staggered scheduling, and contact tracing. The software performs a social distancing analysis. It identifies social distancing risk within pre-COVID-19 seating layouts as well as in conference rooms, open areas, break rooms, and walkways.  Dynamic and interactive social distancing rings provide immediate visual feedback on seating assignments. Business owners can create multiple office seating schedules, scenarios, and maps. 
Coolest feature: Seating Proximity Contact Tracing. The software can identify individuals who sit in the proximity of a person who tested positive for coronavirus or other highly contagious virus. 
How it helps the touchless future: These features can facilitate organized, staged return to the office post-quarantine, while maintaining adequate social distancing.
Try it out: Business wonders can schedule a demo with Maptician on the company's website.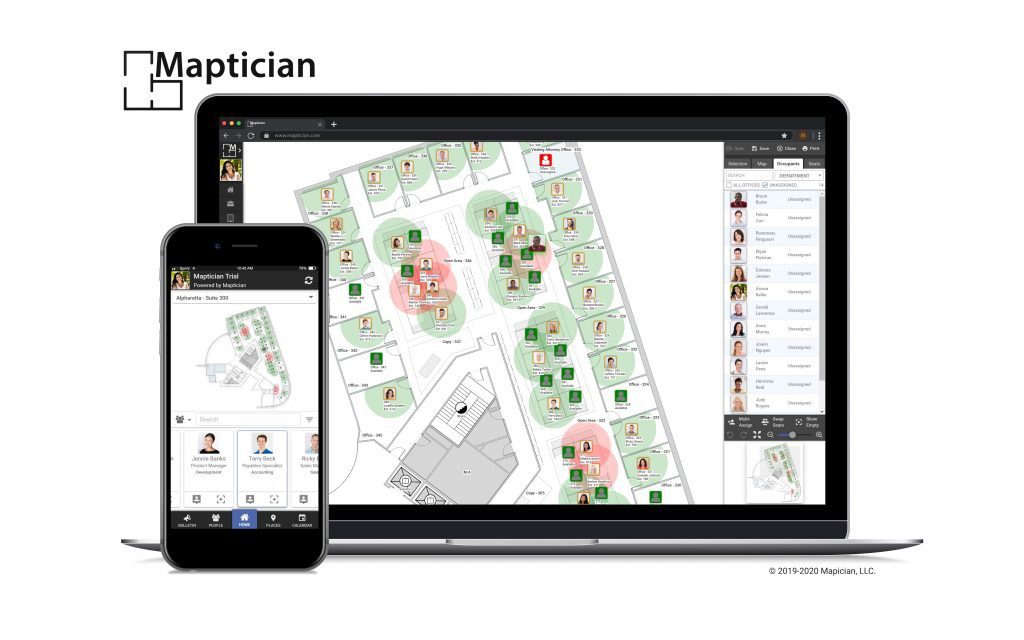 Map and plan post-quarantine office return with Maptician. 
2. HelpSquad – Agent-supported 24/7 live chat customer service 
How it works: Once signed up, a business installs live chat software on its website. Business owners provide HelpSquad agents with detailed information and FAQs databases. Agents then act as representatives and an extension of the brand. They work in teams to provide round-the-clock customer support, allowing the business to concentrate on day-to-day operations. 
Coolest feature: Facebook and SMS integration allows customers to connect with agents using text or social media to communicate. Additionally, business owners can access customer chats and send discrete, invisible messages to the agents (whispering feature). 
How it helps the touchless future: In the world that is rapidly moving towards virtual operations, live chat customer service becomes more desirable. It's virtual, efficient, saves business time and money, and promotes safe, contactless communications. Moreover, its diverse and useful features make it one of the greatest tools to run a business. 
Try it out: A 14-day free trial allows a business to see how it works risk-free. 
Squads are standing by, ready to help at HelpSquad. 
Engage Your Customers Without Touching Them
3. Go-Zone WiFi – Touchless Restaurant Menus 
How it works: To minimize the need for disposable or now deemed unsafe reusable menus, digital menu solutions come to restaurants' rescue. Menus become available to all on-site customers via wi-fi connection. Real-time updates make the menus versatile, efficient, economically viable, and environmentally friendly.
Coolest feature: Customers don't need to type in URLs or scan codes. Simple WiFi connection pulls up the menu. 
How it helps the touchless future: Customers use their mobile devices to access the menus. No contact with other screens or paper. 
Try it out: The menu service is available free of charge to existing Go-Zone WiFi customers. Demo available on the company's website.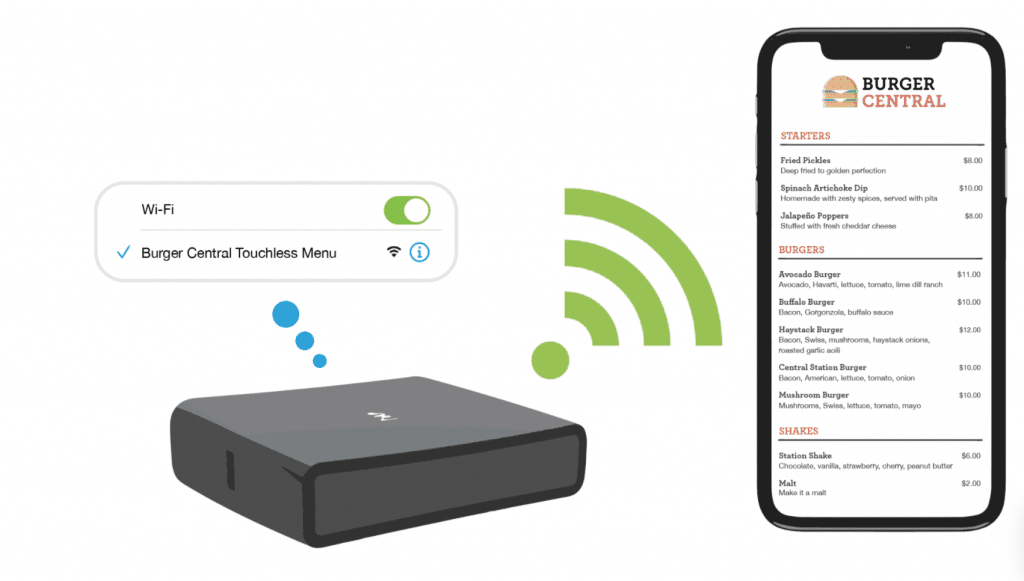 Get hungry for safety and savings at Go-Zone WiFi. 
4. IDScan.net – Scannable identity verification and information gathering 
How it works: IDScan.net's scanning solutions allow businesses to capture all the data available on a customer's ID instantly. Once scanned, the information can populate forms, help manage returns, and allow access to a restricted area, create visitor badges, and run background checks. Software can help verify age, run credit checks, create time-stamped logs used in contact tracing for coronavirus, and more. 
Coolest feature: Facial recognition function allows business owners to identify patrons through video scans. 
How it helps the touchless future: Handheld scanners, mobile ID validation, and self-service kiosks enable touch-free ID scanning.
Try it out: Company's website provides a variety of solutions suitable for any business.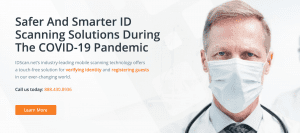 Start scanning and find out everything there is to know at  ID Scan.
5. Zello – Remote Walkie-Talkie Style Connections
How it works: Instead of setting up a formal meeting, team members can speak with each other at the push of a button. The service works anywhere with an Internet or data connection and is compatible with Android, iOS, and Windows devices. Mobile workforces equipped with Zello communicate and collaborate more easily, reducing operational friction and cutting IT costs in the process. In addition, employees can reply to messages later or have fully engaged conversations – whichever suits the context.
Coolest feature: Feature-rich mobile app turns smart devices into Internet walkie-talkies that can also share photos, send text messages, track locations, and trigger emergency alerts in mission critical situations. 
How it helps the touchless future: Whether team members work remotely, in the field, or commute to the office, employees can connect instantly and efficiently. This eliminates the need of face-to-face meetings, lowering the risk of physical contact between people. 
Try it out: Free 30-day trial ensures a good choice of tools to run a business.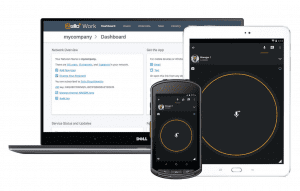 Push that walkie-talkie button to connect with Zello. 
6. Beaconstac – QR Codes Generator
How it works: Scannable QR codes have a variety of functions. Contactless forms, access to ads, links to websites and online information, and contactless payments are just some of the useful features. QR codes promote customer engagement. They serve as easy means of communication and connection between businesses and their customers. 
Coolest feature: Call-to-Action QR codes invite customers to participate in contests, fill out surveys, or sign up for newsletters. Such marketing campaigns help customer engagement and increase brand awareness. 
How it helps the touchless future: Use of QR codes promotes zero-contact, safe, touchless customer experience with a use of just a smart device. 
Try it out: The company offers a free QR generator and a free 14-day trial for other solutions.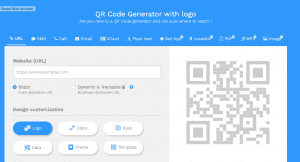 Signal for help to Beaconstac.
7. Neorcha – Digital Hotel Experience App
How it works: The app provides guests with a variety of functionalities. It's capabilities include booking, locating, checking in, keyless entry, billing, restaurant reservation, room control, check-out, front-desk communications and more. Hotels support guests in a personalized and efficient way, while avoiding physical contact between staff and guests.
Coolest feature: All-in-one digital experience provides instant troubleshooting abilities and increases guest satisfaction. 
How it helps the touchless future: With the app, guests have the option of avoiding all physical contact with staff. This contributes to a safe environment for both guests and employees.  
Try it out: Request a demo on the company's website. Here is a preview of Neorcha's keyless entry:
Find the keys to hospitality success with Neorcha. 
8. Miro – Free Online Whiteboard
Missing your office whiteboard? Try Miro, the online collaborative whiteboard. Free forever. No credit card required. Sign up and try!

— Miro (@MiroHQ) March 19, 2020
How it works: A canvas feels like a real whiteboard and allows limitless collaborators. Handwriting, sticky notes, and task boards are all in one work-from-home tool. 
Coolest feature: "Writing on walls and taking pictures of whiteboards doesn't solve the pain of collaborating from home, but Miro does."
How it helps the touchless future: A great remote work tool, that supports employees working from home, either temporarily or permanently.
Try it out: Miro offers the whiteboard tool for free! Get started on the company's website.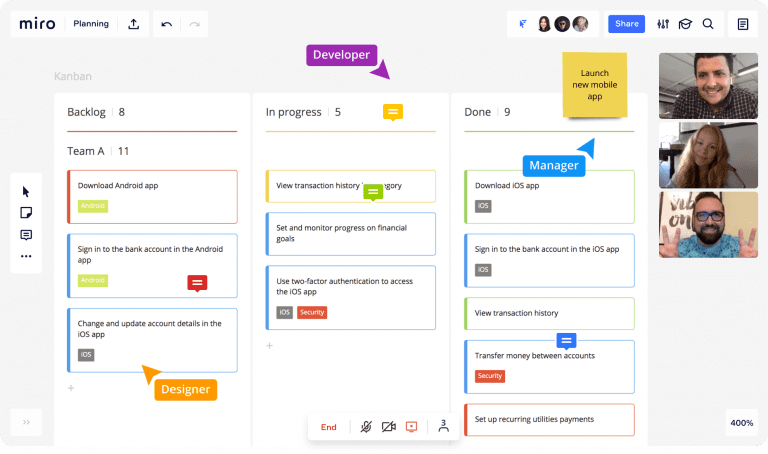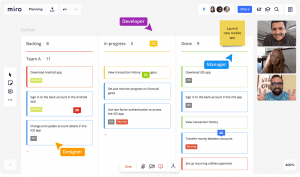 Write, erase, brainstorm, and do it all over again with Miro. 
9. Bluewater Tech – Touchless Temperature Monitoring
How it works: Dynamic detection displays and tablets use advanced thermal detection capabilities to quickly scan the internal temperature of bodies. It can safely detect potential threats to a workplace and keep staff and visitors safe. Facial recognition and door lock/unlock capabilities are available. 
Coolest feature: The Bluewater Tech system immerses a temperature scanning system into furniture grade housing to blend into nearly any environment. 
How it helps the touchless future: No-touch scanning and network capabilities allows office managers to monitor employee health efficiently.
Try it out: Contact a representative on the company's website for options and pricing.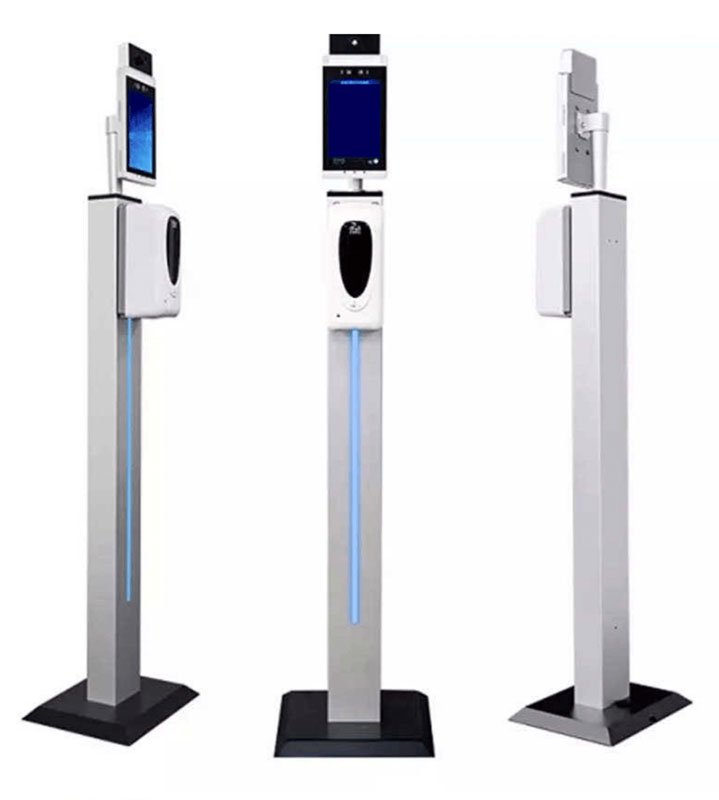 Dive into into the touchless health monitoring at Blue Water Tech. 
10. Ethics Suite – Fraud Reporting Platform
How it works: This web-based employee misconduct, fraud, and theft alert platform allows secure and anonymous reporting. Employees submit reports using the online reporting system, accessible from any device and available 24/7. Once an employee submits a report, the platform assigns a unique PIN. The PIN allows the employee to follow-up on the report even if he or she chooses to remain anonymous. Employers review and manage all employee reports through the back-office MyEthicsSuite platform. 
Coolest feature: The reporter can remain anonymous, while still having the ability to follow up on the case. The platform also provides a fully auditable and defensible record of all investigative steps the management takes in response to the report. It allows employers to upload supporting documents and other relevant information. Management can also ask questions of the reporter through the chat function, and document any remediation or other internal response.
How it helps the touchless future: The platform is, of course, contact free and serves as a channel for employees to report to their employer without having to be physically present.
Try it out: The company offers free 60-day hotline subscriptions and training on the Ethics Suite back-office platform to any business that is concerned about potential employment issues or fraud related to COVID-19.
Our technology-focused, employee incident reporting platform, provides a simple, safe, and secure communication channel between you and your employees. Find out how it works. #ethics #reporting #HumanResources #legal #riskmanagement #Governance pic.twitter.com/TfXU2mWwFg

— Ethics Suite (@EthicsSuite) October 3, 2019
Let's get ethical in the workplace with Ethics Suite.
11. JetClosing – Mobile Title And Escrow Company For Real Estate
How it works: Lenders, buyers, sellers and agents use JetClosing's cloud technology and a mobile app to access real-time updates during the home closing process. The interface provides full transparency into the transaction process. The virtual tool offers a secure, efficient and user-friendly digital workflow to complete the escrow process remotely. The digital platform also enables fund transfers, remote online notarization (RON), and e-signatures via trusted third-party integrations.
Coolest feature: Real-time updates to keep everyone in the know every step of the way.
How it helps the touchless future: All parties can access the interface remotely. No need for face-to-face meetings, no physical paperwork, and, therefore, no physical contact.
Try it out: Easy mobile set up can get the ball rolling right away. 
Take a flight into the future of real-estate transactions at JetClosing.
12. Flashparking – Contactless Parking Payment
How it works: FlashParking's SAFEparcs, SAFEvalet, and Mobile App module for remote parking management deliver touchless experiences for parkers and operators alike. FlashParking's integrations with eParking reservation systems provide touchless access and payment methods in a single step. Customers simply scan their reservation barcode on the FlashParking entry kiosk barcode reader to automatically vend the gate. Other options include wave-activated ticket machines and SMS-based valet parking tickets. 
Coolest feature: FlashParking's mobile payment solution allows customers to bypass in-lane or pay-on-foot machines for the convenience of using their own mobile device for contactless payment. 
How it helps touchless future: Contactless, paperless, touchless experiences ensure parking attendants and customers' safety. 
Try it out: Check out various products and solutions on the company's webpage. 
Drive and park safely to get more info at FlashParking. 
13. Sensormatic – Real-Time Occupancy Solution For Retail
How it works: The ShopperTrak Real-Time Occupancy solution assists retailers with understanding shopper density within a store for compliance with social distancing guidelines or ordinances, and to meet maximum limits. It helps optimize cleaning schedules for common facilities or high-touch areas, such as self-checkouts, and provides prompt up-to-the-minute understanding of staffing needs for efficient fulfilment of buy online, pickup in-store (BOPIS) or curbside pickup orders. Other tools include thermal imaging monitor, physical safety barriers, and insights on reopening planning.
Coolest feature: Real-time monitoring can alert store owners about current environmental conditions and prompt immediate troubleshooting. 
How it helps the touchless future: Physical retail establishments face the challenges of social distancing and occupancy mandates. This solution will assist store owners in real time to promote and maintain a safe environment. 
Try it out: Request a consultation call on the company's website. 
The Social Distancing NVR Application, developed by @Sensormatic Solutions partner Clickit Inc. helps retailers actively monitor and track compliance with #socialdistancing safety and health guidelines. Contact us for more information: https://t.co/z7adGrNhBf#Retail #RetailTech pic.twitter.com/dJlMS471Un

— Sensormatic Solutions (@Sensormatic) May 27, 2020
Sense the safe retail solutions at Sensormatic.
14. Facebook Shops – Online Sales Platform 
How it works: Shops are an easy to use way to create a customized digital storefront across Facebook and Instagram. Built from existing Instagram Profile Shop or Facebook Page Shop, Shops provide the ability to inspire customers and help them find the products that are right for them. Shops are accessible from users' Facebook Pages, Instagram profiles or Instagram Stories. 
Coolest feature: Any Facebook user can set up a shop from any location. 
How it helps the touchless future: Online retail is on the rise and will only gain popularity as people try to minimize physical exposure. This easy-to-use interface will facilitate more online sales and less contact situations. 
Try it out: Facebook for Business website provides quick step-by-step instructions on how to set up the shop.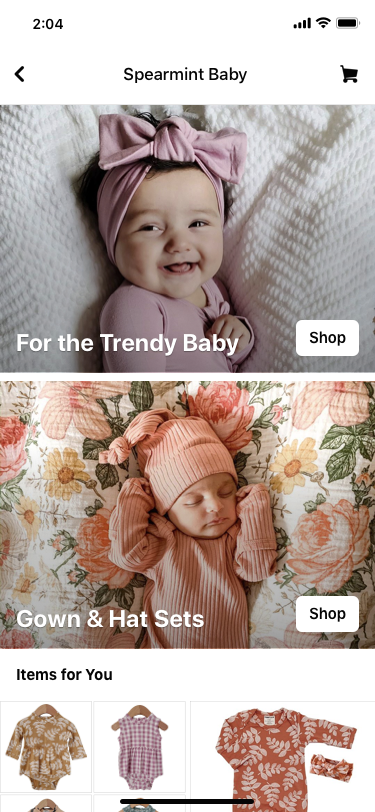 Set up a shop and share your passion with Facebook Shops. 
15. Lightico – Virtual Solutions for Banking 
How it works: Lightico's solution for banking enables bank agents to easily send clients a text message link, allowing them to complete forms, submit documents, upload ID, and sign via eSignature entirely through their mobile device. Meanwhile, bank agents provide real-time guidance by phone, helping customers accurately complete the entire process. 
Coolest feature: Customers can take a photo of their ID, documents and stipulations, then send them via a secured mobile channel during a call with an agent. 
How it helps the touchless future: Customers no longer have to pay a potentially stress-inducing visit to a physical branch to complete any number of transactions, from opening an account to applying for a loan.
Try it out: Request a demo on the company's website. 
One piece of technology has enabled Happy State Bank to help its customers with deferrals and new loans throughout the pandemic. From @AmerBanker and @MiriamSCross: https://t.co/Ef4Xd1dkd2

— Penny Crosman (@pennycrosman) May 21, 2020
Bank safely with Lightico. 
Tools to Run a Business: The Future
If there is one distinct characteristic about technology of the 21st century is that it evolves quickly. 
Necessity is the mother of invention.
The pandemic of 2020 changed many things virtually overnight. One of those things is the American workplace. Therefore, small businesses will have to adapt to the changes very quickly in order to survive.
Thankfully, the ever-evolving, innovative technology is here to help. The list of tools to run a business will keep growing rapidly. Technology advances will address the need for safer, more contactless workplace. 
We're just getting started here. 
Blog
HelpSquad
SaaS/PaaS
Small Business
Related Blogs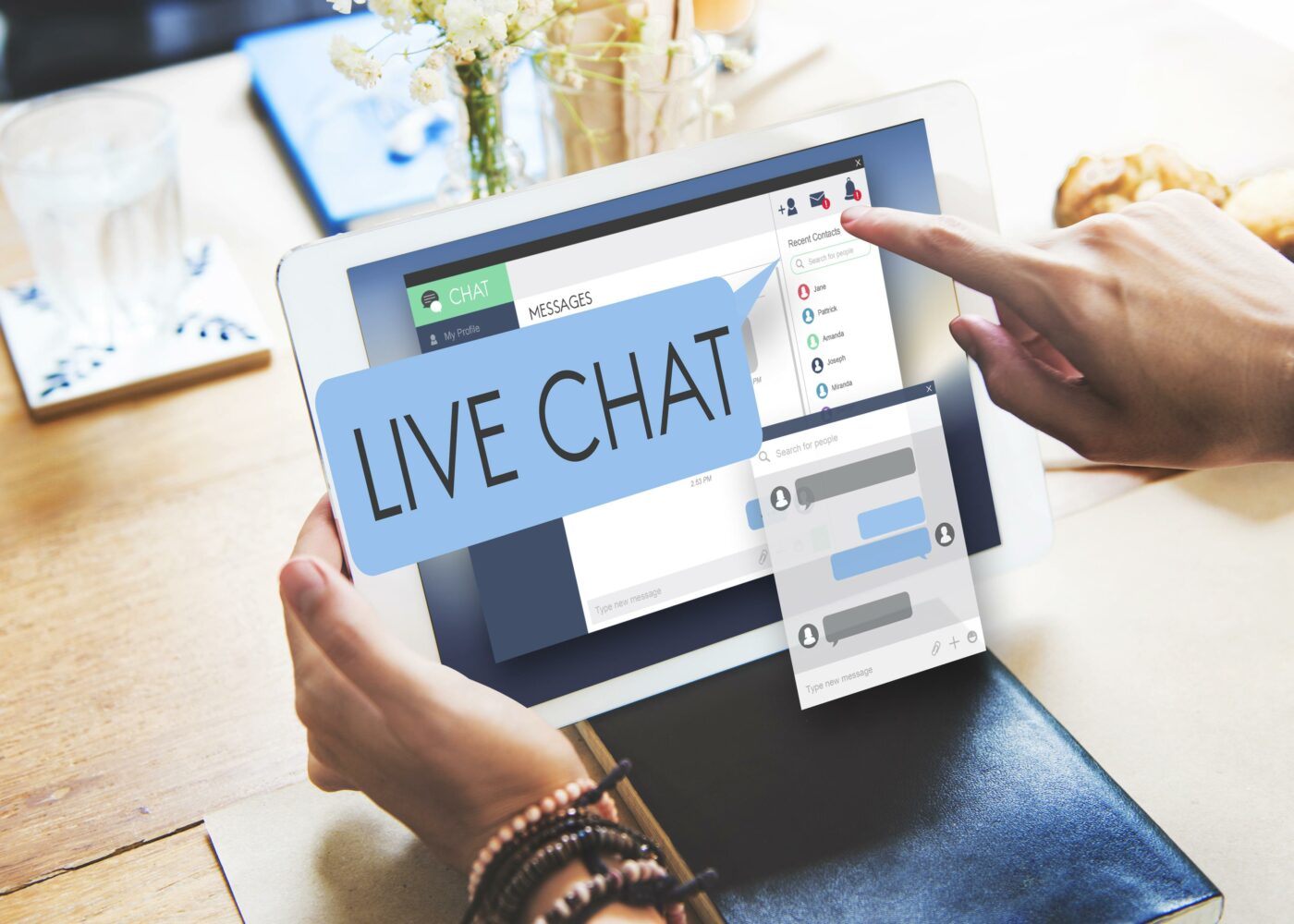 06 Jan
Blog
Best Live Chat Service You Should Use In 2023 [Comparison]
If you're shopping around for a live chat service, we've saved you some time by doing all of the research for you (you're welcome).  We also thought you should know that even as you read this, you are missing out on easily attainable website leads. These leads aren't soft leads either. We're talking about hot … Continued
03 Jan
Blog
The True Cost of "Free" Live Chat Software
A search query for "free live chat software" yields over seven hundred million results on Google. Everyone is looking for free live chat software. If you want a better website than your competitors, that should worry you. One recalls an old quote from George Patton: "If everyone is thinking alike, then somebody isn't thinking." What's … Continued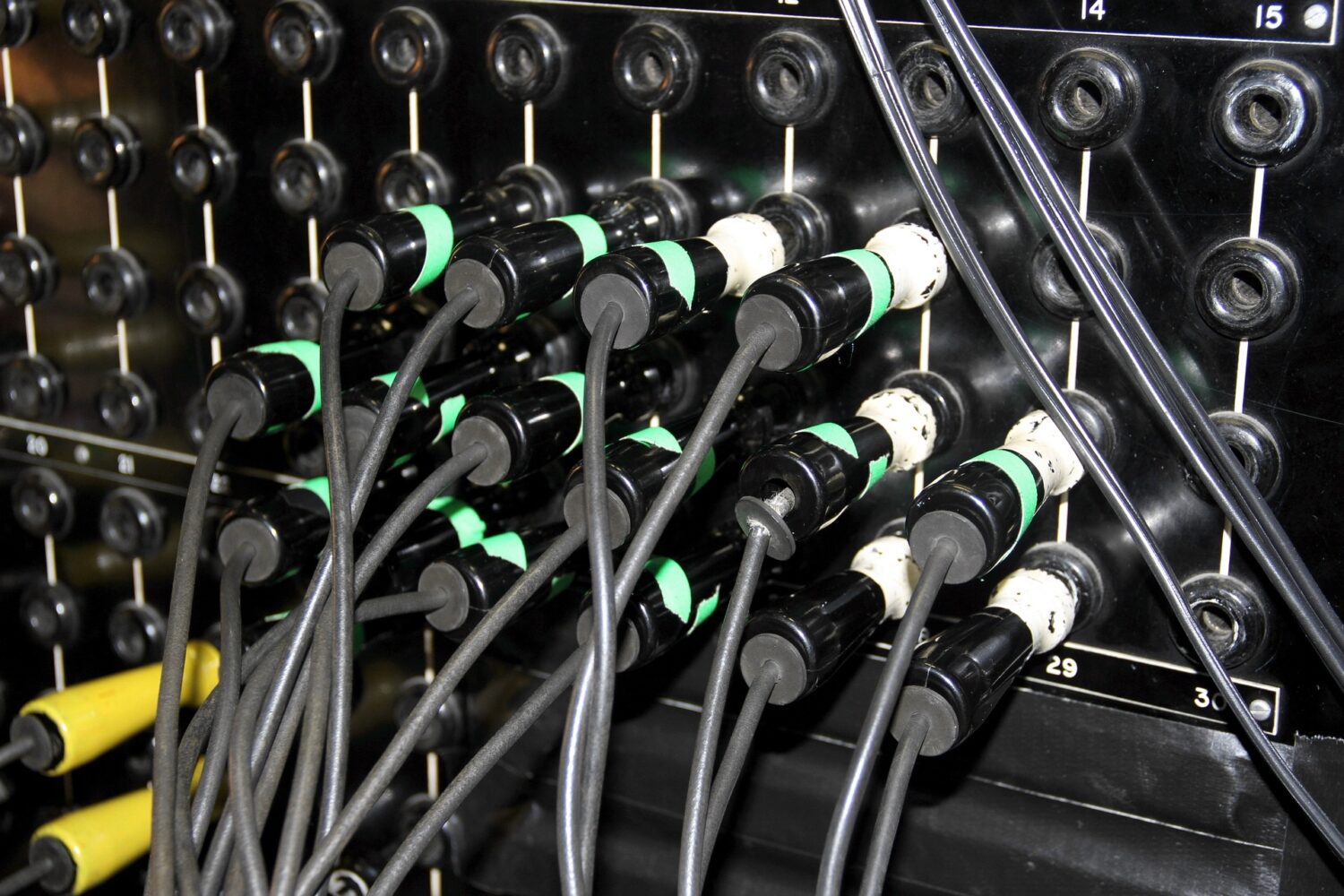 09 Nov
Live chat
Why and How Properly Deflect Customer Phone Calls
Ahhhh, the 90s…The era of punk rock, rollerblades, and "the Rachel" haircut. While nostalgia brings some of these things back from time to time – welcome back, fanny packs! – some things should really stay in the 90s. That includes waiting on hold.  Frankly, there are few more annoying things for a customer than being … Continued