Best Live Chat Service You Should Use In 2023 [Comparison]
If you're shopping around for a live chat service, we've saved you some time by doing all of the research for you (you're welcome). 
We also thought you should know that even as you read this, you are missing out on easily attainable website leads. These leads aren't soft leads either. We're talking about hot and fresh out-of-the-kitchen leads. If you don't have a round-the-clock live chat service on your website, it's not just that you might be cheating yourself out of sales. You ARE cheating yourself out of sales…lots of them. So, let's get started.
Live Chat Turns Leads Into Sales
Surveys show that 79% of businesses offering live chat have had a positive effect on their sales, revenue, and customer loyalty. However, as the popularity of chat rises, more and more managed live chat service companies are arriving on the scene in an attempt to cash in on the growing and lucrative customer service trend. See for yourself. Do a Google search for "24/7 managed live chat service."  You'll return countless pages of software products and customer service solutions.
Sifting through all of the options can be overwhelming and time-consuming. How will you know which chat service is right for your business?  
Don't worry. We've compiled a list of the top 24/7 managed live chat service companies. Then, we went the extra mile and ranked them based on the quality of service, features, support, and affordability.
HelpSquad
HelpSquad is our top pick for several reasons (not just because we're biased either). For starters, we outperform all others in service and support. We have more features than any other live chat service on our list. Most importantly, with the previous points considered, HelpSquad also gives you the most bang for your buck.
HelpSquad Service 
When you choose a 24/7 managed live chat service plan with HelpSquad, your subscription will include an arsenal of top talent. Our agents are thoroughly vetted, interviewed, and trained. The HelpSquad team has won numerous awards in the LiveHelpNow Challenge. In addition, we have even developed a Live Chat Agent test that we use to pre-qualify our candidates (The game is also free to the public for anyone to try.).
Our professionally trained live chat agents provide around-the-clock coverage for your website. Every HelpSquad plan also offers state-of-the-art lead reporting, chat transcripts, chat interaction totals, in-chat surveys and results, peak visitor traffic times, and more. HelpSquad's team even has the capability to conduct a monthly review of your website on request. Then, we'll offer optimization suggestions that will generate higher lead volume.
In terms of lead cultivation, a majority of the live chat competition stops at simply securing a lead. Most provide nothing more. Whereas HelpSquad agents will actually learn about your business, assist you in creating FAQ pages for your website, and secure online orders or schedule appointments. In addition to FAQ creation, HelpSquad's staff also continues to maintain and update each client's knowledge base. We ensure that all the information provided to your customers is fresh and current. Even more exciting is that you will have full ownership over any of the content HelpSquad develops.
Recently, we have added even more services to our repertoire. HelpSquad now offers landing page optimization, AdWords and Facebook campaign optimization, and conversion tracking. Conversion tracking allows users to track the number of orders submitted. Then, they can define how many of those transactions were the result of live chat assistance.
HelpSquad Support 
Personalization is a major focus for us as a live chat service provider.  When you sign on with HelpSquad, you won't have to worry about your customers speaking to robotic-sounding agents. You and your staff won't have to experience the headache of dealing with cookie-cutter support either. Furthermore, your business will be assigned an individual account manager who will remain your staff's committed point of contact. This open dialog approach will allow your HelpSquad account manager to directly train your assigned agents as well as ensure the highest level of quality control.
The biggest technical difference between HelpSquad and its competitors is that we own our chat software (a.k.a. LiveHelpNow).  No other company in the live chat service industry has this advantage. Because HelpSquad does not use third-party software, we have the ability to adjust our platform at any time to fit our client's needs. Our developers are constantly releasing updates and designing new features that will ensure our clients and their customers have the best possible experience. HelpSquad's agents also have access to numerous cutting-edge tools and features, which you can learn more about by visiting the LiveHelpNow website. For the purpose of this article, we have touched on a few of the most notable features below.
HelpSquad Key Features 
SMS Chat: The text (or SMS chat) feature will allow your customers to text HelpSquad agents from their mobile devices as opposed to utilizing the chat window on your website. Though other 24/7 managed live chat service companies have this feature, HelpSquad is the only service that is capable of using your existing business phone number to text your customers. Why? HelpSquad has contracts with leading mobile providers that allow them to link your business number with SMS chat.
Overflow Option: If your team prefers to have greater control over customer interactions, you are able to field your company's chats using HelpSquad's software. You can even choose to limit the HelpSquad team's participation to overflow chats or off-hours chats.
CRM Integrations: HelpSquad's software is compatible with any CRM platform on the market.
Facebook and Email Capabilities: HelpSquad's communications with your customers won't be limited to website visitors that are using the live chat platform. Our software also gives agents the ability to field customers' Facebook messages and e-mail inquiries.
Whisper Mode: Clients are given access to the HelpSquad operator console to oversee chats in real time. If need be, you will be able to send invisible, whisper messages to discreetly communicate with on-duty agents.
Additional Features: Automatic or Manual Chat Tagging, Intelligent Visitor Triggers, Secure Forms (HIPPA and PCI Compliant), Language Translation (Agents can speak any language instantly), Enterprise Level Reporting, Pre- and Post-Chat Surveys, Slack Integration
HelpSquad Pricing 
Plans start at $185/month
HelpSquad has 3 different sales and support plans available for purchase. These plans are tiered to accommodate fledgling startups, thriving small businesses, and everything in between. Every plan includes their #1 rated chat software, a personal account manager, 24/7 live chat coverage, and FAQ creation and copywriting.
ApexChat vs. HelpSquad
ApexChat Service
With its headquarters in the San Francisco area, ApexChat is a US-based company. The company's live chat service runs on its own software. Users report ease of operation, and the ability to work on agent scripts to adjust them to their customers' needs. Some ApexChat reviews point to "bare bones" reporting, poorly qualified leads delivered, and server connection trouble. ApexChat offers Live Chat Agents in English and Spanish and Virtual Assistant services.
ApexChat Support
The company's website features an FAQ page and the ability to connect with a company representative via phone, live chat, email ticket, or text. Chat software is included in the packages, but the company does not provide chat code installation support. The service also lacks the availability of dedicated agents or customizable account training.
ApexChat Key Features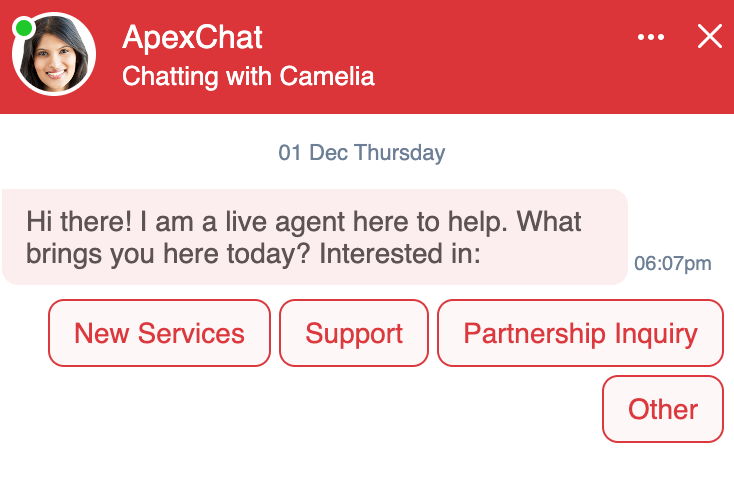 30-second response time: Similarly to HelpSquad, ApexChat agents are standing by. Chat connects immediately and an agent is available to help.
Reporting: ApexChat allows for Google Analytics integration for customer activity reporting. However, unlike HelpSquad, ApexChat live chat service does not include weekly reports or enterprise-level reporting.
SMS Text-to-Chat:  ApexChat has the ability to capture visitors' mobile numbers and offer the use of their preferred texting app.
Additional features: lead forwarding, native Salesforce and Hubspot intergations, website visitor tracking, and proactive chat greetings. For a full list of feature comparisons of HelpSquad vs. ApexChat visit our comparison page. 
ApexChat Pricing
This live chat service comes with a hefty price tag. ApexChat offers a 50-chat package at a cost of $15 per chat. For comparison, HelpSquad's 50-chat package costs $3.70 per chat. Unlike HelpSquad, ApexChat offers neither a free trial nor an annual contract option.
Smith.ai vs. HelpSquad
Smith.ai Chat Service
Located in Palo Alto, CA, Smith.ai employs agents all across North America.  The Smith.ai live chat agents answer questions, screen leads, and schedule appointments 24/7. Custom AI chatbots can assist with screening basic questions to maximize meaningful interactions. Users pay for relevant chats only, and the vendor promises easy setup on all website platforms. Instant chat transcripts are available and sent to an email and CRM.
Smith.ai Support 
The company's website features an extensive collection of articles that coverts many support topics. Live chat is also available should a visitor have a question.Smith.ai provides chat installation support and 24/7 live chat service. Packages include live chat software. However, the live chat services do not include customized account training or dedicated agents service. 

Smith.ai Features
As far as features, Smith.ai offers appointment booking, a chatbot, and lead forwarding. HIPPA and PCI compliance, Google Analytics integration, proactive chat greetings, website visitor, UTM, and conversions tracking. Ticket management can only be done through email with this company. Smith.ai, unlike HelpSquad, lacks instant chat translation, enterprise-level reporting, and a 30-second answer time guarantee.
Pricing
The 50-chat package costs $300 per month at Smith.ai. Per chat volume pricing is also available, but, unlike HelpSquad, Smith.ai does not offer annual packages or a free trial.
DeskMoz vs. HelpSquad
DeskMoz Service  
24/7 managed live chat service, DeskMoz, is based in India. Their team boasts 12 years of experience in the customer support industry, and they staff agents on three different shifts to guarantee continuous coverage. Their representatives utilize LiveChat, Inc.'s live chat service software, which is included for free with all of their subscriptions.
DeskMoz Support 
Every DeskMoz live chat service plan comes with a dedicated account manager and at least two dedicated live chat agents per shift. The number of agents can then be increased or decreased depending on visitor traffic. Deskmoz's representatives are thoroughly screened prior to hire. Prerequisites to employment include an IQ test, a speed typing test, a chat skills test, a grammar test, and a personal interview. Their staff is then trained to pursue sales and field queries from existing customers.
DeskMoz clients may contact their account manager at any time via Skype chat or email. However, phone and video chat are only available by request and must be scheduled in advance. In addition, this live chat service company operates under the premise that you know your business best. Thus, FAQ creation and copywriting will be left up to you and your staff. The DeskMoz team will then study your FAQ content, as well as your website, and use that knowledge to field questions from your customers.
DeskMoz Features 
SMS (Text) Lead Forwarding: Unlike the HelpSquad SMS feature, DeskMoz agents only have the ability to text you leads. Your customers will not be able to text you directly. DeskMoz's team will attend the chat with your customers, collect their contact information, and then text you the collected details. You can then reach out to the customer at your convenience.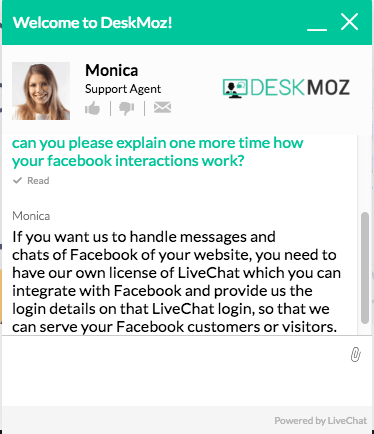 Facebook Interactions (with LiveChat software purchase): DeskMoz can provide chat support to your Facebook page as well. However, in order for them to do so, you will have to purchase your own license of LiveChat's software. You can provide DeskMoz's team with the login credentials of your LiveChat account.  They will then answer the chats from your Facebook page in addition to fielding chats from your website.  
CRM Integrations: DeskMoz currently has API Integrations available for Active Campaign, Agile, Freshdesk, Hubspot, Intercom, Lead, Squared, Mailchimp, Nimble, Pipedrive, Salesforce, Salesmate, Sendgrid, Sugar CRM, Zendesk, and Zoho. Additional integrations can also be achieved via Zapier, which is a tool that allows two different applications to work together.
Unused Chat Carry-Over: Unused chats are carried over to the next month, ensuring you get the full amount of interactions you pay for.
Additional Features: Chat transcripts, White Label (a.k.a. Chat window customization), E-mail & Ticket Answering
DeskMoz Pricing 
Plans start at $199/month
DeskMoz has 4 different support plans ranging in price from $199/month to $1,000/month. Every plan includes free chat software, real-time chat transcripts, monthly carryover of unused chats, and lead forwarding via SMS and email.
LeadChat vs. HelpSquad
LeadChat Service 
Boasting a reputation for producing results for thousands of companies (from small businesses to Fortune 500 giants), LeadChat leverages their 24/7 managed live chat service team to increase its clients' qualified lead inquiries within 24 hours. Their agents are based in Australia, the United States, and Southeast Asia. They utilize LiveChat, Inc.'s chat software to respond to your website visitors 24/7 within 10 seconds.  The goal is to make your visitors feel welcome and engaged as soon as they hit your homepage. 
LeadChat Support 
For client support, LeadChat does have a U.S. and a U.K. phone number listed on their website. Our experts conducted a few exploratory calls.  It appears that these numbers are merely linked to an automated voice message line. You won't actually be able to speak with a live person at will. Instead, you are presented with the option of leaving a message for a callback. However, their phone recording readily admits that you will receive a faster response by emailing them at support@leadchat.com.
LeadChat Features 
Proactive Pop-Up Engagement: LeadChat utilizes artificial intelligence to determine the optimal time to automatically deploy the chat window and begin a conversation with your visitors.
Professional Chat Script Writing: A specialized team of chat script writers will properly prepare your LeadChat live chat service team for battle.
Ad Tracking & Attribution:  LeadChat's software has the capability to track leads back to their Google Ad source. So, you can determine which campaigns are generating the most website traffic.
LeadChat Chatsystem CRM: All plans include Chatsystem CRM, a customer relationship management platform developed by LeadChat. If you have already implemented a CRM software, they can push leads into your existing system as well.
Additional Features: Chat Window Personalization/Branding, Reports & Analytics
LeadChat Pricing 
Plans Starting at ?
According to LeadChat Representatives, "pricing depends on a couple of different factors like the volume of leads, the number of engagements and how many concurrent chats are taken on your website. We have per hour plans (eg. $1 per hour for our agents) or per lead plans (eg. $15 per lead captured)." Thus, you will have to contact them for specific pricing that will then be based upon your business's needs. (Sidenote: We did try to get specific pricing. See results in the screenshots below.)


OctaChat vs. HelpSquad
OctaChat Service 
According to their homepage, more than 1000+ businesses in the U.S., Canada, and Australia use OctaChat's 24/7 managed live chat service. Their agents pride themselves on being experts at chatting their way to the sale and increasing your company's ROI. They utilize LiveChat, Inc.'s software to serve their clients and their clients' customers.
OctaChat Support 
On average, each OctaChat agent is responsible for managing 3-5 clients at a time. OctaChat does have 24/7 support phone number. However, it only leads to a line where an operator is fielding calls and recording callback (or contact back) information. Once a phone inquiry is properly documented, someone from the OctaChat team will be in touch as soon as possible. The speed of service may differ if you are already an OctaChat customer. Unfortunately, for the purpose of this article that was the extent of what we could uncover in terms of their support. Upon live chat window inquiry, no information was disclosed. Only the same scenario…a request of contact information and a promise to reach out to the customer within 24-48 hours.
OctaChat Features 
Live Call Connect: If your customers decide they prefer to speak with you on the phone, they can still request a real-time voice conversation with your staff. An instant live call is just a click away. Octachat agents have the ability to connect your customers with you at a moments notice. 
Co-Chat Option: Your team will still have the option of interacting with your customers via live chat. The duties of chat management can be monitored and shared between your staff.  OctaChat's agents can participate as much or as little as you would like.
Google Analytics Integration: OctaChat's LiveChat software integrates with Google Analytics so you can track your website and traffic and monitor the conversions that come from your ad campaigns.
Text-to-Chat: OctaChat will assign a dedicated phone number to your company that your customers can use to text you. It will be as if you have a second business phone number. Your customers will then utilize that number to converse directly with OctaChat agents from their native texting app (no internet required). OctaChat recommends adding your new text number to a Google Ads campaign to see even higher conversions.
Additional Features: Facebook Messenger Chats, Personalized Scripts, Monthly Reporting, CRM Integration
Octachat Pricing 
Plans Start at? – OctaChat charges per qualified lead
OctaChat recommends that all of its potential customers begin with a free 14-day trial. During that time period, they will be able to more accurately determine your estimated monthly rate based upon the number of leads they generate for you. OctaChat does not bill for support chats, repeat visitors, spam, or out-of-area inquiries.
GreeChat vs. HelpSquad
GreeChat Service 
Comprised of an experienced team of agents, GreeChat serves a variety of customers from large corporations to small businesses. They are a 24/7 global entity that works with clients from the U.S., the U.K., and Australia. However, we found it difficult to pin down which chat software they use. Their live chat window states that they are powered by chat software from AreaTen.com. Yet, AreaTen.com says their chat window is powered by GreeChat. We hunted around on Google and figured out they also use LiveChat, Inc.'s software.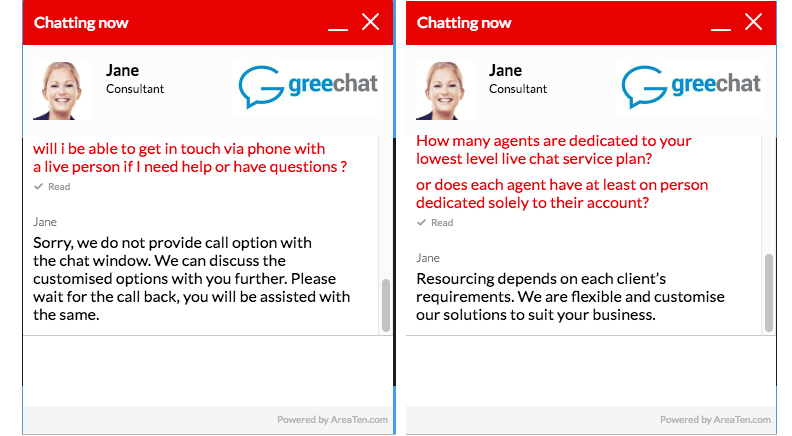 GreeChat Support 
One characteristic that sets Greechat apart is that they have live chat agents specifically dedicated to the Real Estate, Automobile, Medical, Education and Legal industries (which could be worth looking into if you fall within one of these categories). However, Greechat's support seems even more difficult to gauge than OctaChat's. The live chat agent on their website would give out little to no information about the type of support they offer their clients. Their website agent did mention that they do not provide a direct call-for-support option with a GreeChat plan (as seen within the chat window images). As far as the number of agents dedicated to a plan, their policy is as follows: "Resourcing depends on each client's requirements. We are flexible and customize our solutions to suit your business."

GreeChat Features 
The only feature GreeChat specifically mentions on its website is CRM integration. Since they utilize LiveChat, Inc.'s software, it is safe to assume that they have access to all of LiveChat's software features. It is just unclear which tools their agents utilize and are trained on. If their website were more descriptive and their online representatives were more informative, there is a possibility that they could fall higher on our list.


GreeChat Pricing 
No trace of pricing was available or even mentioned on GreeChat's website. We tried placing an inquiry via the chat window on their website. They promised to have a representative get in touch as soon as possible.
Implementing 24/7 Managed Live Chat Service Is A No-Brainer
Regardless of which service you feel fits your needs, you can't go wrong by adding 24/7 managed live chat service to your business website. 75% of consumers say they would prefer to use live online chat as opposed to calling to speak to someone over the phone. Furthermore, not only are you going to make your customers happy, but 51% of them are more likely to make a purchase when your website has live chat. It's a win-win. So, what are you waiting for?
Blog
Customer Service
HelpSquad
Live chat
Sales & Lead Conversion
Small Business
Related Blogs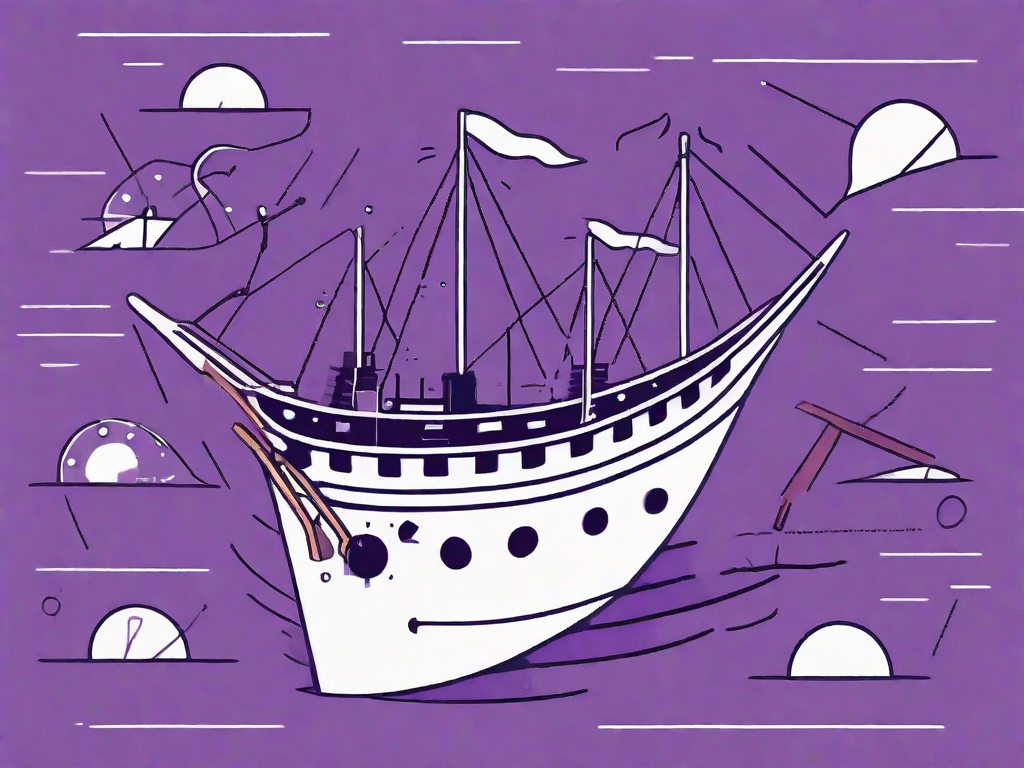 20 Nov
Customer Service
10 Stupid Outsourcing Mistakes and How to Avoid Them
Outsourcing has become a popular strategy for businesses looking to streamline operations, reduce costs, and gain access to specialized expertise. However, it's not without its pitfalls. In this article, we will explore the 10 stupid outsourcing mistakes that companies often make and provide strategies to avoid them. By understanding these mistakes and taking the necessary … Continued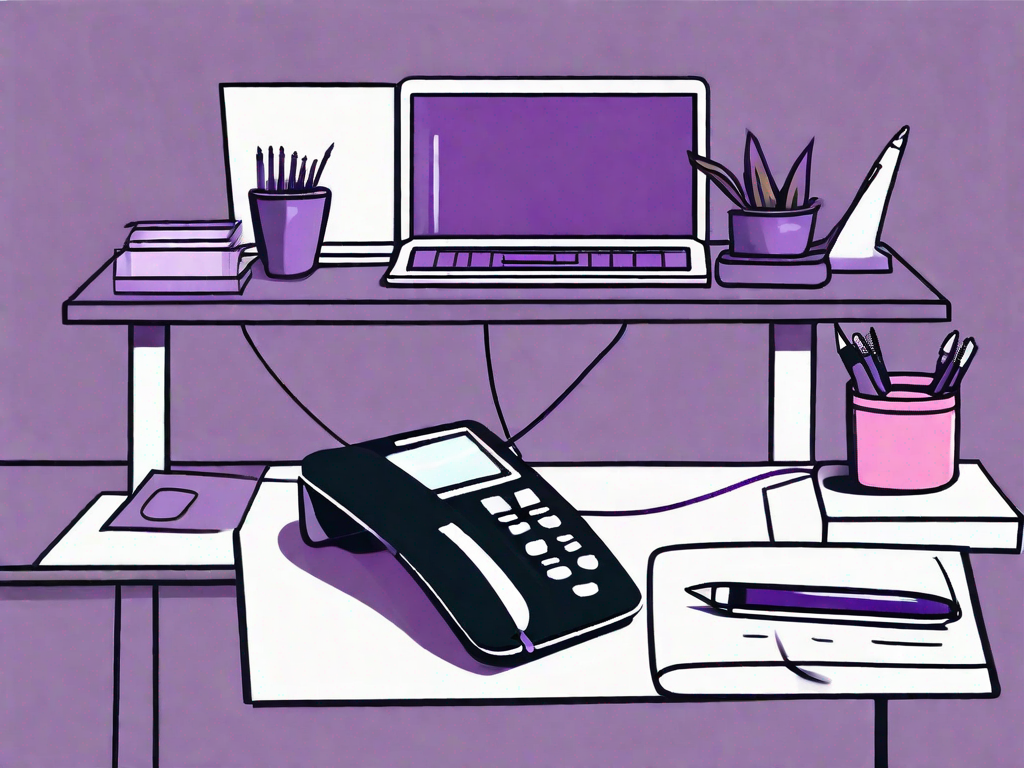 15 Nov
Customer Service
12 Questions You Should Ask When Interviewing Your VA
In today's global workforce, a virtual assistant (VA) can be an invaluable asset for businesses of all sizes. Whether you need administrative support, social media management, or customer service assistance, hiring a VA can free up your time and help you focus on growing your business. However, finding the right VA for your needs can … Continued
14 Nov
Customer Service
Escalation management: Best Practices
Escalation management is an essential practice for any organization aiming to maintain a high level of customer satisfaction. When issues arise, it becomes crucial to address them promptly and efficiently, ensuring that customer concerns are adequately resolved. This article will delve into the different aspects of escalation management, exploring its significance, types, process, benefits, strategies, and the use of automation in streamlining the process.